With each passing season it seems more evident that the NHL is quickly becoming a young man's game, unless you're Jaromir Jagr. This much is evident for the Canucks this season as they dressed three raw rookies in their opening line up, with two of them being 19-year-old's.
Both Jared McCann and Jake Virtanen remain with the Canucks, both with varying degrees of success. Many had Virtanen penciled into the opening night lineup, mainly because the Canucks didn't have anyone in the organization with Virtanen's combination of speed and size. The hope was obviously that Zack Kassian would eventually grow into that role, but after his underwhelming tenure in Vancouver it's now Virtanen's turn to develop into that power forward that the Canucks desperately need.
The emergence of Jared McCann is a much bigger surprise. The former Sault Ste. Marie Greyhound was dominant in the OHL last season, but missed some time due to injury and the presumption was that he would need some time to fill out before joining the Canucks. However he dazzled management with his puck skills during the preseason, and he didn't stop after earning a spot in the line up.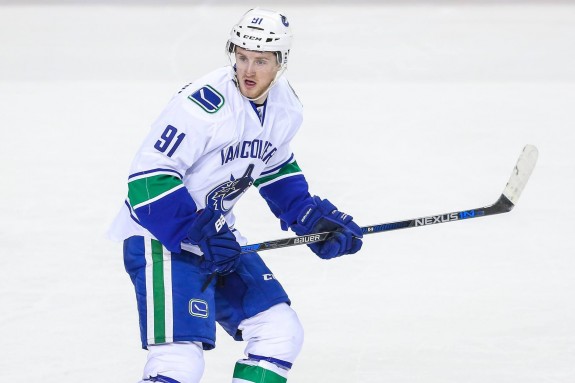 McCann is third on the Canucks with six goals this season. He has played in 17 straight games and recently found chemistry on a line with Radim Vrbata in the Canucks last game against Minnesota.
With Bo Horvat struggling and a lack of centre depth available to help the Canucks immediately, McCann is too valuable to this team to be loaned to Canada's World Junior squad. General manager Jim Benning made the same assessment with Horvat last year. With the rookie playing well, Benning determined it wasn't worth giving up Horvat to Team Canada.
Barring a huge drop off from McCann in the next three weeks, there is almost no chance he plays for Canada during this WJC. However, the Canucks other 19-year-old should get a chance to play for his country
Jake Virtanen Should Play for Canada
Virtanen got the nod to play for Canada last year during the WJC as a 18-year-old. He mainly contributed as a depth forward on the team although he did spend some time on a line with Connor McDavid. If the Canucks were to lend Virtanen to Canada, he would surely be a go-to player for the squad.
The choice to send Virtanen over McCann isn't a slight to Virtanen's play for the Canucks. He's been as advertised: as a speedy and bruising winger who hits like a bulldozer, just ask Dion Phaneuf or Valeri Nichushkin.
He's put up a respectable four points in 18 games this season, which isn't bad considering he has been playing an average of 10:16 per game. However he's not as valuable to the team as McCann. The Canucks, when healthy, have fourteen forwards to fill their four forward lines. With Brandon Sutter being the only forward injured right now, Jake Virtanen and Sven Baertschi have been rotating out of the line up. During the teams last two games, Virtanen sat against New Jersey on Sunday, while Baertschi occupied the press box against Minnesota on Wednesday. One of the two will likely sit again against Dallas on Friday.
Coach Desjardins confirms Ryan Miller gets the start tonight while he has yet to decide on whether Jake Virtanen or Sven Baertschi are in.

— Vancouver #Canucks (@Canucks) November 27, 2015
Virtanen's physical play is a welcoming addition to a rather unphysical Canucks team, but Vancouver would survive without Virtanen in the line up for the two week tournament. Instead, giving Virtanen the chance to play for Team Canada would give Baertschi an extended look in the line up rather than bouncing him between the ice and the press box.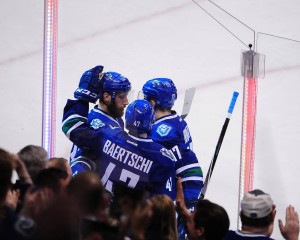 Baertschi has shuffled around the Canucks line up all season long, and his lack of production makes you wonder where he really fits on this team. His defensive play is sound, but expectations remain high for him considering he's a player who is supposed to produce offence. He only has two goals and seven points in 19 games, but maybe that shouldn't be too surprising since he hasn't been on the powerplay with any regularity, and he hasn't played during 3-on-3 overtime at all. His speed and offensive capabilities should be an asset in those situations but head coach Willie Desjardins has yet to utilize him in those areas.
The main critique on Baertschi is that he plays too much on the perimeter. He often loses battles along with boards in the offensive zone which is a detriment in a very physical Western Conference. Still, the Canucks paid a high price by giving up a second-round pick to get Baertschi, so they should find out what they have in him by giving him more minutes, before they begin to banish him to the press box with any regularity.
Loaning Virtanen to Team Canada would basically be a two-week audition to see what Baertschi can do in a bigger offensive role. Some may argue with that decision, but Baertschi has at least earned that opportunity.
Things To Consider
If Virtanen does play for Team Canada, how would that decision affect Jared McCann. This would be Virtanen's second time with the World Junior squad, while McCann wouldn't get the chance to represent his country. Obviously there's no way of knowing how that could affect the team, but it's something for management to consider.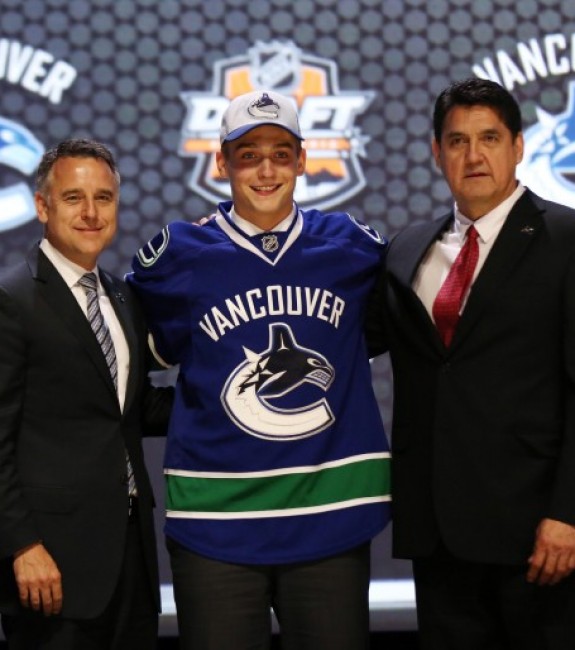 Also, what if Baertschi shines in an expanded role? Where does that leave Virtanen since he is playing musical chairs in the press box with Baertschi. Logic dictates that you sit one of your fourth line grinders (Brandon Prust, Derek Dorsett, or Adam Cracknell) in favour of Virtanen, but Desjardins has liked that line together so far. Could Virtanen possibly get sent back to the Calgary Hitmen? Seems unlikely but if he is going to spend a lot of time in the press box then the WHL might be the better option.
If I'm a betting man I'd say Benning doesn't let either one of his 19-year-old's join Team Canada. He was pretty firm on keeping Horvat last year after his strong start, but there were fewer replacement's for Horvat in the line up. Benning's best course of action is to let Virtanen play for Canada, let him flourish as a go-to guy for the team while giving Sven Baertschi a solid chance to prove that he is a capable NHL winger.
KPU Journalism Graduate. Trevor has been writing for The Hockey Writers since October 2014. He has contributed articles related to the Ottawa Senators, Vancouver Canucks, and other issues/stories regarding the game of hockey. Trevor currently lives in White Rock, B.C.