It's official — the Vancouver Canucks have inked Swedish stud Elias Pettersson to an entry-level contract.
Happy and excited to sign my first NHL-contract. A dream come true! I want to thank everyone who helped me along the way and especially my family. I couldn't have done it without you. pic.twitter.com/NXTBLO1xBc

— Elias Pettersson (@_EPettersson) May 25, 2018
Thank goodness his signing hand wasn't injured at the World Hockey Championships, eh?
The hype is high for Pettersson and expectations are riding at a similar altitude — Canucks GM Jim Benning told Sportsnet-650 that he believes Pettersson is more than capable of cracking a roster spot for next season.
"Elias is a talented offensive player with tremendous vision and skill." said Benning. "We expect him to be ready to challenge for a roster spot in training camp."
Pettersson's Big Year
If you've followed Canucks media for the past year, you have most-certainly heard of Pettersson's accomplishments across the board. On every stage, the 19-year-old has shined.
He made history this season in the SHL, putting up points unseen from a teenager since the conception of the league. Then, to put the cherry on top, he did the same thing in the postseason, on the way to winning it all.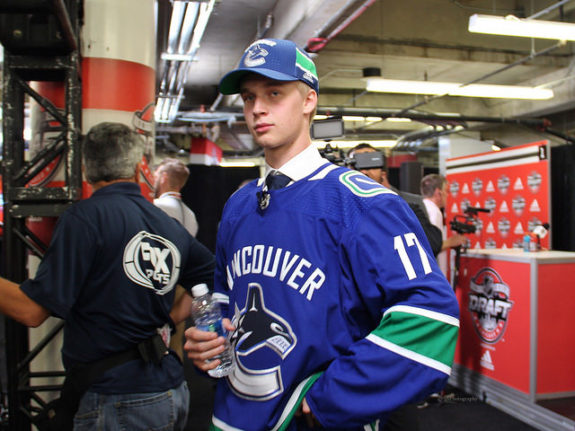 On the international stage, he lit it up for Sweden at the World Junior Championships, and most recently, he put his skills on display at the World Hockey Championships while competing against some NHL talent.
Despite his many accomplishments, criticism continues to follow the youngster. Cries of him being too small and heavily reliant on the wider European ice echo throughout Canucks media.
At a very skinny 6-foot-2 and 160 pounds, he's drastically undersized for the NHL, especially at the centerman position where he resides. Also, the majority of his prowess has been portrayed on that aforementioned bigger ice, so the question of whether or not he can adjust at the NHL level does arise.
Pettersson and the NHL
For every doubter Pettersson may have, he also has a believer. Former NHL Swedish star Mats Sundin is one of those believers, as he told Sportsnet-650.
"He really dominated the Swedish Elite League this year," said Sundin. "He has everything you need to become a superstar in the National Hockey League."
His skill is truly undeniable and beyond NHL-ready, but physically, he's lacking. Proposals of him slotting in on the wing for a little while are becoming more and more prominent. Considering that notion, the thought of him on a line with Brock Boeser is very, very intriguing.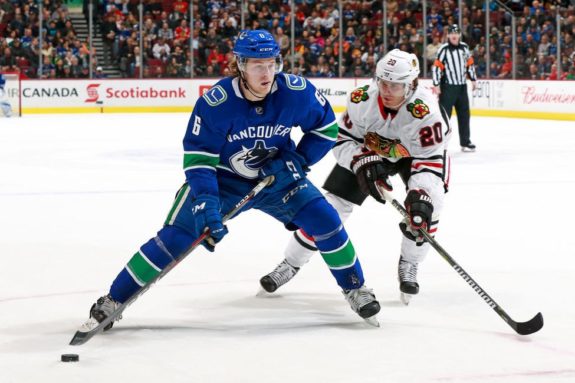 The pure-sniper abilities of Boeser working in tandem with Pettersson's borderline-magical abilities with the puck spell disaster for opponents, especially on a power-play unit.
Putting the young Swede on the wing for a season or two also allows him to play with Bo Horvat, and it leaves another center-ice position available for development of a player such as Adam Gaudette, who would benefit from playing higher up in the lineup as opposed to a fourth-line spot.
This offseason is huge for Pettersson — he desperately needs to stack on weight and prepare for the physical demands of the NHL. The players are bigger and faster, and the ice is smaller, leaving way less time to hang on to the puck and make fancy plays as Pettersson so often does.
Pettersson's 2018 Canucks Outlook
In my mind, there's no way Pettersson won't make the roster next season. The fact that he's able to elevate his game on the continually-growing big stages laid out in front of him gives me full confidence in his abilities and mental toughness.
With a big offseason, and if he does play with talent such as Boeser, I'd expect him to be a Calder Trophy candidate, much like Boeser was last season.
With that being said, his Coach over in the SHL, Sam Hallam, stresses patience with the rising star.
"Let him grow into it, he's a difference-maker but still needs to be physically stronger," says Hallam. "It's tougher in the NHL to get scoring chances. In due time, he will be a top player in the league."
Will he crack the roster? Could he contend for the Calder? Let me know how you think Pettersson will do next season in the comments below!