If you tuned into the 2018 World Junior Championship, then you're without-a-doubt familiar with the name, Elias Pettersson — he lit up the tournament and found himself on a handful of highlight reels along the way.
The Vancouver Canucks selected the talented Swede fifth overall in the 2017 NHL entry draft and are very satisfied with their selection. Pettersson is as talented as they come and is eerily comparable to Pavel Datsyuk. Yes, the 'Magic Man' himself.
Equipped with hands as soft as butter, a cannon of a shot, graceful skating and unteachable hockey sense in all areas of the ice, Pettersson is the complete package and a phenom in the making.
https://twitter.com/JanikBeichler/status/947215276919152642
 Pettersson at the WJC
Pettersson was a weapon in the WJC and made opponents nervous whenever he was on the ice — once the puck hit his stick, you just knew something your team probably wouldn't enjoy was about to happen. His presence in the offensive zone was rivaled by few at the WJC and I'd definitely classify him among the elite of the tournament.
The 19-year-old finished with five goals and two assists in his team's seven-game, silver medal ride. His goals were that of a pure goalscorer and amazing to watch. He was tied for fourth in the tournament for points (7) and shots (23) and carried a plus-five rating in the process. After tacking up six points in three games, Pettersson was perhaps his own and only critic.
"I'm happy with my points, but I think I need to play better and create more chances on five-on-five," said Pettersson in an interview with Sportsnet.
On both sides of the puck, Pettersson played a sound positional and intelligent game that equated to forced turnovers and more time spent in the offensive zone. Pettersson and his talented Swedish counterparts put on a clinic when it came to establishing zone time and generating offence.
The young Swede showed an NHL-caliber level of hockey and cemented the notion that he can dominate at any level and in any league.
WJC to SHL
Speaking of leagues that Pettersson dominates, let's head over to the Swedish Hockey League and take a peak at what the young man is up to.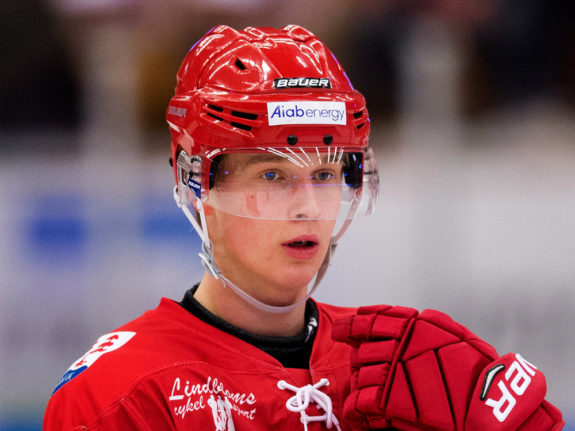 Currently, Pettersson is fifth in SHL scoring with 11 goals and 35 points in 26 games with a plus-11 rating. However, he has the best points per games played with 1.346 — so, if you factor in the fact that the four players ahead of Pettersson have played five-to-eight more games and only have three-to-five more points, you see that the 19-year-old Pettersson is actually the best point-producer in the league.
His impressive production at such a young age has only been done by one other player; Peter 'Foppa' Forsberg. Yet another comparison to an NHL legend.
Pettersson is the real deal and brimming with potential. The Canucks have yet another exciting player in their near future and he is not far off from being ready to go.
SHL to NHL
To recap, Pettersson has shown that he's an offensive weapon at any level, so why isn't he playing in the NHL? Well, it's simple. He's just too small and weak right now. Yes, he's 6-foot-2 but he's also 165-pounds, making him slightly reminiscent of a flagpole — but a downright talented flagpole.
Simply put, Pettersson's skill isn't in question, but rather his ability, or lack thereof, to take physical punishment and endure the level of such that the NHL is known for. Another 15-20 pounds and a year or two more in the gym will have Pettersson completely ready for the big leagues.
Don't count him out just yet, though, there is still a distinct possibility that he might just crack the Canucks lineup and give the Canucks faithful something more to be amped about.
"We're going to have to sit down and see where he's at but what he's done in the Swedish Elite League is pretty impressive," said Trevor Linden in an interview with Sportsnet when asked about Pettersson playing next season as a Canuck.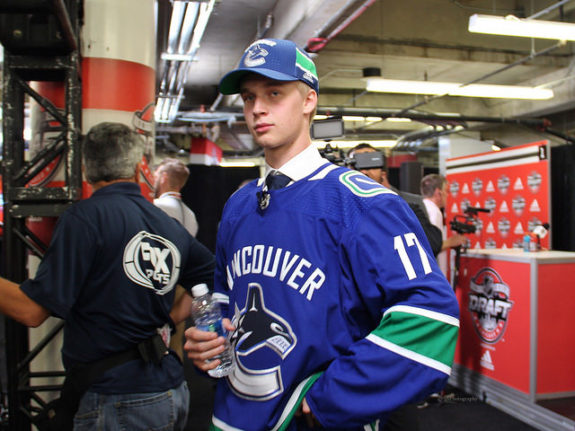 I think he's still at least one more year away from being a full-time member of the Canucks — the NHL is a completely different animal than what he's used to and I just don't think he is physically up to par.
On the flip side, the idea of Brock Boeser and Pettersson playing on a line together is, to say the least, exhilarating. The potential offensive output could make for one of the best duos the NHL has ever seen — yes, I know how bold that statement is, but I've also seen how offensively gifted both of these young players are. It also wouldn't be the first time that Pettersson's name has been tossed around in a 'great duos' conversation.
As I touched on in a previous article, Pettersson and former line-mate Jonathan Dahlen are fellow 2017 Canucks selections and have been sometimes referred to as the next Sedin twins. So, if you've been tagging along you may have noticed that Pettersson has been compared to Datsyuk, Forsberg and the Sedin twins — talk about good company.
Despite the glorious comparisons and his outstanding track record, I'm sticking with another year or two of development for the young star. What do you think?