Shannon Doyle has just about seen it all over her 40 pro games since the inception of the Connecticut Whale in the NWHL and after talking with her for just six minutes it's clear why she was chosen by her teammates to be an alternate captain in her third season. It's not the fifteen points she's chipped in from the blueline or the 77 shots on goal the defender has fired at goalies or the countless goal posts she's pinged a shot off of. It's her character, her personality, and her belief in her teammates.
Her team had just lost a game 6-1 to the league-leading Metropolitan Riveters that they trailed only 2-1 heading into the third period. This was the Whale's fourth consecutive defeat, they've scored a total of three goals over these games, and after alternating wins and losses over the first four games of the season, they now find themselves in a bit of a rut in the standings. But Connecticut's next two games are against Buffalo and with two regulation wins they could tie the defending champions for at least a share of second place, depending on how Boston fares in their back-to-back with the Riveters.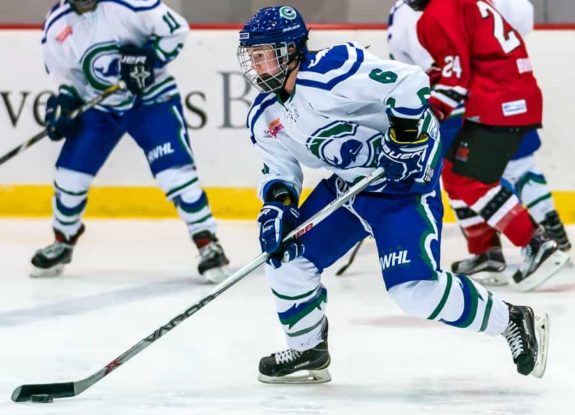 Throughout our interview which was literally about eight-ten minutes after she had stepped off the ice, Doyle never once sounded like a defeated person, never once doubted her teammates' ability to bounce back this season, and she was as open and engaging as any interviewer could ever hope for.
The 25-year-old defender is from Baldwin, Ontario, but she has found her home away from home in the state of Connecticut after stops at Colgate University and Boston University as she revealed in our chat. She also clued us in on whether or not she contemplated returning to her home country to play professionally, and why this year's Whale team is miles ahead of its two predecessors in terms of team chemistry among other topics.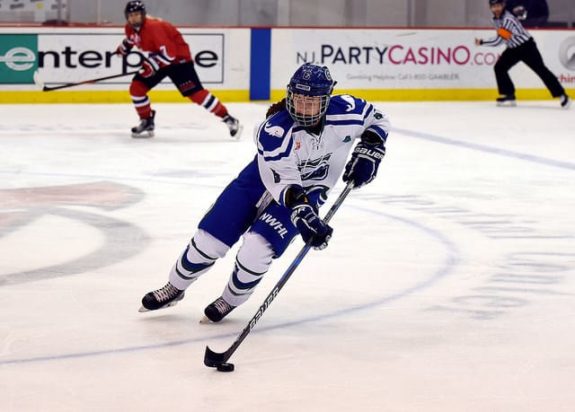 The Hockey Writers: Your team has been a bit snakebitten when it comes to scoring goals recently, how can you get things going in the right direction?
Shannon Doyle: I don't know what it is. We have talent. We have Kelly Babstock. We have Emily Fluke. We have Jamie Goldsmith. We have a good lineup up front, and we moved Amanda Boulier up front. I think that's the most frustrating part, that we have talented forwards but the shots just aren't going in right now. I think it's also we have to get the monkey off our back almost. There was a play where we thought it was a goal, somehow she saved it. Other teams are getting sloppy goals on us and you just need that little bit of a break sometimes, and we're just not getting it right now. As soon as we start getting those lucky ones in it will really start helping us, but we're just not seeing it right now. It's frustrating.
THW: What's different about this Whale team culturally-wise from the past two seasons?
SD: It was definitely a learning curve in year one because it was brand new to everyone. Last season there was a lot of division on the team, just based on where people were coming from. This group was from here, this group was from here and that was really hard to bring that together; especially when we moved to Northford. It was a weird move for everyone, not a good year chemistry wise. This year is so frustrating because we're so close as a team and it's such a good atmosphere, but we're just not getting the wins right now. Super frustrating, but we just have to stay positive and not lose what we have in the locker room…otherwise, it's all going south!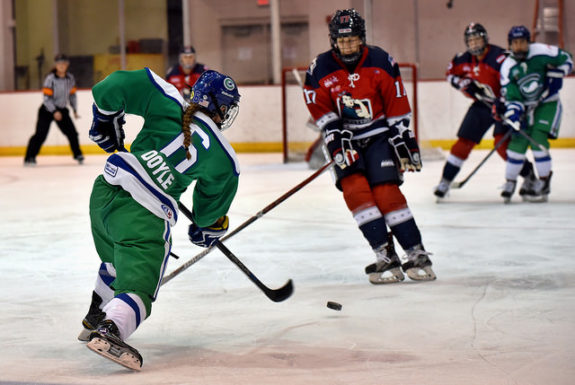 THW: Last year Buffalo was in a somewhat similar position and found some puck luck at the end of the season, strung a few wins together and won the championship. That has to be a source of hope right?
SD: Exactly, 100%. The playoff setup will work in our favor right now because it comes down to one game. It's not a five-game series, it's a one-game winner-takes-all. Today, if the game was only two periods – we played a really good game. We just have to figure out how to play a full-60.
THW: To piggyback off of that, the final score may not reflect how well your goalie Sydney Rossman played tonight. What can you say about her performance?
SD: Squid, haha or Syd, played unreal! She plays so well for us every game! I was talking to her when she came off the ice because our coach has to take her out of the game when we're not playing well in front of her. I told her – we're giving up so many Red Zone chances on you and you're saving nine out of ten of them buddy. You can't save them all. That's unacceptable from our end, but you're doing everything you can in the net. I know it's frustrating for her too because she plays so well every game, hasn't had a bad game for us yet.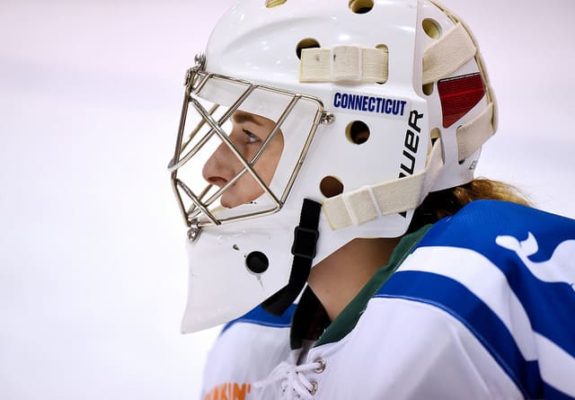 THW: For those that don't know what you do in addition to playing defense for the Whale, what is your day job?
SD: I work at Greenwich Country Day School, a private school, and I'm a co-third grade teacher. I also coach outside of that. I'm in Greenwich working right now and it's awesome (smiles).
THW: Was it a big honor for you to get the A stitched on your jersey as an alternate captain this season for the Whale? Is that something voted on by your teammates or selected by your coaching staff?
SD: Yeah (smiles), our team voted for our captains this year and our coaches just announced it. It was really awesome to see Sam Faber get the C because she's such a natural leader and everybody loves her, and she's the hometown hero. She's just so great and everybody was super excited when she got the C. Juana (Baribeau) or 'Juice' as we call her, she's also just such a natural leader and she works so hard day-in and day-out. It's definitely a privilege working beside those two, and it's always great when your teammates elect you as one of the captains. It's a huge honor and also a responsibility. It's hard work! (laughs)
THW: Collegiately you played two years at Colgate University and then attended Boston University for three years, but only played two seasons. What happened the year in between your two seasons at BU?
SD: I sat out my real senior year to have hip surgery, so I redshirted for a year. My fifth year ended up being my 'senior year'.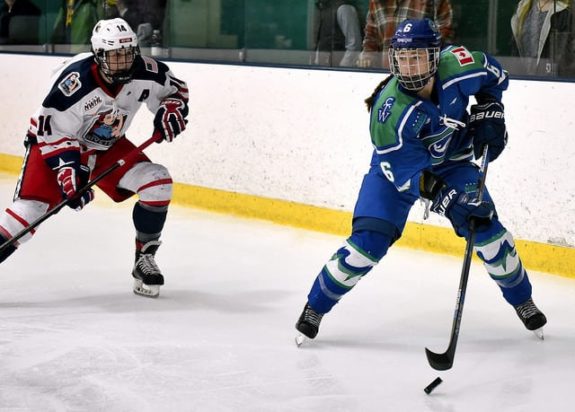 THW: As a kid from Canada how did you find your way to the US to play collegiate hockey?
SD: Now it's a little bit different with the Canadian colleges giving scholarships, things like that, and they are definitely trying to build up their retention of Canadian athletes 100%. But when I was going through the process it was essentially – if you're not going to the States, you're not really playing the highest level of hockey at that point. To have goals to play on Team Canada, which I was on then, to keep that up you would have to play at the highest level or pinnacle of hockey. That was NCAA when I was being recruited, but right now I think there's been a shift where if you're in a Canadian school or one in the States it doesn't matter because they're both playing good hockey. But when I was going through that I had to go to the States to keep that level (of play) up.
THW: You're one of only five players to be a part of the Connecticut Whale for all three seasons of their existence, was the option of going home to play in the CWHL ever on the table for you? Or did things just fall into place for you with your career off the ice and the formation of the NWHL?
SD: There was definitely a thought of going back home and playing for either Toronto or Markham, which are both very close to where I'm from. But I really want to be working in the prep school hockey system and that's down here – especially in Connecticut; the Founders League is down here, it's just my niche for where I want to work and hopefully, I can transition to that soon. That's definitely what kept me down here, the prospect of working in those schools.
The National Women's Hockey League is bringing the action to Pittsburgh!

It's the Connecticut Whale vs. the Buffalo Beauts on Sunday, Jan. 14th at 2:00PM!

Join us: https://t.co/onIRDQ7ZgV pic.twitter.com/poKb29vfmV

— Penguins Rinks (@penguinsrinks) January 6, 2018
THW: Next weekend your team plays a neutral site game in Pittsburgh, how excited are you about bringing the NWHL game to a city without a team?
SD: It's really exciting to play in a new environment and to get our hockey out there to the fans. We're also excited because we think that is going to be the turning point in our season. Next weekend if we win that game we'll be back on track, especially battling with Buffalo. We really need to beat Buffalo and Boston when we come across them so we can put ourselves in a good spot for the rest of the year.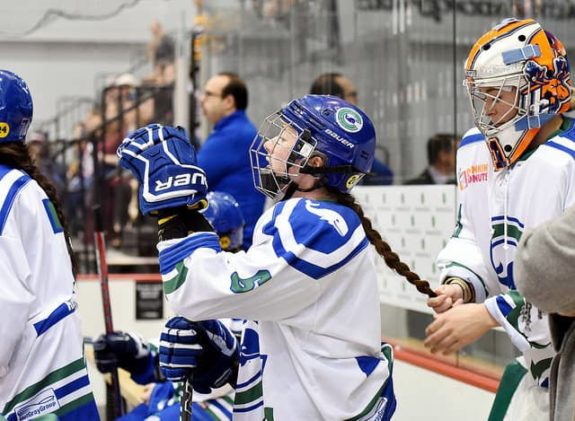 THW: As a defender what do you like better: blocking a shot or scoring a goal?
SD: Hah! I've always loved blocking shots, helping out my goalies. Always best friends with the goalie. It's always great (to score), but I'd rather get an assist. Make a nice pass to get someone else a goal. As a defender my job is to defend, that can lead to momentum shifts. I'll leave it up to my forwards to score, and at least I can help them in some way.