The Vancouver Canucks have reportedly signed Loui Eriksson. According to TSN's Darren Dreger, the two parties have agreed on a six-year deal at $6 million per year worth a total of $36 million. Eriksson was one of the top three wingers on the market going into this year's free agency.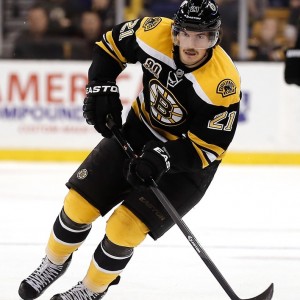 Eriksson is coming off a six-year contract, originally signed with the Dallas Stars, worth a total of $25.5 million and carried a $4.25 million cap hit.
Eriksson was drafted at number 33 overall by the Dallas Stars in the 2003 draft.
Last season, Eriksson ranked second on the Boston Bruins in scoring with 63 points and finished third in goals with a total of 30. Eriksson's 30 goals last season is his highest total since the  2008-09 season when he set a career high with 36.
Eriksson's offensive production last season was a pleasant bounce back for the winger who's production had been in a decline in his first two seasons with the Bruins. Eriksson's offense could prove to be a catalyst for a team who finished at number 27 in power play percentage ant at number 29 in overall offense.
Eriksson, who turns 31 later this month, should still have plenty of gas left for the Vancouver portion of his career. But with any player who moves into the back end of his career, health is always an issue and with Eriksson now signed through 2021-22, he may want to stray away from a battle in the corner from time-to-time.
Eriksson comes to the Canucks where he will more than likely skate alongside Henrik and Daniel Sedin whom he has plenty of history with as the three have skated at several international tournaments with team Sweden.
The Canucks will bring in Eriksson's drive and ability to finish, which coupled with the vision of the Sedin Twins, could be a lethal combination for Vancouver. The Canucks' move to grab Eriksson allows them to take a step in the right direction in the very competitive Pacific Division.