Elias Pettersson has the 'wow' factor.
That's been well documented from overseas the past couple seasons — he was named the top prospect in all of Europe this spring — but it was also evident from watching his debut as a member of the Vancouver Canucks.
"He's the real deal. He's going to be legit," one fan was overhead saying to another following their first live look at the Young Stars Classic in Penticton, where Pettersson scored twice in Friday's 8-2 blowout and netted another goal in Sunday's 6-4 victory as the Canucks torched the Winnipeg Jets to sweep that two-game showcase between the teams' top prospects.
Praising Pettersson
Pettersson's teammates came away equally impressed, including Kole Lind, who was flanking the fifth overall pick from 2017 and fellow Swede Jonathan Dahlen to form Vancouver's top line in both games.
"He's a very smart player, he reads the play very well and makes the right play all the time," Lind said of Pettersson. "And his shot is on another level too. His release is very quick, and we saw (Sunday) his one-timer is deadly as well."
.@_EPettersson with the rocket. Replay all 3 goals from his first #Canucks #YoungStars Classic. 🚨🚨🚨 pic.twitter.com/7VbsEGd744

— Vancouver #Canucks (@Canucks) September 10, 2018
Pettersson played in all situations in Penticton, with the latter goal coming on the power play. He was also sent out to protect the lead late in Sunday's rematch.
"I want to be on the ice when it matters the most," Pettersson said before critiquing his efforts. "I lost a very important faceoff and they got some scoring chances. I haven't been good on the faceoffs in these two games, but I'll work on it."
Pettersson, who is projected to continue playing centre when the Canucks open their main camp this week in Whistler, also lamented a couple turnovers and defensive-zone errors in the second period when Winnipeg erased a 3-0 deficit as the teams wound up tied heading into the final frame.
Hard on himself, Pettersson clearly wasn't taking it easy or simply going through the motions at the Young Stars. He was getting up to speed and showed off his 200-foot game in the first period by creating a chance at the offensive end, then hustling back to break up an odd-man rush.
"They had a 2-on-1 and I was the first guy home, so I just skated a hundred per cent and tried to win the puck, and I did," said Pettersson, who wiped out Winnipeg's puck carrier, causing that attacker to slide into Vancouver's net, dislodging it for a stoppage in play to end the threat.
Lauding Lind
Dahlen also finished the mini-tournament with three goals — rekindling his chemistry with Pettersson from their time together with Timra — and Lind proved to be the perfect complement in setting up a few tallies despite not scoring himself.
Lind's contributions didn't go unnoticed by Pettersson.
"He brings a lot. He had a good shot and good passes to both me and Jonathan, so he was very good and very nice to play with," Pettersson said of Lind, the Canucks' second-round pick from 2017 (33rd overall) who only turns 20 on Oct. 16.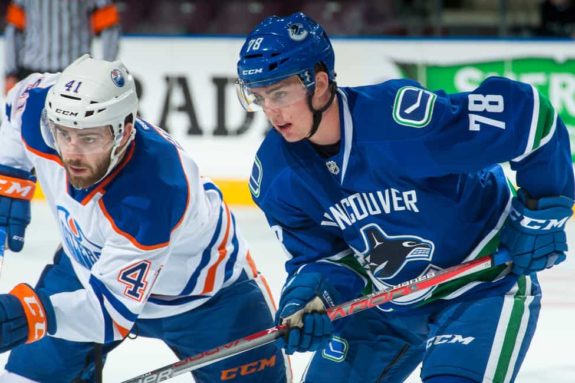 Dynamic Duo
With the Sedin twins retiring after last season, the hope in Vancouver is that Pettersson and Dahlen can develop into another dynamic Swedish duo among the Canucks' top-six forwards.
They aren't related, but much like Henrik and Daniel, they seem to sense where each other are and where they are going to be on the ice — working their magic throughout the Young Stars.
[miptheme_quote author="Elias Pettersson" style="text-center"]"It's easy to play with Jonathan and it's always nice. We play good with each other and we create a lot of chances."[/miptheme_quote]
"They feed off each other very well and they're both finishers for sure, so it's pretty cool to have a chance to play with them and try to create things with them," Lind said. "It was really fun, I was excited, and hopefully I'll get to see a little bit more of that in the future."
Future is Bright
Pettersson and the rest of the Canucks' top prospects lived up to their hype in Penticton.
There were several other standout performances — from Adam Gaudette to Jonah Gadjovich to Petrus Palmu — and onlookers could see why Corey Pronman of The Athletic recently ranked Vancouver's prospect pool second overall among the 31 NHL teams.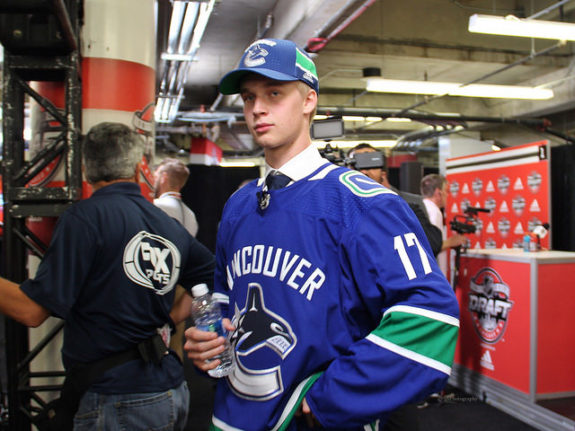 "There's a lot of good prospects here. We have a good team," Pettersson said of Vancouver's roster, which also featured defenceman Olli Juolevi, the fifth overall pick from 2016, and reigning OHL goaltender of the year Michael DiPietro, who was solid in Friday's opener.
That's not to mention Quinn Hughes, this year's top pick at seventh overall — a mobile blueliner who is returning to Michigan (NCAA) and thus wasn't eligible for the Young Stars.
"You could see seven or eight guys that could be in the top three (prospects) for a different team's pool. We have a very deep pool with a lot of skill and grit in there," Lind said. "From lots of prospect pools, you might see one or two guys go to the NHL, where you could see seven or eight here.
"It's really exciting and really cool to be a part of, and hopefully see a lot of these faces up in the NHL one day."
Utica Looking Stacked
Indeed, half the dressing room in Penticton has NHL upside. And a handful of Vancouver's prospects have the potential to be impact players at the next level if they keep progressing in their development.
The next step for most of them will be the AHL, with the Utica Comets.
Lind is looking forward to growing with this group, believing they could become something special in due time.
"It's going to be young, for sure, but a very skilled team," Lind said of Utica. "We've got a lot of young guys that are trying to make the jump up to the next level, and we know we have to take it step by step here. It should be a really cool experience this year, and obviously winning games will be the No. 1 thing for us.
"I think that's the main thing the organization is going for, is winning games and eventually being a championship team."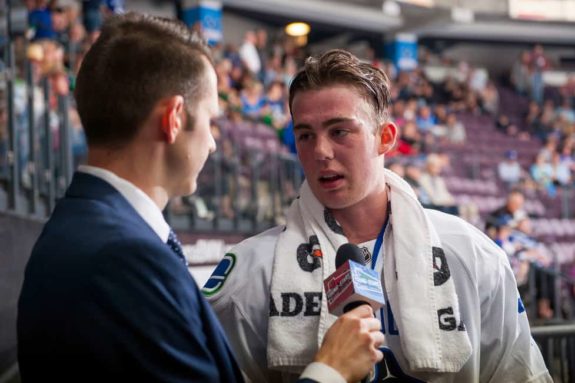 In the present, the Canucks are rebuilding, but the future appears promising.
The Jets are at the other end of the spectrum as a current contender, with their top talents already starring in the big league.
Kristian Vesalainen, Winnipeg's first-rounder from 2017 (24th overall), was their top prospect on display in Penticton, but he didn't have nearly as strong of a supporting cast as Pettersson.
Vancouver has quite a few highly touted forward prospects turning pro this season and they will be battling each other for call-ups from Utica, assuming they don't stick with the Canucks to start the season.
"It is still a competition, obviously trying to make the jump to the NHL," Lind said, "but we try to make each other look good and just try to show our strengths and help each other out as well."
Next Stop, Whistler
Lind, a right-winger who led the WHL's Kelowna Rockets in scoring for the past two seasons, is among those ticketed for Utica, but he'll do his best to leave a lasting impression at Vancouver's training camp in Whistler and throughout the preseason.
He should get into some exhibition games and hopes to position himself high on that pecking order for future recalls in the event of injuries or suspensions to Canucks' forwards.
"I'm just going to try to be a complete player," Lind said of his approach to training camp. "I tried to show that this weekend and I think it's come along pretty well. Obviously playing with Elias and Jonathan made it a lot easier to create chances, but hopefully I have other guys to feed off as well, no matter who they put me with."
Optimism is abound coming out of the Young Stars and the Pettersson hype train isn't slowing down on its way to Whistler. He's not fuelling it, though, with the Canucks' prospects taking their success from Penticton in stride.
"To get the first two games over with . . . it's good to get into hockey condition and get some points too, and some wins," Pettersson said.
"It was really good to get a little bit of competitive culture going this weekend, and it's a good start for what's coming up this week," Lind echoed. "It's going to be a grind, but it'll be really fun."
Larry Fisher is a senior writer and head scout for The Hockey Writers, having been an at-large contributor for THW since August 2014. Fisher covers both the NHL and the WHL, specializing in prospects and NHL draft content, including his annual mock drafts that date back to 2012. Fisher has also been a beat writer for the WHL's Kelowna Rockets since 2008, formerly working as a sports reporter/editor for The Daily Courier in Kelowna, British Columbia, Canada from 2008-2019. Follow him on Twitter: @LarryFisher_KDC.