The '12 Days of Christmas' is a classic holiday song first published in its current form in 1908. In a nod to the classic carol, join The Hockey Writers as we count down the 12 Days of Hockeymas. Each day, we will provide you with a piece of hockey history as we eagerly await the start of the 2020-21 NHL season.
The Vancouver Canucks history with undrafted players has been a positive one as 12 players have the distinction of logging over 100 games in a Canucks uniform. They all fought through adversity and became vital members of the team despite not having their name called on the draft floor. For players that were not given the time of day by draft pundits and scouts alike, they sure accomplished a lot when they were given the chance to shine.
Alex Burrows (822)
We all know Alex Burrows' story of perseverance on his way to a long and fruitful 13-season NHL career. He played two seasons in the QMJHL with the Shawinigan Cataractes, rode the bus in the ECHL with the Columbia Inferno, then finally made it to the American Hockey League with the Manitoba Moose. The rest as they say is history, as he made it to the NHL in 2005-06 and never looked back.
Related: Top 5 Alex Burrows Moments With the Canucks
Burrows started his tenure with the Canucks as a grinder on the third and fourth lines but quickly made his way up to the top line with Henrik and Daniel Sedin. Then-head coach Alain Vigneault was a desperate man after a record-setting nine straight losses at home, so he took a chance and aligned a grinder with two of his best players.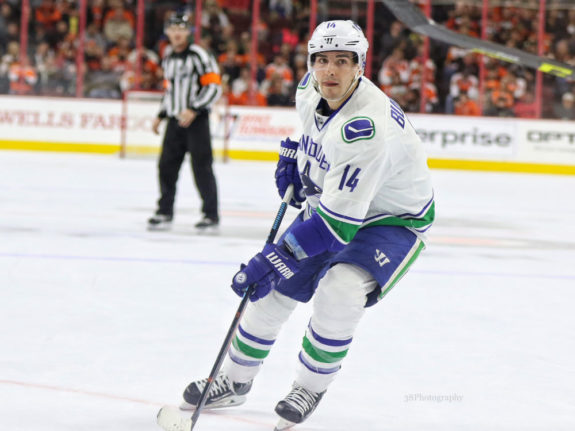 The experiment was a massive success as Burrows fit like a glove and proceeded to put together four straight 25-plus goal seasons. He was also a key forward in the 2011 Stanley Cup run where he posted nine goals and 17 points in 25 games. Two of those nine goals were also game-winners. I have no doubt in my mind that he would have been in the running for the Conn Smythe Trophy that year had the Canucks won it all.
Burrows went from an undrafted nobody to one of the most recognizable names in Canucks' history. He also will go down as one of the NHL's greatest success stories.
Chris Tanev (514)
When Chris Tanev was signed as an undrafted free agent in 2010 from the Rochester Institute of Technology, no one really batted an eye. He wasn't a flashy defenceman and the Canucks already had a formidable defence core with Christian Ehrhoff, Sami Salo, Dan Hamhuis, Kevin Bieksa, and Alex Edler anchoring the blueline. I don't think there were many people that thought he would get a sniff at the NHL, let alone 29 games in the regular season and five games in the playoffs (including three in the Stanley Cup Final), in his rookie season no less.
Tanev was a picture of calm during the playoffs, even in the pressure cooker of the Stanley Cup Final against the fierce Boston Bruins, much to the amazement of his teammates.
He could have played with a cigarette in his mouth.

Kevin Bieksa on Chris Tanev's unwavering calmness in his first taste of NHL playoffs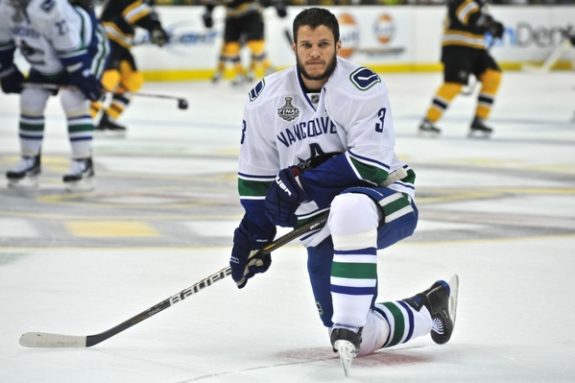 That calm demeanor followed Tanev throughout his career as he went on to play 514 games with the Canucks, much of them of the warrior variety. By the end of his tenure with the team, he had averaged 2:40 of shorthanded ice time and blocked a total of 1050 shots. He was a valuable piece of the defence core, whether it be in a matchup role, primary penalty killer, or ying to another defenceman's yang.
Related: A Decade to Remember for the Canucks
Basically, Tanev used a warrior-like mentality and a commitment to do the dirty work of blocking shots to become the most underrated defenceman in Canucks history. He even got a nod from Team Canada for the 2016 World Championship over more talented two-way defencemen. In fact, he was described by many of his teammates as one of their best.
On defense, I was pretty impressed with Tanev…You look at his numbers, I think he gets 20-25 points a year, but he does a lot of things that help your team win. He was probably our most steady defenceman from a defensive perspective all tournament.

Team Canada teammate Mark Stone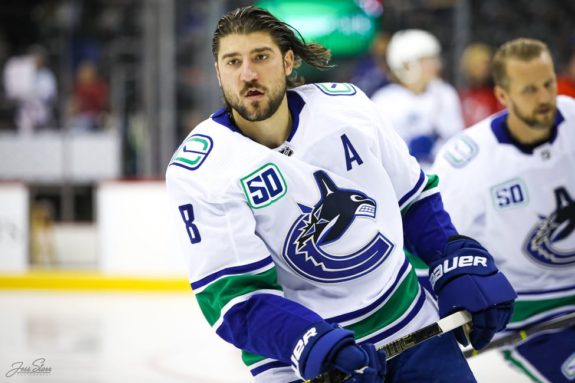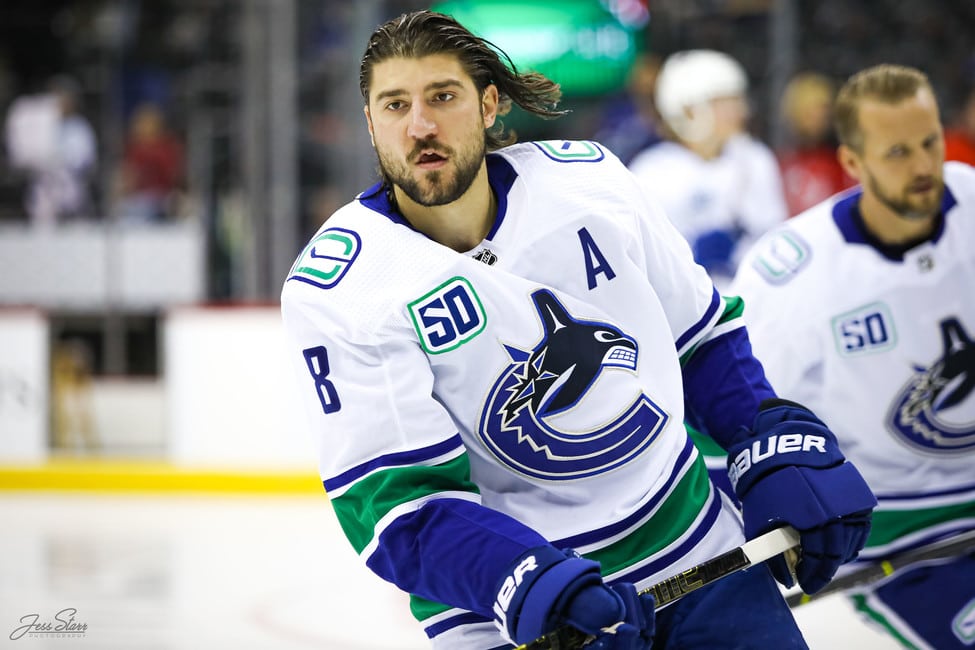 If there was an award for the best defensive defenceman, Tanev would be in the running almost every season. His warrior legacy will live forever in Canucks Nation, and he was never even drafted into the NHL. He may be plying his trade with the Calgary Flames in 2020-21, but I'm sure he will never forget his time in the blue and green.
Greg D Adams (489)
Greg "Gus" Adams played for five teams over the course of his 17-year career totaling 355 goals and 743 points in 1056 games. He started with the New Jersey Devils in 1984 and finished with the Florida Panthers in 2001, but spent most of his time in the middle with the Canucks. By the end of it all, he had played 489 games on the West Coast and accumulated 179 goals and 369 points, which included three 30-goal seasons.
Related: Canucks' Top-20 Goal Scorers All-Time
Adams was also a prolific postseason performer, especially in the 1994 playoffs, where he scored the game-tying goal and subsequent overtime winner against the Toronto Maple Leafs to send the Canucks to the Stanley Cup Final.
Donald Brashear (388)
Donald Brashear was never a goal scorer or point machine, but he could always be counted on for toughness and heart. In the hay day of enforcers and tough guys, he was one of the best, finishing with 2634 penalty minutes and a staggering 212 fighting majors in 1025 games. At 6-foot-3 and 237 pounds, he was one of the NHL's most feared hitters as well.
Brashear had his moments when it came to offence, as he strung together seven straight seasons where he potted more than five goals. Most of his success came in a Canucks uniform, where he posted 51 goals and 103 points in 388 games. His forte was enforcement though, as he never backed down from a fight, especially if it was in defence of a teammate.
Geoff Courtnall (292)
From the minute Geoff Courtnall joined the Canucks at the trade deadline from the St. Louis Blues during the 1990-91 season, he was a goal scorer, plain and simple. He scored six goals in his first eight games, then followed that up with three goals in the playoffs as well. The 1991-92 season was more of the same, as he finished with 23 goals and 57 points in 70 games.
Courtnall went on to have two more seasons with 20 or more goals, including one 30-goal season in 1992-93 and another key postseason performance in the 1994 Stanley Cup run where he had a career-high nine goals and 19 points.
Despite not being drafted into the NHL, Courtnall became one of the league's most consistent goal scorers. By the end of his career, he had accumulated 367 goals and 799 points in 1048 games. He also had six 30-goal seasons and didn't see a drop off in production until he was 36-years-old. Unfortunately, he suffered an eventual career-ending concussion during the 1998-99 season and retired in 1999.
Troy Stecher (286)
Like Tanev before him, Troy Stecher was signed out of the college circuit. He also joins the British Columbia contingent as the third BC boy on this list, following in Adams' and Courtnall's footsteps. He was born and raised in Richmond before playing for the Penticton Vees in the BCHL and North Dakota in the NCAA.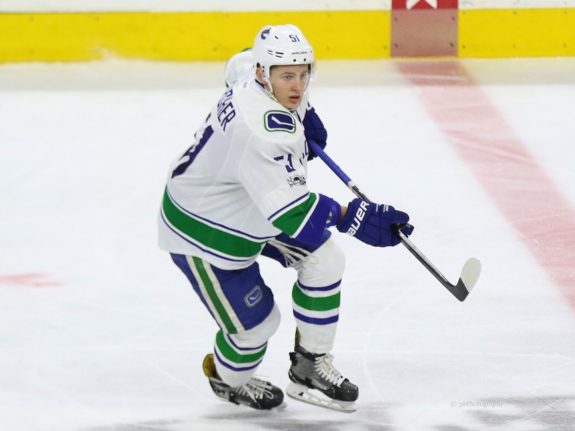 The Canucks came calling in 2016 after Stecher spent three very successful seasons in the NCAA where he won a championship with now-former teammate Brock Boeser. He played four seasons with the Canucks as a versatile two-way defenceman who could play in all situations, even in the top-four when needed.
Related: Troy Stecher's Journey To The NHL
Stecher was a heart and soul player for the Canucks who gave it his all every shift. He was a key member of the team both on and off the ice and will be missed in the dressing room after signing in the offseason with the Detroit Red Wings.
Jack McIlhargey (167)
Jack McIlhargey was the definition of an old school defenceman, not much offence and tough as they come. He only scored a grand total of 11 goals but accumulated 1102 penalty minutes over 393 games in the NHL. Most of his success came off the ice as a coach after he retired in 1982.
McIlhargey didn't take long to decide on his next career path as he joined the world of coaching for the 1982-83 season. He began his journey in the American Hockey League with the Binghamton Whalers but quickly graduated to the NHL in 1985 with his old team, the Canucks. He went on to coach in Vancouver for a total of 12 seasons before finishing his career with the Philadelphia Flyers in 2010.
Jason Garrison (128)
Joining Courtnall, Adams, and Stecher, Jason Garrison is now the fourth BC boy on this list. He did not have a long stay with the Canucks, despite signing a six-year contract in 2012. He wanted to play for his hometown team but ended up getting traded to the Tampa Bay Lightning in a salary dump only two seasons into the deal.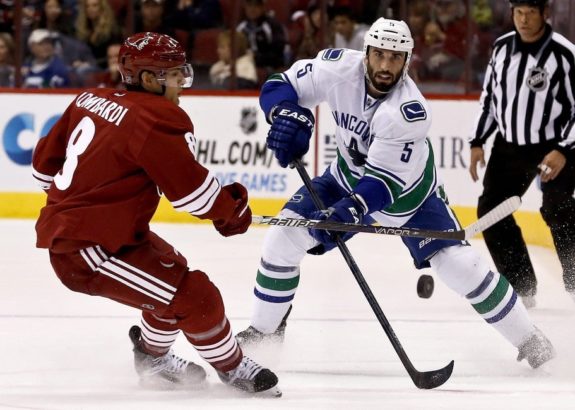 Garrison had a relatively solid stint with the Canucks, but never matched his career-high of 16 goals he posted in 2011-12 with the Florida Panthers. His big shot should have been an asset on the power play, but head coaches Alain Vigneault and John Tortorella never used him enough in that role. In the end, he was a victim of the numbers as the salary cap started to become a problem before the 2014-15 season. He went on to play five more seasons with the Lightning, Vegas Golden Knights and Edmonton Oilers before heading overseas to play out his career in the SHL with Djurgardens IF.
Rick Rypien (119)
Rick Rypien spent his entire career with the Canucks and Manitoba Moose and built up quite a following for the way he played the game. He never backed down from a fight, even though he was only 5-foot-11 and 194 pounds. He fought many players who were way above his weight class and held his own in a lot of them. His father Wes, was a Canadian boxing champion, so most of his moves were gleaned from him.
Rypien will forever be remembered in Canuck Nation for his hard work, tenacity, and overall love for the game of hockey. He passed away in the summer of 2011 at the young age of 27 after battling depression for many years. On the ice, he was a fierce fighter and forechecker, and off the ice, he was a great character guy in the dressing room. He never showed any outward signs of his poor mental health, but ultimately committed suicide because of it.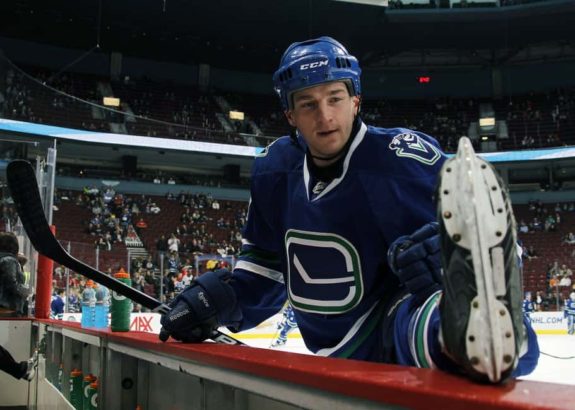 His best friend Bieksa saw his struggles first hand, and is now educating people about mental health, so that what happened to Rypien doesn't happen to anyone else. He helped conceptualize the Mind Check organization, and has been at the forefront of it and Hockey Talks for many years since then.
Ryan Stanton (118)
Like many of the players on this list, Ryan Stanton played his best hockey when he was with the Canucks. For two seasons, he was an effective depth defenceman, shot-blocker, and penalty killer, but could never catch on with another team after that. He left the team in 2015 and signed with the Capitals, where he only ever played one game.
Stanton is now a free agent after spending the last five campaigns in the AHL with various teams. He probably won't play many more games in the NHL at 31-years-old, but most undrafted players never even play one game, let alone 120, so I'm sure he's happy with the time he had.
Jay Beagle (112)
Jay Beagle just made it onto this list in 2020 after spending the last eight seasons with the Capitals. He basically broke into the NHL using good old fashioned hard work and a willingness to do whatever it takes to win. He became one of the best faceoff men and penalty killers in the entire league and won a Stanley Cup in 2018 thanks in large part to his efforts in those departments.
After winning the Cup, Beagle left the Capitals and joined the Canucks. He is now entering his third season with the team and has already endeared himself to management, the coaching staff, and his teammates. He is one of the veteran leaders of the current youth movement and will be counted upon in 2020-21 to help them navigate through yet another hard road to the playoffs. He has now eclipsed the 500-game mark and just continues to prove that undrafted doesn't mean an end to the NHL dream.
Antoine Roussel (106)
Finally, we get to Antoine Roussel, one of only three natives of France currently playing in the NHL. He recently hit the 100-game mark with the Canucks, but could have had much more by now if he had been signed out of training camp in 2011. Unfortunately, he wasn't and ended up spending his first six seasons in the league with the Dallas Stars.
Related: Top-5 Players From France in NHL History
Roussel carved out a place for himself in the NHL by being one of the most annoying agitators in the league. He also has some speed and skill too, so that makes him extra special, and extra annoying. He hasn't had the same success in Vancouver as he had in Dallas, but injuries have played a huge part in that. It took him a while to recover from a major knee injury he suffered during the 2018-19 season and was just hitting his stride when COVID-19 pressed pause in March.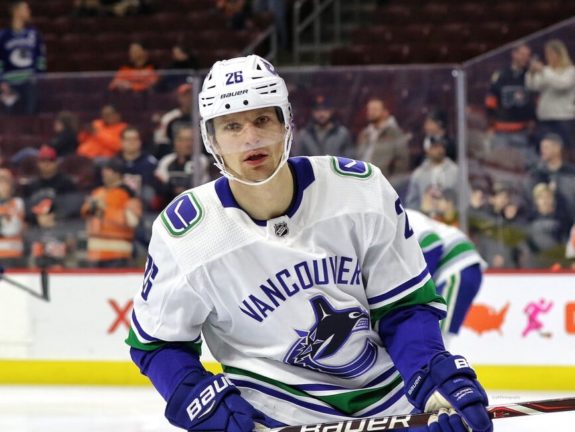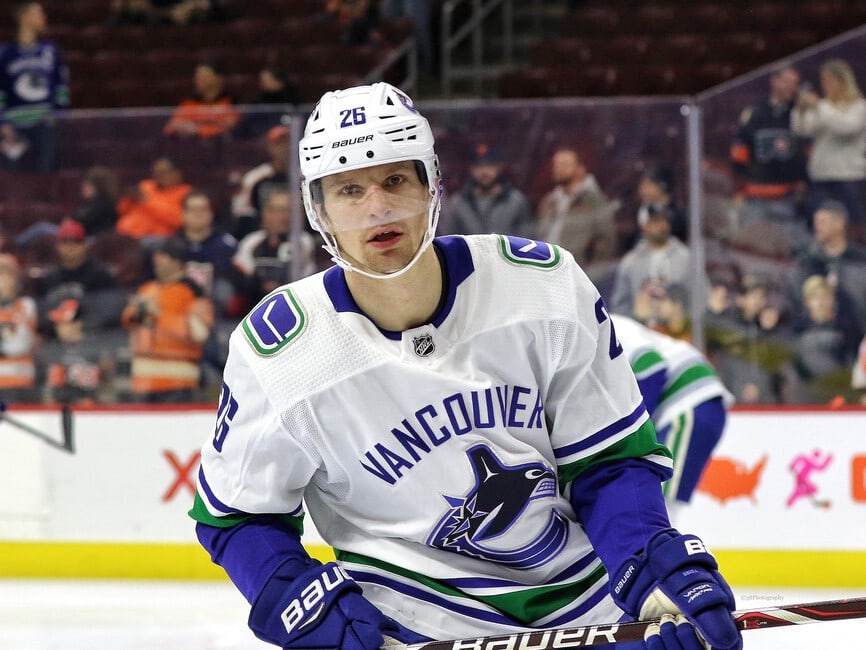 Roussel is still a valuable player to the Canucks, especially when he is at his agitating best. If he can recapture the magic he had with the Stars when he suits up in 2020-21, they will be better off for it especially after losing depth forwards in Tyler Toffoli and Josh Leivo in the offseason.
Canucks Have Good Fortune With Undrafted Players
The Canucks have encountered great success with undrafted players over the years with franchise icons like Burrows and Tanev and goal scorers like Courtnall and Adams. They also have seen role players like Rypien, Brashear, Beagle, and Roussel come through their doors as unlikely NHLers too.
Related: Best Undrafted Players in NHL History
Looking back at the 12 players who have spent at least 100 games with the Canucks, it's clear that undrafted doesn't mean the end of the road. If you work hard enough and continue to hone your craft, anything is possible. Just ask Beagle and Courtnall, as they have both raised the Stanley Cup after never even stepping foot on the draft floor.
---
---