The Washington Capitals' main issue, which is spoken about time and time again, is their issue shutting teams down in their own end. They will be looking to improve at the defensive end of the ice going into the 2023-24 season as they attempt to have a quick turnaround and make it back into the playoff picture.
One name that stands out as a pending unrestricted free agent that could be a really smart player to target is current Florida Panthers defenseman, Radko Gudas. His physical game is evident on a nightly basis. As a veteran, he provides leadership on top of his strong play, which will fit really well with the Capitals.
Related: Capitals 2023 Free Agent Targets: Pius Suter
He is a former Capital, so the idea of him making a return to a place he's already comfortable with isn't entirely impossible to think about. He played well with the Caps and has shown his value during the Panthers' current playoff run.
Who Is Radko Gudas & How Does He Benefit the Capitals?
Gudas is a 32-year-old, right-shot defenseman from Kladno, Czechia, currently playing for the Panthers. He was drafted in the third round of the 2010 NHL Entry Draft by the Tampa Bay Lightning at 66th overall. He made his debut during the 2012-13 season with the Lightning and has played 682 games since then. In those games, he has scored 33 goals and added 131 assists for 164 points, which comes out to a 0.24 points per game average.
Gudas also had the opportunity to represent Czechia at the U18 World Junior Championship during the 2007-08 season where he had a goal and an assist through five games. His impressive and physical showing with HC Kladno in Czechia earned him an opportunity in the WHL.
---
Latest News & Highlights
---
He played his draft year in the Western Hockey League (WHL) with the Everett Silvertips, where in 65 games he scored seven goals and added 30 assists for 37 points, and was teammates with current Edmonton Oilers blueliner Ryan Murray. That season he also represented Czechia at the U20 World Junior Championship where he had two assists through six games. He has played for four different teams in his career, which are the Panthers, Lightning, Capitals, and Philadelphia Flyers.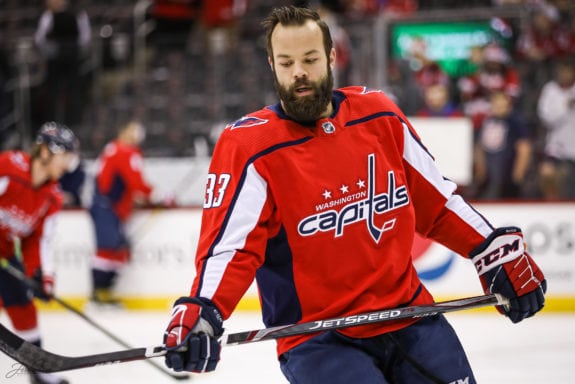 Gudas doesn't provide offensively as much as some other defenders do, but his value comes from his defensive ability. He is a scary player to go 1-on-1 with on zone entries due to his size and known hitting ability as players step over the blue line. He has a reputation as a hard-hitting, shutdown defenseman that will defend his teammates if and when needed, so the Capitals would immediately get more intimidating. Something they lacked last season.
He's going to be getting a cheaper deal on his next contract, so for the Capitals to sign a player they're already familiar with and know they're getting better on their blue line is a huge plus. He hasn't seemed to take a step back with his age but instead continues to play his role of a bottom-four defenseman well wherever he plays.
What Will it Cost the Capitals to Bring Him In?
While he will be signed at a good price for whichever team he chooses to join, I can see him signing a 2-3 year contract worth $1.5-2.25 million a season, which is completely fair for a player of his caliber. The Capitals will be trying to make a splash come free agency, so adding a player like Gudas at that price will be a no-brainer.
He has played everywhere in the Panthers' lineup this season and played his role well. I truly believe he would thrive with the Caps, but time will tell if he's going to choose to come back. I can't see any reason he'd be against the idea of a reunion, so hopefully he chooses to return.