The Western Hockey League (WHL) heads into the 2023 NHL Draft with one of its deepest classes to date. While last year's draft saw six players, including Kevin Korchinski, Conor Geekie, and Owen Pickering selected in the first round, this year could see nine or even ten players selected within the first 32 picks. With 54 players chosen for NHL Central Scouting's Final Rankings, expect plenty of WHL talent to hear their names called throughout the 2023 Draft as they look to not just beat but smash the 2022 Draft's total of 28 players selected.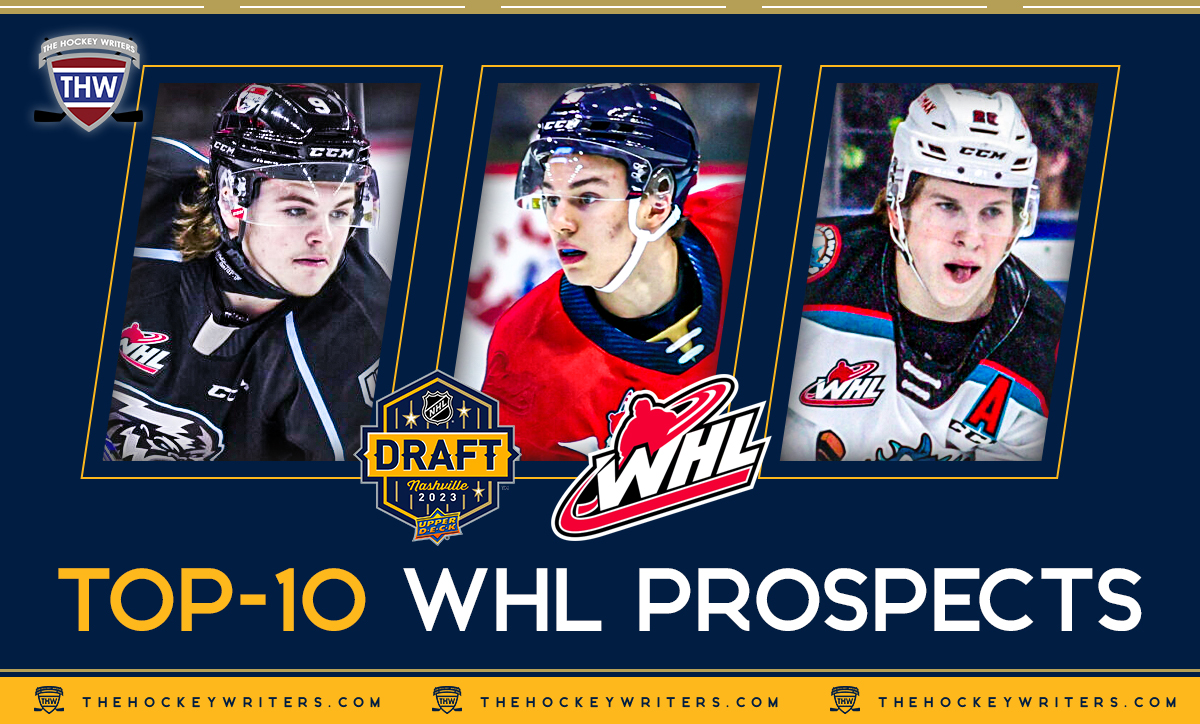 In total, 12 players are included in the top 30 of the NHL Central Scouting North American Skaters list, while four of the top ten North American goaltenders hail from the WHL. While the Ontario Hockey League (OHL) may have more players on the final rankings, there is no question that the WHL has the deepest talent pool available across the Canadian Hockey League (CHL) and, arguably, the world. Here is a look at the top ten WHL players available for selection in the 2023 NHL Entry Draft.
10. Lukas Dragacevic, Defenceman, Tri-City Americans
Central Scouting Rank: 18th (among NA skaters) 
The top-ranked WHL defender in this year's draft, Tri-City Americans' Lukas Dragacevic, is exactly what teams are looking for when it comes to modern NHL defencemen. He can transition the puck out of his zone well, quarterback a power play successfully, and isn't afraid to jump up in the play by activating from the point to create a scoring chance. Few defensemen available in this draft can produce offensively like he can, making him one of the more intriguing prospects who could hear their name called in the first round.
Related: 2023 NHL Draft Guide
---
Latest News & Highlights
---
The best way to describe Dragacevic is a high risk, high reward. He is great in the offensive zone, but there are still questions surrounding his play in front of his own net. While he is a project, if developed properly, he could be one of the steals of this draft, thanks to his high offensive potential.
9. Carson Bjarnason, Goaltender, Brandon Wheat Kings
Central Scouting Rank: 1st (among NA goaltenders) 
The number one ranked North American goaltender for this year's draft, Brandon Wheat Kings' Carson Bjarnson is a can't-miss prospect. At 6-foot-3, 181 pounds, he is very athletic and can move cross-crease with ease. He also has strong puck-tracking ability, which allows him to be positionally sound when facing a shot. One of the youngest players available in this draft class as he doesn't turn 18 until June 30; he is the epitome of hard work as he never heard his name called in the WHL Draft and had to earn his spot on the Wheat Kings.
Bjarnson has a lot of potential but will need time to develop and evolve his game. That being said, there are already indicators in his play that show he can make it to the NHL one day. While he may not hear his name until the second round, he is an exciting prospect and one that organizations should jump at the possibility of drafting.
8. Gracyn Sawchyn, Center, Seattle Thunderbirds
Central Scouting Rank: 24th (among NA skaters) 
Gracyn Sawchyn has seen his stock rise all season, and for good reason. Despite being on a stacked Seattle Thunderbirds team that featured ten NHL-drafted players, he was able to stand out from the crowd posting 58 points in 58 games during the regular season. He also added an additional 11 points in 17 games as the Thunderbirds defeated the Winnipeg ICE in the WHL Final and made it to the Memorial Cup for the first time since 2017.
Related: 2023 NHL Entry Draft – Top 10 OHL Prospects
Listed at 5-foot-11, 165 pounds, Sawchyn isn't the biggest center but knows how to use his quick hands and body positioning to create turnovers and break up cycles in the defensive zone. He has also developed into a strong playmaker, as he finished second among WHL rookies with 40 assists during the season. A player with a high motor who understands his strengths and uses them to his advantage, he has all the tools needed to be a successful middle-six center at the NHL level.
7. Riley Heidt, Center, Prince George Cougars
Central Scouting Rank: 21st (among NA skaters) 
One of the best playmakers available in this draft class, Riley Heidt is an exciting prospect who is dominant in the offensive zone. The Prince George Cougars forward can beat teams in a multitude of ways, whether it be by creating opportunities with passes or with his underrated shot. He is also great in the transition game, as he can maintain control of the puck while skating at his top speed, allowing him to beat defenders wide and set up in the offensive zone.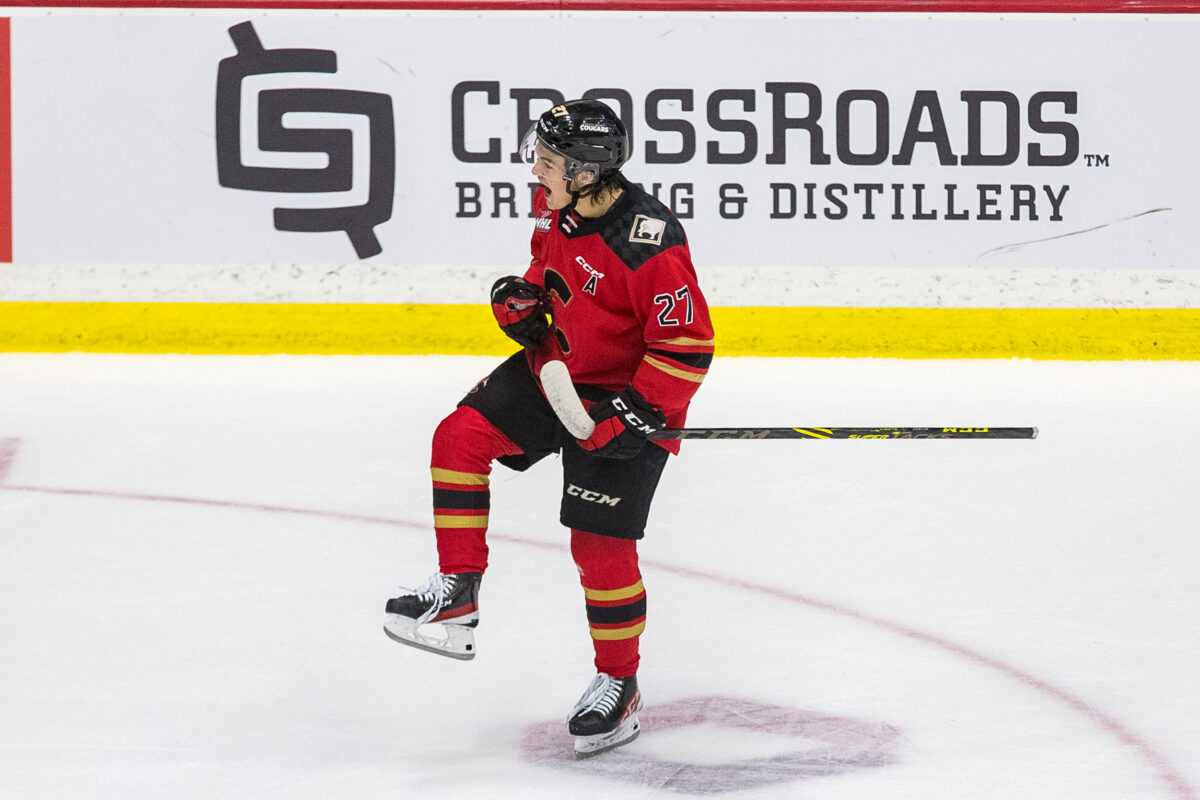 Heidt is one of the most exciting prospects available in this draft because of how dangerous he is in the offensive zone. He is always moving when the puck is on his stick which allows him to pull defenders out of position or change the angle of his shot, often leading to high-danger scoring chances. Whether he plays center or wing at the NHL level is still up for debate, but one thing that isn't is that he will be an offensive threat, especially on the power play, for a long time.
6. Brayden Yager, Center, Moose Jaw Warriors
Central Scouting Rank: 11th (among NA skaters) 
Moose Jaw Warriors forward Brayden Yager's development this season has been exciting to watch. After posting 34 goals and 25 assists in 2021-22, he became more of a playmaker this season, seeing his goal total drop to 28 while his assist total doubled to 50. He still has one of the best shots in the draft class, but he has added other elements to his game that have helped him become more of a threat in the offensive zone.
Related: Blues 2023 First-Round Draft Targets: Brayden Yager
Yager is also one of the best skaters in this draft class, as he is able to utilize his speed to beat defenders wide and transition the puck into the offensive zone. While he does play center, he profiles more of a winger at the next level, where he can beat the opposition to loose pucks on dump-ins and create chances along the wall. A player who has the potential to be a top-six forward in the NHL, he should hear his name called during the first round of the draft.
5. Andrew Cristall, Left Wing, Kelowna Rockets
Central Scouting Rank: 15th (among NA skaters) 
Andrew Cristall is a special talent that lit up the WHL this season with 39 goals and 95 points in 54 games. An elite offensive talent who is very creative when the puck is on his stick, he is able to read the play well and anticipate where his teammates will be, delivering crisp passes to open areas. The Kelowna Rockets forward feels like a walking highlight reel at times, as he can pull off moves that rival some of the best from across the CHL.
If Cristall can improve his skating, he is going to be a legitimate threat at the NHL level for a long time. This is a prospect that is determined to be the best player on the ice every shift and up until this point, hasn't disappointed. Whoever selects him is getting a special player that, with the right development path, could be one of the best-producing players from this year's draft class.
4. Samuel Honzek, Left Wing, Vancouver Giants
Central Scouting Rank: 9th (among NA skaters) 
If teams are looking for a big winger who has great speed and plays a strong two-way game, Vancouver Giants forward Samuel Honzek may be their guy. Listed at 6-foot-4, 185 pounds, he is a difficult player to knock off the puck as he uses his big frame to protect it as he drives to the net. A prospect that cares just as much about scoring goals as he does keeping them out of his own net, he comes into the draft as one of the best well-rounded wingers available for selection.
Related: 2023 NHL Entry Draft – Top 10 QMJHL Prospects
This was a tough season for Honzek due to injury issues, but he continually showed why he deserves to hear his name called early in the draft. While there are other wingers who put up a higher point per game total, few showed the defensive awareness and penalty-killing skills that he demonstrated throughout the season. He is a unique player who, when healthy, has the ability to be a difference-maker at both ends of the ice.
3. Nate Danielson, Center, Brandon Wheat Kings
Central Scouting Rank: 7th (among NA skaters) 
Nate Danielson may not be the most exciting prospect, but he is arguably one of the most NHL-ready players available in this year's draft. The Brandon Wheat Kings center has developed into an elite two-way center that plays mistake-free hockey and can be used in all situations. A good skater that knows how to use his 6-foot-1 frame to his advantage; he protects the puck well and consistently wins loose puck battles all over the ice.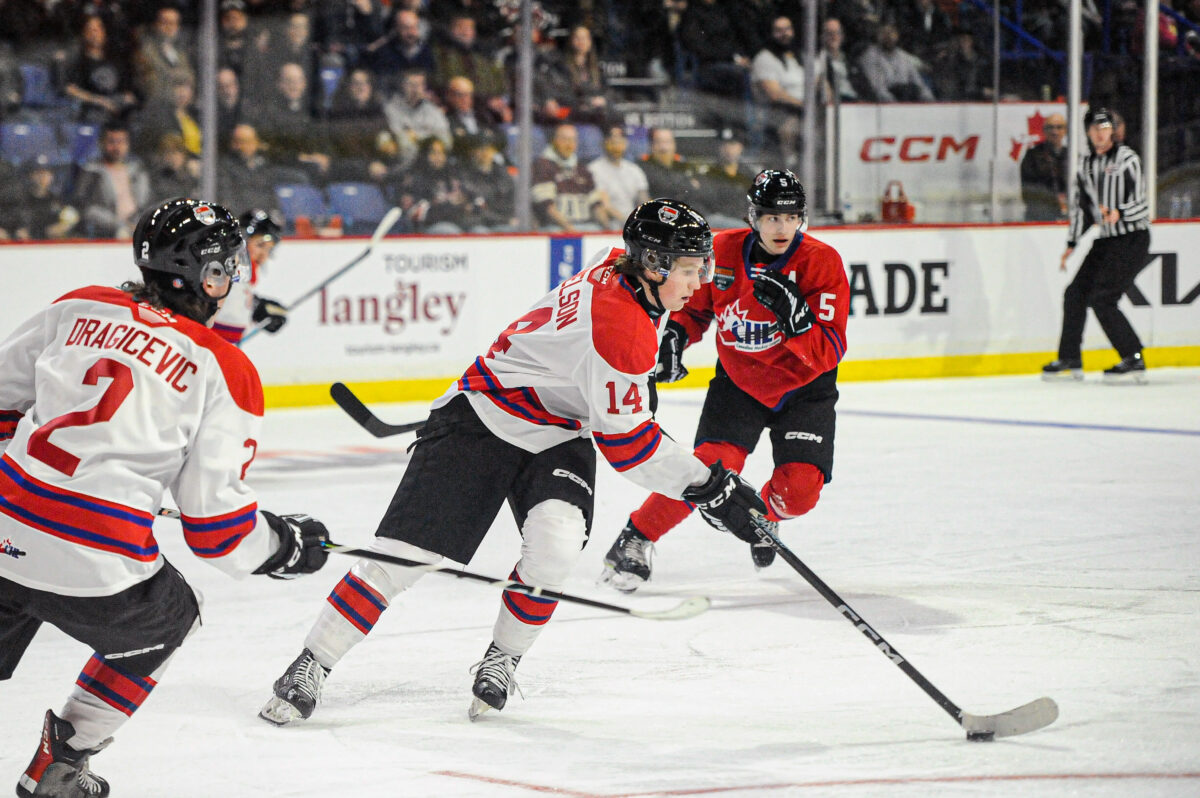 Danielson's stable play makes him one of the most valuable players available in the draft. There are no big holes in his game and no bad habits that need to be broken for him to advance to the NHL level. Whichever team selects him is getting a future second-line center that can play a matchup role while contributing to the power play and penalty kill.
2. Zach Benson, Left Wing, Winnipeg ICE
Central Scouting Rank: 6th (among NA skaters) 
There are few players available in this draft that are as exciting with the puck on their stick as Zach Benson. The Winnipeg ICE winger seems to make everyone around him better, as he finished third in the WHL with 98 points in 60 games and was the points leader on a star-studded ICE team that featured six NHL-drafted skaters. One of the most dedicated and hard-working prospects available, he continued to develop his game all season in order to become a better all-around player.
Related: Red Wings Draft Targets: Zach Benson
Benson is the type of winger that every organization would love to have. He has fantastic skating, excellent vision, a great shot and isn't afraid to get in on the forecheck and fight for loose pucks. Whichever team drafts him is getting a potential first-line winger who should have no problem producing points at the NHL level.
1. Connor Bedard, Center, Regina Pats
Central Scouting Rank: 1st (among NA skaters) 
It is no surprise that Connor Bedard tops this list as not only is he the best WHL prospect available, he is arguably the best prospect to ever come out of the WHL. Some of his accomplishments before turning 18 include a gold medal at the U18s, back-to-back gold medals at the World Juniors while also winning tournament MVP in 2022, winning WHL Rookie of the Year and being named the WHL's MVP this past season. The sky is the limit for the projected first-overall pick this year as he comes into the draft as the most hyped prospect since Connor McDavid back in 2015.
At this point, the only questions surrounding Bedard are whether he will play center or wing at the NHL level and just how dominant he will be. He will be a favourite for the Calder Trophy heading into the season as he looks to become the next great star for a historic Chicago Blackhawks franchise. He leaves the WHL with 271 points in 134 regular season games and as one of the most electric players to ever play in the CHL.
WHLers Set For NHL Draft
The NHL Draft is set for June 28 and 29, with plenty of WHL talent like the names mentioned above set to hear their name called. This year will also be the first time since 2011 a WHLer will go first overall when Ryan Nugent-Hopkins went to the Edmonton Oilers.
Make sure to keep checking back here at The Hockey Writers for all your draft coverage, including draft profiles, team targets and reactions to all the latest news and notes from the NHL.
---
---