2022-23 Team: Brandon Wheat Kings / Western Hockey League (WHL)
Date of Birth: June 30, 2005
Place of Birth: Carberry, MB, CAN
Height: 6-foot-3, Weight: 181 pounds
Catches: Left
Position: G
NHL Draft Eligibility: First-year eligible
Rankings
While the 2023 NHL Entry Draft is projected to be one of the best in recent memory in terms of forwards and defensemen, when it comes to goaltenders there is less certainty overall. This is nothing surprising, as goaltenders are always longer-term selections, but typically there are one or two standouts that dominate the conversation that often work their way into the First Round on draft day.
Related: 2023 NHL Draft Guide
Heading into the 2023 Draft, the goaltending prospect that best fits this description is Carson Bjarnason, who is considered to be amongst the top-rated goalies of the class. In the net, Bjarnason tracks the puck at an elite level, and he understands how to put himself in the right position to cover as much of it as possible while always giving him a chance to make the stop. His body control is also fantastic, as he has a strong catching hand that he flashes with confidence and a blocker that is developing quickly.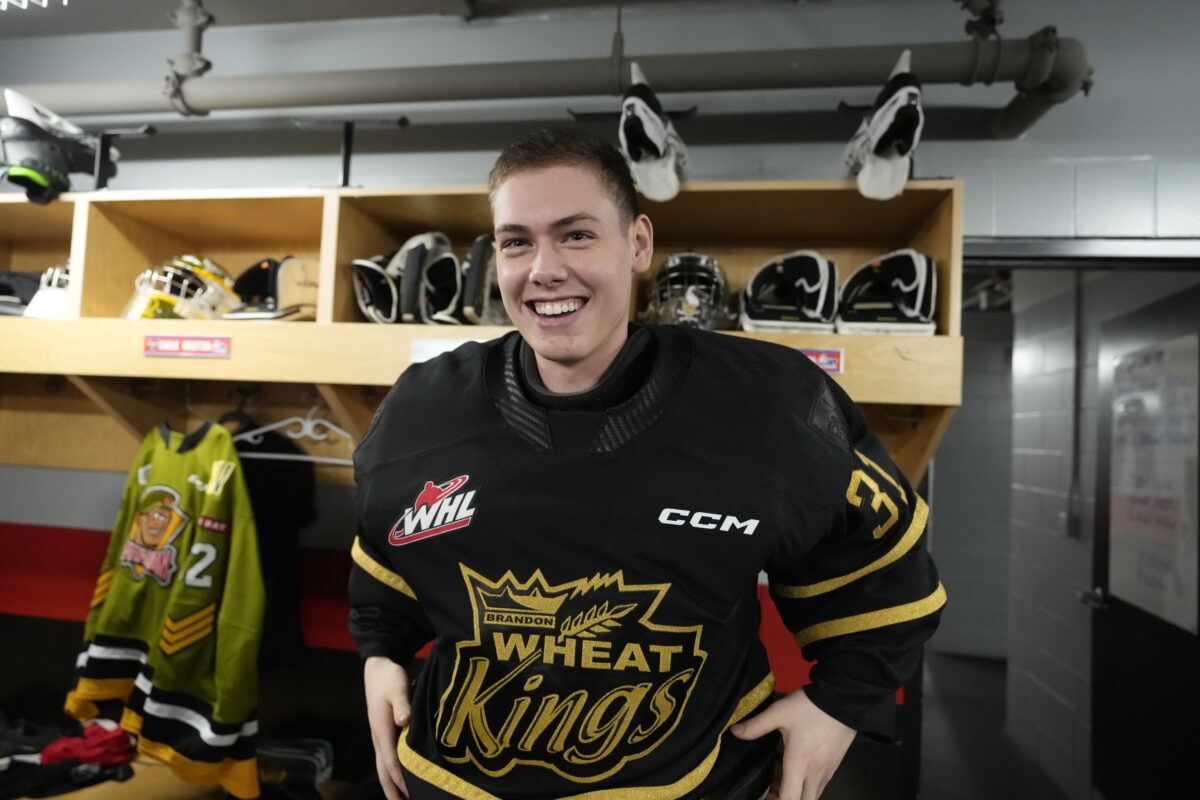 Now, if you only look at his statistics you may not understand why Bjarnason is a highly touted prospect, as he posted a save percentage of .900 and a goals-against average of 3.08 in 47 games played for the Brandon Wheat Kings of the WHL. However, it's worth noting that the Wheat Kings were not a particularly great team this year, as they missed the postseason. Also, as River Foster of portageonline.com pointed out:
While the Wheat Kings didn't have the best record overall, 26-33-9, when Bjarnason was in net, they played significantly better. Brandon only won five of their 21 games that Bjarnason didn't play in, and the Wheat Kings had a 0.500 win percentage with him in the crease.
So, the statistics of his first full season as a starter in the WHL aren't indicative of the type of prospect Bjarnason is. When it comes to a top-flight prospect, Bjarnason has everything that NHL general managers look for. He has the size of a modern NHL starter, along with a toolkit that is filled to the brim with talent that can be refined into a dominant force if given the proper time to develop.
Other THW Draft Profiles
Carson Bjarnason – NHL Draft Projection
When discussing where a top goaltending prospect will fall on draft day, it gets a bit tricky at this point in the season. For example, back at the 2021 draft Sebastian Cossa jumped up the boards when he was the first goalie selected at 15th overall by the Detroit Red Wings. However, in April of that season, he was projected to be selected in the late first to early second round, before steadily climbing up the charts in the pre-draft discussion.
For Bjarnason, I'm not expecting a Cossa-like rise in the coming months, but I could still see him being the first goalie picked in 2023, with a late-first-round selection not being out of the question.
---
Latest News & Highlights
---
However, given the amount of talent up front in this draft, I'm expecting general managers to shy away from selecting a long-term project like a goalie in Round 1. This means Bjarnason should hear his name called no later than Round 2, likely somewhere in the pick 40-50 range. Some have him projected as late as the third round, but I doubt he would slip that far down the boards, barring a sudden shift in his play.
Quotables
Technically sound with a grounded personality, to go along with the size required by most teams, all makes him a late first-round pick.

Sam Cosentino – sportsnet.ca
The tools that Bjarnason has makes him a rather intriguing goaltender prospect for the 2023 NHL Draft. The athleticism, the glove, the blocker and the puck tracking are excellent. He is showing that he can react quickly to puck movement and shut down scoring chances on routine.

Smahtscouting.com
Athletic goaltender with good size and play-reading ability. Needs to improve his improvisational play but has potential as an NHL goaltender.

Nick Richard – dobberprospects.com
Strengths
Tracks the puck at an elite level
Deep toolkit that has NHL starter potential
Big Frame that NHL General Managers love
Was a workhorse for a below-average Wheat Kings team
Under Construction – Improvements to Make
While he has an elite toolkit, Bjarnason still needs a lot of time to develop before reaching his full potential. He will be a project, but one that could be well worth the time investment.
NHL Potential
When you look at Bjarnason, you see the potential that makes him a top prospect for a reason. However, having a toolkit is one thing, whereas putting it all together is another. We've seen a lot of talented goalies never reach their potential because they were rushed into a difficult situation or simply couldn't take that next step into professional hockey.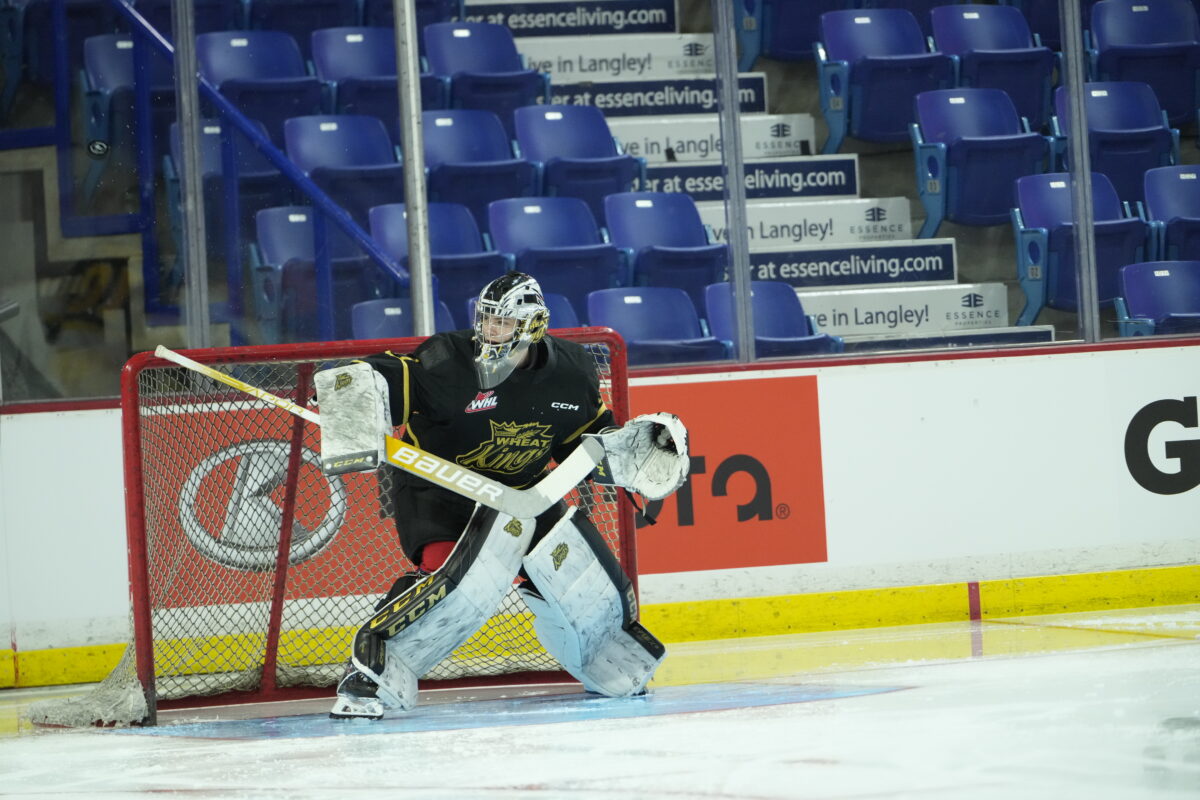 So, if the right team selects him and gives him time to develop, he could become a dominant force in four to six years. Yes, this means he would be a long-term project, but if handled properly, that investment could become a top-10 goaltender that backstops a franchise for a decade-plus.
Risk-Reward
Risk – 5/5, Reward – 5/5
Carson Bjarnason Stats