In the last 24 hours, news of the Washington Capitals has caused me to ask if it's time for a major change? Greg Wyshynski of ESPN.com broke the story at 6:58 PM:
NHL said before the season that violations of COVID protocols would result in "potential forfeiture of games, fines and reimbursements of expenses, loss of draft choice."

They dropped their first hammer on the @Capitals with a $100K fine. https://t.co/gH2BLCObuC

— Greg Wyshynski (@wyshynski) January 20, 2021
That report alone suggested a problem, but then five minutes later, at 7:03 PM, Washington Post Capitals beat reporter, Samantha Pell broke this news:
Capitals' Alex Ovechkin, Evgeny Kuznetsov, Dmitry Orlov and Ilya Samsonov are all on the NHL COVID Protocol Related Absences list

— Samantha Pell (@SamanthaJPell) January 21, 2021
At 7:50 PM the Capitals released a statement via twitter:
January 21, 2021
Alexander Ovechkin, Dmitry Orlov, Ilya Samsonov and Evgeny Kuznetsov broke COVID protocols. According to the statement, they were hanging out in a hotel room together. The reports are vague, but I won't speculate if there's more to the story that they're not telling us. The NHL has deemed it as a serious enough breach to fine the Capitals $100,000. I suppose this might have been a non-starter if not for some other damning information.
Kuznetsov's Effort Has Been Called Into Question
On Jan 16, Pell published an article that called out Kuznetsov for his inconsistent play that included a comment from general manager Brian MacLellan.
The Capitals need the 2018 version of Evgeny Kuznetsov. Will he show up this season?

GM Brian MacLellan: "He's the key for us … sometimes he is in and out, but when he is at that level, I mean, we are a good team. We are a really good team." https://t.co/bK7E9UnMSx

— Samantha Pell (@SamanthaJPell) January 16, 2021
It's rare and generally frowned upon for senior management to call out their players in the press, and I'm genuinely surprised this article seemed to get so little traction since it raises legitimate questions about Kuznetsov's commitment and work ethic. For me, these are catastrophic red flags regarding a player's character and go beyond on-ice performance.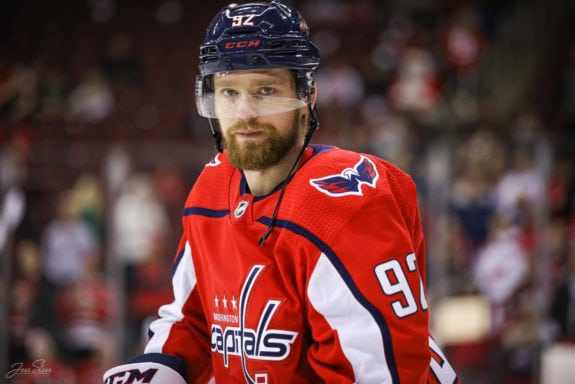 It's easy to dismiss these concerns considering Kuznetsov's numbers. He put up 52 points in 63 games last season and has 392 points in 483 games as a Capital. However, as the title of Pell's article points out, 2017-18 was Kuznetsov's best season statistically when he scored 83 points through 79 games. In the past two seasons, he has not come close to that level of production. Tacked onto that, his expected goals analytics are upside down for a player of his caliber. His expected goals against have outpaced his expected goals for in back-to-back seasons.
This level of play is unacceptable from someone who is supposed to be one of the team's top players and is paid accordingly. Kuznetsov is set to be paid $7.8 million against the salary cap each year until July of 2025. Sure he scores points, but if he gave it his all, he could do even more.
Orlov and Samsonov Have Struggled
I called out Orlov's rough start in a previous article. He wasn't very good against the Buffalo Sabres in the first two games of the season, and the two games against the Pittsburgh Penguins didn't go a whole lot better for him. The Capitals have given up seven 5-on-5 goals this season, and Orlov was on the ice for six of them.
At times, he has looked lost, and other times, he has been wildly out of position. Only a few games into the season and he's still a work in progress, but how long can the Capitals wait for one of their supposed top defenders to perform up to expectations?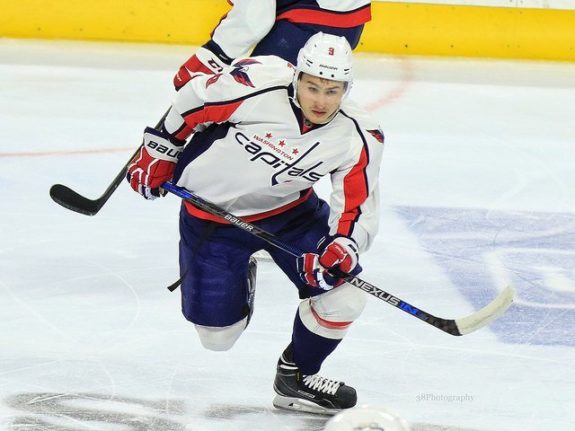 Samsonov has only played two games so far, but neither game did much to instill confidence in his ability to carry the load as the starter. Despite a win against the Sabres, Samsonov conceded four goals on 26 shots. In the shootout loss to the Penguins, he was better but gave up three goals on 27 shots. That gives him an aggregate .868 save percentage and a 3.36 goals-against average. Everyone hoped for better from him.
It's still likely that both Orlov and Samsonov will pull themselves out of this funk. The season is still young, and it's way too early to be drawing conclusions. However, it's not a good look for the team when off-ice distractions are reported while their play is less than stellar. It creates an atmosphere of doubt.
Remember the Bubble?
After the team was eliminated from the playoff bubble, The Athletic's Michael Russo reported that the Capitals effectively treated the bubble like a vacation. These claims were later refuted by several different sources including the Capitals' players. Russo is not an antagonist by nature, but in spite of that, these claims faded into the background.
It seems silly to mention these rumors when a new season is underway. It's worth stating, though, that after the playoff exit, coach Todd Rierden was fired, and Peter Laviolette was brought in. MacLellan said he was looking for a coach to "push buttons". He also hinted that some of those players who needed motivating included his core veterans. Now, three of those core veterans and his young goaltender have gotten his team in trouble with the league.
RELATED: What We Learned From the Capitals' First Two Games
This is the eighth season that Kuznetsov, Orlov and Ovechkin have been together. In 2017-18, they reached the mountain top together and brought the Capitals their first Stanley Cup. In the two seasons since then, the Capitals have exited the playoffs early. Orlov has struggled at times, and Kuznetsov's effort has been called into question. Laviolette is expected to get more out of these players.
Ovechkin is untouchable, and his legendary status makes him almost unquestionable. He is the captain, and he has owned up to and admitted his mistake. That doesn't change the fact that the Capitals are going to be without their best player in franchise history, a top defender, a top-six center and their starting goaltender for an unknown period.
I have to wonder if this error in judgment is a symptom of a larger problem. Occasionally, cliques form within a team and their influence can become unintentionally toxic. Is that what we're seeing here? If Laviolette continues to be unable to get these players to play up to their potential, this question will come up more often. If that occurs, it will need to be addressed. Is it time for the Capitals to break-up the band?
---
---
Jack Dawkins is a freelance scout, analyst and avid watcher of "way too much hockey." He has joined The Hockey Writers team to cover all things Washington Capitals, New Jersey Devils, Minnesota Wild, Los Angeles Kings, Arizona Coyotes and Florida Panthers. He's an absolute data hound and loves using stats and analytics to calculate and extrapolate data for analysis.