We're two games into this condensed season and there are already some story lines developing with the Washington Capitals. Even though they came away from the Buffalo Sabres with two victories, it wasn't particularly pretty. Games come hard and fast this season, so they're going to have to make some adjustments on the fly and get this ship righted sooner rather than later. It's not all doom and gloom and there are some bright spots, but when your team aspirations are essentially championship or bust, you get held to a higher standard than everybody else.
Samsonov Didn't Have a Great Start
I don't reckon that Ilya Samsonov planned to start his season giving up four goals on 26 shots against the Sabres, but that's what happened. I saw a couple bad takes on Twitter regarding his performance and him not being good enough. It's worth pumping the brakes on those takes for the time being.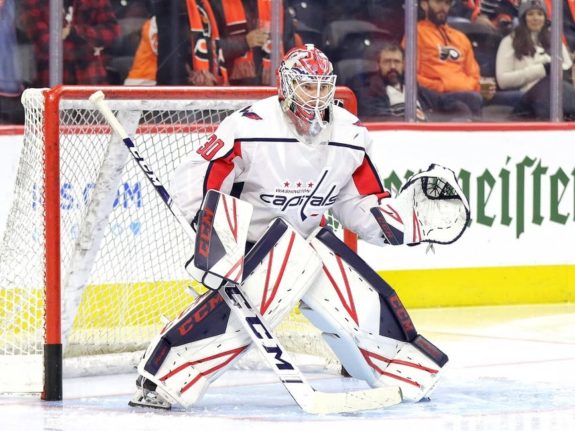 Samsonov's last NHL game action prior to opening night was on March 5, 2020. His last winning effort in net was Jan. 31, 2020. In the six games he appeared in after Jan. 31, he was an aggregate 0-4-1 with a .869 save percentage (SV%). After that stretch, he got hurt and missed the playoffs so this is his first real game action. That first action came against Jack Eichel, Taylor Hall, Sam Reinhart, and Victor Olofsson. If those four forwards don't scare you, you haven't been paying attention. The Sabres put a primary focus on upgrading their offensive firepower and it showed on the ice.
RELATED: Vitek Vanecek: The Capitals' New Backup Goalie
It's nowhere near time to start mashing the panic button. In the stretch prior to that Jan. 31 game I talked about, Samsonov was an aggregate 16-2-1 with a .925. His time in the KHL suggests that his early season work is more in line with expectation than his later season work. The 16 wins in 19 games wasn't some kind of fluke. Samsonov will be fine, he just needs to adjust to the pace of play and the team in front of him. If he's still struggling after five or six games, then it might be reasonable to be worried about him.
Vanecek Did Have a Great Start
I've been critical of Vitek Vanecek in articles and on Twitter over the years. A lot of that comes from time I've spent watching him play with the Hershey Bears. I just did not see him as ready to go for the NHL and I thought the Capitals going out and acquiring Henrik Lundqvist was proof that they felt similarly. Prior to the game I offered up a peace offering.
I have, over the years, both publicly and privately, been critical of Vitek Vanecek.
Tonight he makes his NHL Debut for the #ALLCAPS
I sincerely wish him the best of luck and I hope he proves every negative thing I ever said about him to be complete falsehood.
Go get 'em

— Jack Dawkins (@JDsays2much) January 15, 2021
Vanecek went out and delivered a stellar performance. I was watching the game via the Sabres' broadcast and commentator, Marty Biron seemed to hint that some of the performance was luck based. I'm not in agreement. Vanecek faced more high-danger chances against than Samsonov did the previous night with much better results.
| | | | | | | | |
| --- | --- | --- | --- | --- | --- | --- | --- |
| | EVSA | PPSA | SV% | HDCA | HDSV% | SCA | TMCORSI |
| Vanecek (Jan 15) | 24 | 7 | .968 | 11 | 100% | 23 | 40.23 |
| Samsonov (Jan 14) | 21 | 4 | .846 | 9 | 71.43% | 21 | 50.00 |
EVSA: Even Strength Shots Against, PPSA: Power Play Shots Against, SV%: Save Percentage, HDCA: High-Danger Chances Against, HDSV%: High-Danger Save Percentage, SCA: Scoring Chances Against, TMCORSI: Team Corsi


Data provided by: www.naturalstattrick.com and www.nhl.com
The Capitals played demonstrably worse overall in front of Vanecek than they did in front of Samsonov as well. In the second game, the Capitals were out-shot 31-21 and gave up five power-play opportunities. Through it all, Vanecek kept making saves and kept his team in the game. I might even go so far as to say he stole that game. Buffalo dominated possession for large chunks of time and the Capitals were hemmed in their own zone often.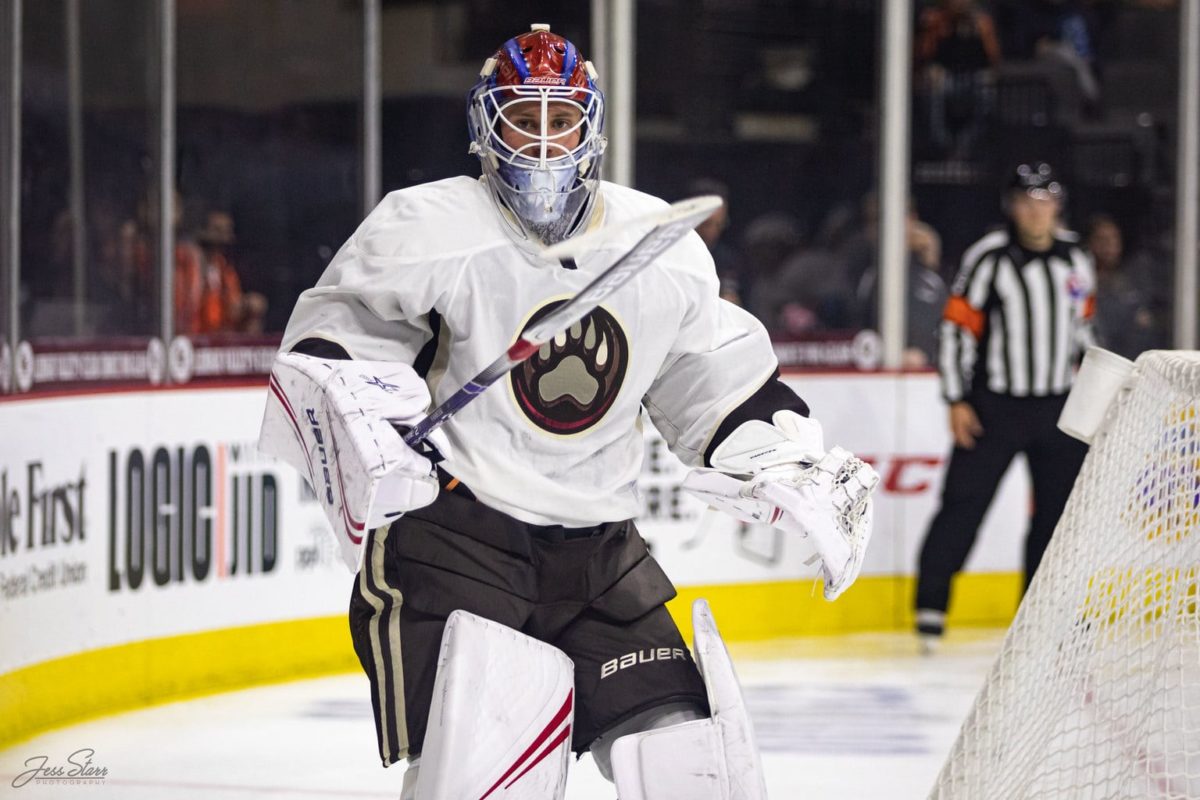 I don't think there's a goalie controversy to be had here yet. It's only been one game for each netminder. It is certainly something to keep an eye on though. They say "hockey is a business" for a reason. For the Capitals, winning must be the business they are most focused on and whichever goaltender helps them do that the best is going to be the one that ends up with the bulk of the starts.
The Defensive Play Overall Wasn't Good Enough
With some exception that I'll get into later, the first game wasn't too bad defensively overall for the Capitals. Hall's power-play goal for Buffalo was a good setup from Olofsson that found Hall's stick in front of the net for a tap-in. After that goal, the Capitals' penalty kill didn't allow another goal on the next seven power plays they gave up between the two games.
The pairing of Nick Jensen and Zdeno Chara was a pleasant surprise in the first game. They were positive possession contributors with a Corsi% above 50. John Carlson and Dmitri Orlov on the top pairing were also above 50. The second pairing of Justin Schultz and Brenden Dillon was the only one to finish below 50. It's not uncommon to have at least one defensive pairing on the wrong side of the Corsi%, but on paper, the less mobile Chara-Jensen pairing would be expected to be guilty party. Overall though, the possession time was pretty even and it was a really back and forth game with chances being traded at both ends of the ice.
RELATED: 5 Thoughts on Capitals 2020-21 Training Camp
The second game was a disaster. All pairings had a sub-50 Corsi% and it was very apparent. There were long stretches of play where the Sabres had the Capitals just pinned in their own end. Capitals defenders were not able to get the puck out of their zone conceding second and third chances to the Sabres. Once the Sabres gained the offensive zone, the puck was there for a while. It was genuinely cringe-worthy at times.
They also conceded high-danger chances at an unacceptable rate. Of the 15 5-on-5 scoring chances the Capitals gave up, seven of them qualify as high-danger chances. For comparisons sake, the Sabres gave up 12 scoring chances and only four were high-danger chances. If not for stellar play from Vanecek it's likely this game has a very different outcome.
Orlov Specifically Has Not Been Good Enough
In spite of performing well possession wise, all of the 5-on-5 goals the Sabres scored against the Capitals came against the top defensive pairing of Carlson and Orlov. I don't know if Orlov is having issues adapting to playing coach Peter Laviolette's system or if he's just got some rust to shake off, but he hasn't looked good in his own end. In every even-strength goal against, so far, at least some blame for the goal can go to him being out of position.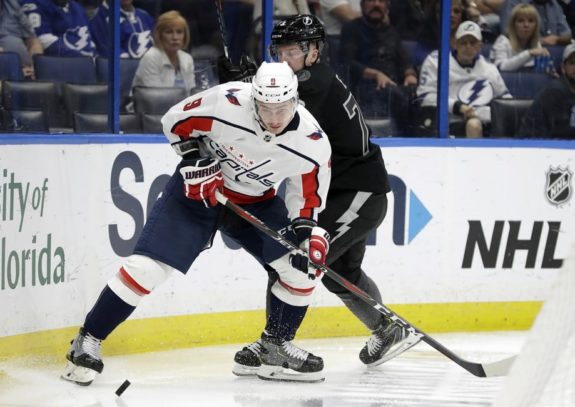 Tobias Rieder's wrap-around goal in the second period was a result of some cringe-worthy plan by Carlson and Orlov. Carlson tried to get his stick around Rieder to go for a loose puck, but in doing so, he turned Rieder loose. Orlov was too busy trying to shove a Sabre (Dylan Cozens) away from the play and they both helplessly watched Rieder collect the puck behind the net and slide it in for the wrap around. I'm not sure what made Cozens so important on this particular play.
The Jake McCabe goal was from outside the circle, so Samsonov probably had to get that one, but all five Capitals skaters were on one side of the ice. Carlson was engaged in a puck battle along the boards on the right side of the ice and Orlov watched from the middle. As the Sabres escaped with possession, it put Carlson out of position, but T.J. Oshie and Nicklas Backstrom appropriately moved to intercept the play. For whatever reason, Orlov decided to cut all the way over and attacked the puck carrier (Jack Eichel) leaving the left side of the ice wide open for McCabe to get loose and hit the one-timer.
The fourth goal was a 6-on-5 situation, so there's certainly some levity to be had. I also can't put this one entirely on Orlov because Tom Wilson didn't do a great job on it. While the Sabres passed the puck around, Orlov battled in front with Cody Eakin. In spite of being fully committed to this battle, Orlov did not win it. Eakin had inside position, though.
Orlov's stick was up and he was pushing on Eakin's back rather than tying up his stick and getting across in front of him. Because of this, Eakin got a crack at a rebound off a sharp angle shot before Orlov knocked him to the ice. In knocking Eakin to the ice, Orlov threw himself off balance and there was nothing between Olofsson and a gaping maw over top of Samsonov's left shoulder.
When I went to watch the only goal against from the second night, my first exclamation was: "What the hell is Orlov doing?" There was a puck battle behind the net and he was watching it from the edge of the blue paint. If he was three feet to his right, this goal doesn't even happen. When Hall came away from the puck battle and skates out to the circle, Orlov is too far out of position to catch him. He chases him anyway.
Hall shot and missed, and for a moment Orlov looked paralyzed with indecision. He didn't commit to Hall or Reinhart and just skated like he was plodding through mud in the face-off circle. By the time Eichel retrieved the puck and sent it back to Hall, once again, Orlov was too far out of position to do anything about it. Backstrom tried to help him, they both went out of position to chase Hall and he sent a pass to a wide open Rasmus Ristolainen. He lobbed a floater at the net and it found its way into the net after deflecting off Tom Wilson's leg.
The Capitals need Orlov to be better than this. He has proven in the past that he is better than this. If it's rust, he's going to have to shake it off quickly. If it's something else, then he needs to fix it, because if he is not able to make adjustments and play better on his own, the coaching staff are going to have to make lineup changes. Against some of the other teams in this division, these kinds of lapses from a top pairing defender are going to be even more costly.
Jakub Vrana Is Here to Save the Day
Vrana scored in the first game, but his goal in the second game was a life saver. I've already talked about how the Capitals were dominated in terms of possession, but all it took to give them a lead was a quick strike from Vrana.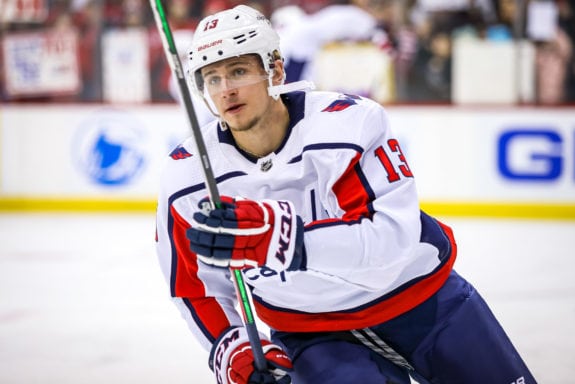 Over the last few seasons we've seen Vrana evolve into one of the better snipers on the team. If the team is going to continue to have success, there are going to be times when they find themselves relying on individual efforts from Vrana to produce goals. This is a contract year for him and if he continues to step up to fill in the gap when Kuznetsov is inconsistent, or Alex Ovechkin is unable to be Superman, then he's in for a nice payday, regardless of the static salary cap.
Ovechkin Has Yet to Score
It would be very easy to overreact to Ovechkin's current lack of goals. Currently, he has fewer goals this season than Garnet Hathaway. That's not a sentence I thought I'd ever say, but it's 100% true. It's worth mentioning that he did have two primary assists on the first two Capitals goals in the opener. Ovechkin also led all Capitals forwards with 19:36 of ice time. If he's showing signs of his age, I didn't see any. He had three shots on goal and three hits to accompany his two assists.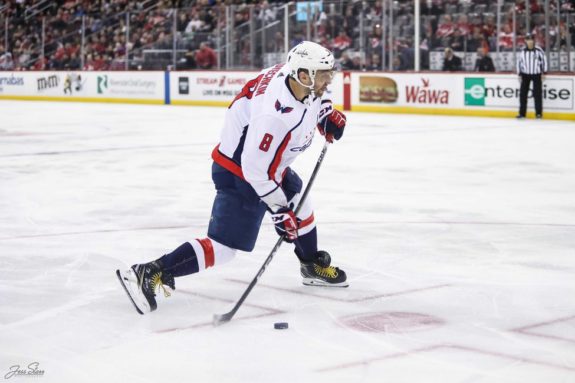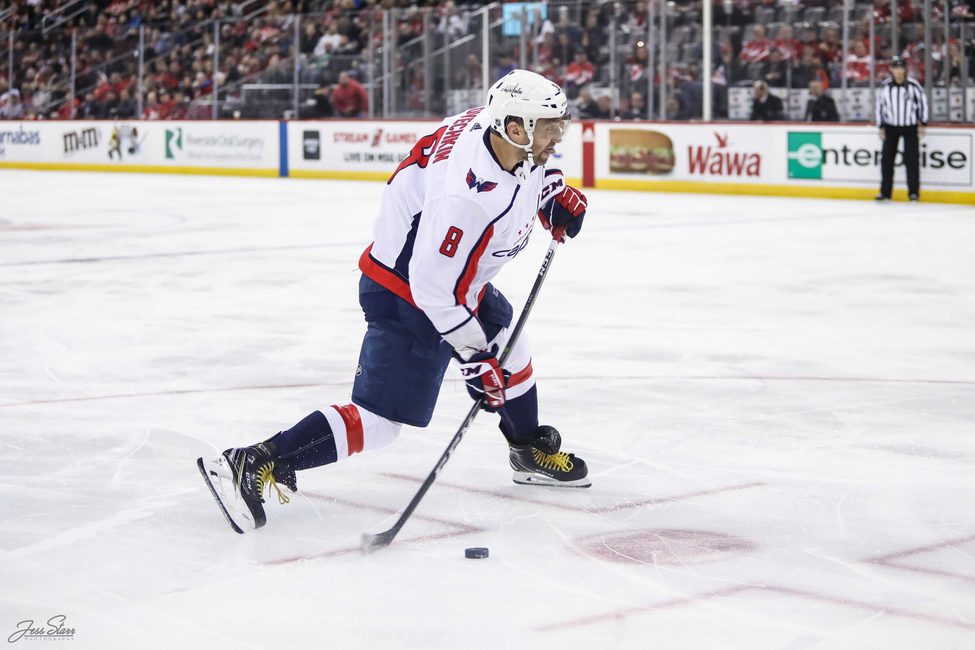 His ice time suffered in the second game, but the Capitals spent 10 minutes of that game on the penalty kill and none on the power play. Ovechkin is certainly aware that for his team to win, he has to put pucks in the net. Short-term goal droughts are not a new thing for him and I honestly expect him to come up big in the next game against the Pittsburgh Penguins. If he gets to six or seven games into this shortened season without registering a goal it might be time to start asking real questions.
RELATED: 5 Bold Capitals Predictions For 2020-21 Season
The Capitals are back in action Jan. 17 at 12 p.m. against the Penguins. I'll be looking to see if Laviolette is able to make adjustments to get better play from his defense. On paper they should be way better than what we saw against the Sabres. If he cannot, it's going to be up to the Capitals' goal scorers like Vrana and Ovechkin and the goaltenders to bail them out until they can get it fixed.
---
---
Jack Dawkins is a freelance scout, analyst and avid watcher of "way too much hockey." He has joined The Hockey Writers team to cover all things Washington Capitals, New Jersey Devils, Minnesota Wild, Los Angeles Kings, Arizona Coyotes and Florida Panthers. He's an absolute data hound and loves using stats and analytics to calculate and extrapolate data for analysis.