On paper, the Washington Capitals look poised to be a top contender for this season's Stanley Cup championship. However, for all of the stars to align in D.C., one of the team's future offensive juggernauts will need to take a massive leap forward in his NHL development.
Evgeny Kuznetsov: A Spark Looking to Catch Fire
Russian forward Evgeny Kuznetsov is coming off his first full season playing North American hockey in the NHL. Despite this inexperience, the 6-foot, 172-pounder will find himself under immense pressure to become a driving offensive force if Washington seeks to improve off of last year's nauseating second-round playoff exit.
The Chelyabinsk native endured a rocky, inconsistent start to his long-awaited rookie season in 2014-15, which was to be expected as he was still in the difficult process of adjusting to the North American game. Although, as the season progressed, it was clear that Kuznetsov's knowledge and comfort levels had begun to steadily increase resulting in flashes of the player he was projected to be when the Caps selected him 26th overall in the 2010 NHL Entry Draft. When watching him play, it doesn't take long to see the type of pure hockey skill he's been gifted with. His precision skating capability and wildly creative mindset with the puck make him a serious offensive threat whenever he has room to make a play. Pair those abilities with a top-notch, accurate shot and Kuznetsov has all the raw talent to soar straight to the top tier of Washington's production chart.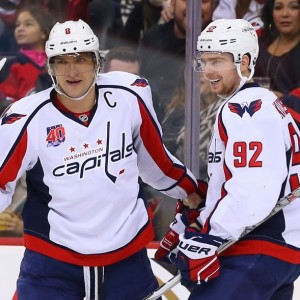 Unfortunately, while his dazzling skills were always present, the required consistency in his short game seemed to be missing. With head coach Barry Trotz transitioning the team to a more physical, grind-it-out style of play last season, Kuznetsov lacked the core strength to succeed in one-on-one battles along the boards, which were critical to the Capitals' dump-and-chase possession game. Determined to improve upon his shortcomings, hard work coupled with noticeable weight gain towards the end of the year paid off as he took his board play to new heights. Instead of it being a detriment to his game, it ended up becoming one of his greatest strengths. He finished the regular season with 11 goals and 26 assists for 37 total points in 80 games played.
When the playoffs finally got underway, the 23-year-old really began to take form. He demonstrated an impressive ability to slow games down and control entire zone shifts resulting in drastically improved possession numbers. He also managed to play his best hockey when it counted most during high-pressure situations, most notably his skillful series-winning goal in Game 7 of the Eastern Conference Quarterfinals against the New York Islanders. His seven points in 14 games showed a far more promising depiction of what this year's Kuznetsov could potentially evolve into. It's the same Kuznetsov Washington needs him to evolve into if they truly hope to challenge for Lord Stanley come April.
He has convinced Trotz and Caps fans alike that he is talented enough to take on the highly sought-after role of the team's second-line center, and with No. 1 middleman Nicklas Backstrom questionable to start the season after undergoing hip surgery earlier this summer, it's very plausible that Kuznetsov could find himself in between Alex Ovechkin and T.J. Oshie on the top line. Additionally, that would also mean time on the top power play unit as well. Even if Backstrom is healthy enough to play in the season opener, Kuznetsov will more than likely center the second line alongside newcomer Justin Williams, who isn't too shabby himself.
Regardless of who he ends up slotted next to, Kuznetsov must find a way to become a consistently productive, two-way game-changer for the Capitals. After losing three scoring forwards in Troy Brouwer, Joel Ward, and Eric Fehr, who managed to combine for 62 goals last season, there's a large gap to fill when it comes to putting the puck in the back of the net. Of course, the additions of Oshie and Williams will certainly help balance those losses out, but Washington will undoubtedly need its younger, cheaper forwards to chip in as well. While this target group includes other players like Marcus Johansson, Andre Burakovsky, and Tom Wilson, Kuznetsov will need to avoid the dreaded sophomore slump, lead the way, and have a true breakout year if his team has any chance at hoisting silver for the first time in franchise history.
Dom Simonetta covers the NHL's Washington Capitals for THW. He graduated from North Central College in Naperville, Illinois with a bachelor's degree in sports journalism. Follow him on Twitter @dasimonetta.