The 2016 NHL off-season is just about halfway over at this point in July, and the Washington Capitals seem poised to enter the season with the roster that they have made minor adjustments to this summer. The organization made one major trade, acquiring their much-needed third-line center in Lars Eller from the Montreal Canadiens. They made several minor signings, the biggest of which was a cheap, one-year deal handed out to former first-round pick Brett Connolly. They also locked up two of their most important restricted free agents in Marcus Johansson and Tom Wilson, while negotiations with Dmitry Orlov are still ongoing.
The team is going to be strapped for cap space this season assuming something gets done with Orlov. Washington has just a tad under $3.5 million in cap space remaining, and there is no way that the Russian defenseman will take up all of that space. Regardless, he will be getting a raise from his previous $2 million deal, meaning that the Capitals will probably have around $1 million remaining as they enter the 2016-17 campaign.
Caps have traded Brooks Laich.

— Isabelle Khurshudyan (@ikhurshudyan) February 29, 2016
The only reason that the Capitals had the flexibility that they did this off-season is directly linked to the Brooks Laich trade. The long-time Cap was moved to the Toronto Maple Leafs in a cap-dump move right before the 2016 trade deadline. Laich was highly respected both on and off the ice, but it was an extremely important move for the franchise because General Manager Brian MacLellan proved that he was more committed to winning than loyalty. While many were concerned about the loss of a leader, it sends the right message to the team in more ways than one.
Pure Ability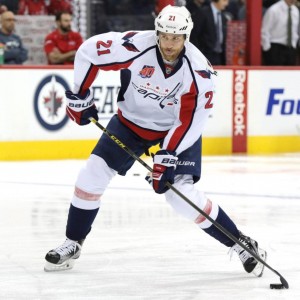 The Capitals sent defensive prospect Connor Carrick and a 2nd round pick Toronto's way in return for taking on Laich's salary, but they didn't come out of the deal empty-handed. They acquired forward Daniel Winnik in the trade, a player who did and will continue to fill Laich's role as the fourth-line right-wing. The Capitals spent last year going all-in – something that will continue this year – and Winnik simply gave Washington a better chance to succeed on the ice than Laich did at this stage of his career.
Though Winnik didn't light it up once arriving in Washington, he brings a bit more offense to the table than Laich. While Laich did play a vital role on the Capitals' penalty kill, Winnik was just as effective. Winnik hit 19 points in 76 total games last season, with five of those points coming in 20 games with Washington. Laich ended up with 14 total points over the course of the entire season.
While it was unfortunate to see a longtime member of the team depart, Winnik will have plenty of opportunities on the fourth line this season. He has, arguably the hardest worker on the Capitals, Jay Beagle as his centerman. Meanwhile, one of three more-than-capable wingers battling for two spots will be on the opposite wing. He is simply better suited for the type of style that the Capitals will look to play than Laich would have been.
Longevity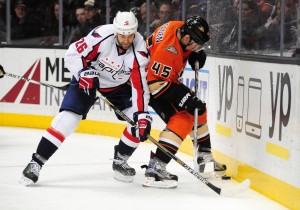 Though both Winnik and Laich's contracts end at the conclusion of the upcoming season, the former can be relied on much more to stay healthy and in the lineup than the latter. Laich was a vital part of the Capitals for several years, but as he aged, injuries began to take their toll. His woes began during the 2012-13 lockout when he was injured while playing in Switzerland. While not all of his injuries that followed were directly related, it never seemed like he was back to 100%.
Fortunately for him as a player, he played in 81 games last season, his highest total since before the aforementioned lockout. However, given his age (33) and his injury history, it would be hard to imagine Laich being able to make it through a full season and then a long playoff run. At the same time, over the course of a nine-year career, Winnik has only played in fewer than 74 games twice, with one of those years coming during the lockout. That season, he played in all 48 games with the Anaheim Ducks.
Winnik is probably more than a fourth-line player on most of the other teams around the league, and he will be a huge part of the bottom-six for the Capitals next season. If necessary, he can be trusted with third line minutes. Depending on how this season goes, there is a chance that Winnik could be in Washington for longer than just one full season.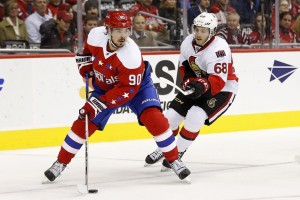 Salary Relief
The single most important aspect of the Brooks Laich trade for the Capitals is clear-cut, being that it saves them some very important dollars. The 31-year-old Winnik has a cap hit of $2.25 million, a relief of over $2 million for the organization when compared to Laich's $4.5 million. As strong competitors for the Stanley Cup, the Capitals will spend to the cap ceiling as they always do. Without this cap relief, the team would have either been unable to acquire a strong third-line center like Eller, or trade or possibly not re-sign one of their key RFA's this off-season.
While Washington has a deep team, there is no telling what the season will bring. An injury to a key player or even one of their depth skaters would likely compel MacLellan to make a move for a strong replacement. Depending on the circumstances, any minuscule amount of cap room that they would then have would be absolutely critical.
As much as fans hate to see a great person like Brooks Laich go, it was important to recognize from the second that the trade was made that it was a huge move for the Capitals both in the short and long-term. They now have a stronger option on the fourth line and had much more room under the salary cap to make necessary moves this summer. It was a hard move to make, but one that had to be made.
Brad is a recent graduate of Salisbury University in Maryland and is pursuing a career in sports journalism.