Though the NHL Expansion Draft is almost a year away, many teams are already making personnel decisions with that event in mind. The Florida Panthers are no exception: Since the 2015-16 season ended, general manager Tom Rowe has signed some free agents to long-term deals and some to short-term contracts, while offering contract extensions of varying length to several current players. As a result of Rowe's moves, we now have a good idea of which Panthers will be made available for selection by Las Vegas next summer.
Understanding the rules of the expansion draft is key to determining which Panthers will be exposed. The rules may be found here, but for those who dislike clicking links, the relevant portions are summarized below.
Teams may protect either seven forwards, three defensemen and one goalie or eight skaters (of any denomination) and one goalie.
Players with No-Move Clauses (NMC) must be protected.
Players with no more than two years' professional experience are exempt.
Teams must expose a minimum of two forwards and one defenseman who are under contract in 2017-18 AND play a minimum of 40 NHL games in 2016-17 or 70 games in the previous two seasons, combined.
The Panthers must expose one goalie who is either under contract in 2017-18 or is a restricted free agent to whom Florida has already tendered a qualifying offer.
With those rules in mind, which current Panthers will Las Vegas GM George McPhee choose from next summer? Let's break it down by position:
The Goalie
Florida can only protect one netminder. Reto Berra, acquired from Colorado for Rocco Grimaldi, has one year remaining on his contract before becoming an unrestricted free agent next summer. Though he can, and will, be exposed, Berra doesn't meet the requirements for the draft. GM Rowe will have to choose between protecting Roberto Luongo or James Reimer. Shocking though it may seem, exposing Luongo makes the most sense.
Before burning Rowe in effigy, Panthers fans, consider this: Lu will be 38 years old next summer. He'll have five years remaining on his contract, with a cap hit of $4,533,333. Nobody expects him to play until he's 43; after all, his last name is Luongo, not Jagr. If he retires before the end of his contract, Vancouver, Florida and possibly even Las Vegas will have to deal with a messy cap recapture penalty:
Here are the cap penalties from Roberto Luongo's contract for the Canucks if he retires early. Could be really ugly pic.twitter.com/0dNIQAipg6

— James Mirtle (@mirtle) March 4, 2014
Taking all those factors into consideration, Las Vegas will have many easier/younger/cheaper goalie options in the expansion draft. Luongo will be safe.
The Defenseman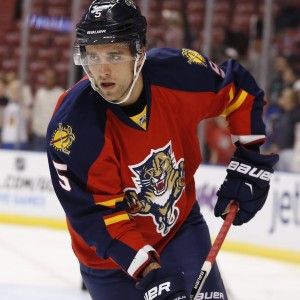 Choosing which blueliners to protect should be quite easy for Rowe. Due to the number of young, talented forwards on the roster, Florida will almost certainly shield just three defensemen. Keith Yandle's NMC makes him an automatic selection, with Aaron Ekblad and Jason Demers rounding out the field. While those three are safe, what about the others?
Youngsters, like Michael Matheson, Ian McCoshen and the new-to-North America Linus Hultstrom, are exempt. Several minor-league defensemen will be available to Las Vegas, but their selection is unlikely. If McPhee is interested in Florida defensemen, he'll focus on three players.
Veteran Jakub Kindl will be a UFA next summer, while both Alex Petrovic and the newly-acquired Mark Pysyk will be RFAs. All three will be exposed, though the Panthers will have to sign at least one to a contract extension before next June in order to comply with expansion draft rules. Expect new deals for both Petrovic and Pysyk over the next several months; without at least one re-signing (or a trade for a defenseman under contract in 2017-18), either Ekblad or Demers would have to be exposed. That's not happening.
The Forwards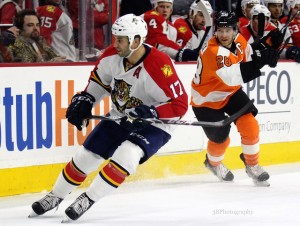 The Panthers can protect up to seven forwards, and six are obvious: Aleksander Barkov, Jonathan Huberdeau, Vincent Trocheck, Reilly Smith, Nick Bjugstad and Jussi Jokinen. Which remaining forward will be granted "immunity" from the expansion draft, and which two will be offered up to Las Vegas?
Jaromir Jagr likely won't be protected. The future Hall of Famer will be a UFA and could decide to retire at any time. McPhee won't take that chance.
As with the defensemen, several minor league/fringe NHL-caliber forwards will be exposed (Greg McKegg, Logan Shaw and Connor Brickley, among others), but won't put Florida in compliance with the draft rules.
By the end of the 2016-17 season, the Panthers will probably have three forwards (aside from the six who will almost certainly be protected) who meet all eligibility requirements for the expansion draft: Derek MacKenzie, Colton Sceviour and Jonathan Marchessault. Of those players, one will be protected and the others made available to Las Vegas. The knowledge that one "protected" slot is open should keep the trio highly motivated all season long.
Which Panther Will Move to the Desert?
Which current Panther will Las Vegas select next summer? Assuming GMGM takes an NHL-level player, rather than a younger depth player (Shaw, Brickley or MacKenzie Weegar), he'll probably target a defenseman. If he continues to progress in 2016-17 as he did last season, Alex Petrovic will be an easy, and smart, choice for McPhee.
The loss of Petrovic will sting, but that's the point: The NHL wants Las Vegas to be competitive from the opening faceoff, so all 30 clubs will sacrifice one player they'd rather keep. Teams with deep talent pools will lose higher-quality players than talent-poor teams. For the first time in decades, maybe ever, Florida falls into the former category. Just keep that in mind on June 21, 2017 (when Las Vegas' selections are announced), Panthers fans.
Matt blogged about all things hockey at On Goal Analysis/The OGA Blogs from 2008-2014 and has written several travel articles for The Dallas Morning News. He began covering the Dallas Stars and Florida Panthers for The Hockey Writers in August 2015. Matt is also writing a biography of "Tex" Rickard, the Texas cowboy who founded the New York Rangers and the Madison Square Garden Corporation.