With the loss of former captain David Backes to the Boston Bruins in free agency, the St. Louis Blues are on the hunt for the next designated leader in their locker room.
While they have a wide variety of options, there are a few standouts when it comes to likelihood of having the "C" on the front of their jersey for the upcoming season.
Vladimir Tarasenko
As the most skilled player on the team and the player with a contract not expiring until the 2023-24 season, No. 91 makes a lot of sense as the next captain. The 24-year-old has been a dominating force in the league since his rookie season back in 2012-13 and he hasn't looked back.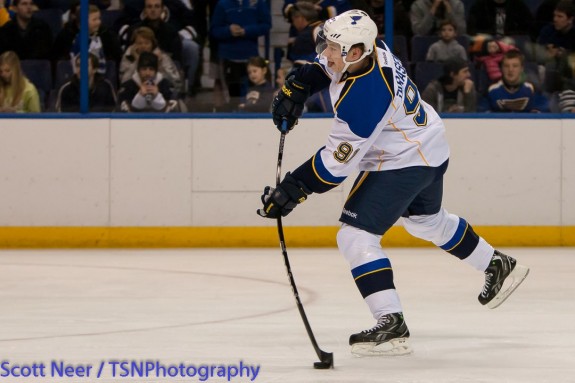 Skill aside, Tarasenko posses the qualities necessary to be a good leader. Despite his youth and relative inexperience in the league, the Russia native leads by example and certainly represents the work ethic the Blues want their team to emulate as a whole.
Tarasenko handles pressure well, being that he's a well-known and respected player in the league, and that bodes well for a position like captain which comes with a lot of responsibility.
Overall, Tarasenko's contributions on the ice and ability to lead without having to say much off of it make him a good option for the role.
Alex Pietrangelo
Alex Pietrangelo is a defensive leader on the Blues and would thus make obvious sense as a potential captain. The 26-year-old will be under contract un the end of the 2019-20 season and his eight seasons of experience with St. Louis makes him a good fit.
Pietrangelo knows how the St. Louis Blues' system works, while also knowing full well his role in it. That means he could focus the majority of his attention on the task of leading the team.
No. 27's skill also makes him a good option. His responsibility in all three zones would show rookies and those new to the team what the expectations are and how to play the right way.
Moving Forward
The Blues have a few other good options, but Tarasenko and Pietrangelo seem like the most obvious, logical choice. Both players have spent a few years with the team and have contracts that will allow them to be leaders for a while to come.
While unlikely, there's also the possibility that St. Louis could opt to have a few alternate captains and leave the captaincy vacant until they've made up their minds.
Athough changes could be made before the season starts, but if nothing significant changes it'd most likely be No. 91 or 27 wearing the "C".
Who do you think will be the next captain for the St. Louis Blues? Leave your thoughts in the comments.
Allison Scott is currently pursuing a journalism degree at the University of Missouri. She is passionate about the NHL and is a fan of both the St. Louis Blues and her hometown Dallas Stars. More articles by Allison can be found on Blackout Dallas where she covers the Stars. Follow Allison on twitter for more hockey and random tweets! @allisonnnscott