The Chicago Blackhawks are one of the teams that 2016 Hobey Baker Award winner Jimmy Vesey will consider when he becomes an unrestricted free agent on Aug. 15, his agent Peter Donatelli said on Monday.
"Chicago will be a team we want to talk to on Aug. 15. Chicago will be on the list, but it shouldn't be read as they're ahead of anyone else," Donatelli told The Athletic on Monday. In recent weeks, there have been reports that the Blackhawks would be interested in the 23-year-old left winger in the event that he reached the free agency market on Aug. 15.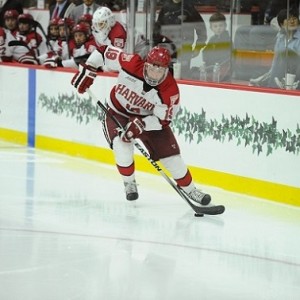 As recently as July 20, Mark Divver of the Providence Journal reported that Bowman was in Foxborough, Massachusetts to watch Vesey who is currently playing in a Summer League with Buffalo Sabres forward Jack Eichel. This was the second time that Bowman had made the trip in the last few weeks, reported Comcast Sportsnet's Joe Haggerty.
After being drafted by the Nashville Predators 66th overall in the 2012 NHL Entry Draft, Vesey spent the next four years playing for Harvard University (ECAC). In 128 career games with the Crimson, he tallied 80 goals and 144 points and lead the team in scoring during the 2015-16 season.
After the Predators learned that Vesey would not be signing with the club, the team traded his rights to the Sabres on Jun. 20.