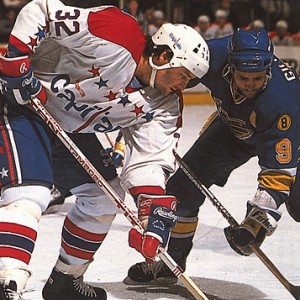 To some, it's probably just hard to believe, while to others it's probably impossible to fathom.
Long before he was Mr. PTI and before he was frequently inserting his Rockports into his mouth on the Worldwide Leader, before he was offending pretty much every race and sex with his opinions on television and even before he was asking female adult entertainers for their locks of the week on the radio, Tony Kornheiser was a writer for the Washington Post. He was a good writer. He was an entertaining writer. At times – and this may be easier to believe – he was an annoying writer. If you don't believe me just ask some Washington Capitals fans.
Kornheiser was the prototypical know-it-all sportswriter who never played the game, but he was self-deprecating and (most of the time) likeable enough for most people to overlook his sometimes off-target critiques and analysis. He was more than a sportswriter, though. Kornheiser was a columnist with The Washington Post when the written word was still king and when the publication was still one of the most powerful and popular news sources on the planet.
Being a columnist for the Post was one of the most sought-after sportswriting gigs you could find in the 1980s and 90s, with household sportswriting names such as Denlinger, Feinstein, Boswell, Jenkins and Wilbon basking in the role for long stretches of time.
Those are the names I grew up reading as a DMV native, alternately quoting them, cursing them, laughing with them and crying with them on a daily basis. I didn't always like them. I didn't always agree with them. But I always read them. And ultimately I wanted to be them.
Washington Post "Golden Era"
It was, in a sense, a Golden Era of sportswriting, and it was delivered to my doorstep on a daily basis. These days we turn to ESPN, the NHL Network, the NFL Network or any one of 1,000 postgame shows scattered across our satellite or cable TV dials via regional sports networks to relive the highlights and lowlights of that day's games. Today you can immediately relive your team's victory to feel good or listen to the highly paid talking heads validate your concerns about coaching or complaints about officiating right away. We have become a society that craves that instant gratification thanks to ongoing (and mind boggling) technological advances.
Back in the day of the superstar sports columnist, though, we had to wait until the next day to relive the victories and defeats, the bad luck and fortunate bounces, the terrible calls and bonehead plays. And you could almost be guaranteed that one of the columnists would agree with your opinions while another would not.
These writers sold papers, but they also made it cool to be a sports journalist – and lucrative. One thing my journalism professors always told me was that sportswriting didn't pay well. Well, these writers were getting paid plenty, and they were telling the story of the game within the game that maybe everyone didn't see or understand. They didn't necessarily understand it all the time either, but they had an opinion and found the experts inside the locker room who could help illustrate that opinion with quotes and insider information the rest of us couldn't access.
When it became clear that my career as an athlete wasn't going to extend very far into or beyond college, this seemed like the next best alternative for me – a chance to use my ability as a writer and understanding of sports as a former athlete to paint the picture for those who maybe couldn't see the game or didn't fully understand it. So, with the Post's Golden Era columnists unknowingly inspiring my every step, I majored in journalism and started pursuing that dream.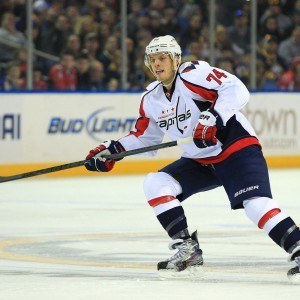 Thomas Boswell once spoke at one of my journalism classes at the University of Maryland, and I would say that I probably tried to emulate him the most. "No matter how bad or negative the story is, I try to end it on a positive, upbeat note," he told us. "I try to leave the reader with hope." I always remembered that, and frankly it probably is what steered me toward PR after college since I much prefer writing positive stories than negative.
Michael Wilbon was too polarizing for me. Some days I literally loved him and would quote him to anyone I spoke to, and other times I wanted to punch him – and would have if our paths had crossed. Ken Denlinger was a little more old school and not a true columnist, but more of a feature guy in my opinion. He was simply a great writer, and I would hope that some of his influence can be found in my style. Sally Jenkins was a budding superstar who tackled a lot of tough issues and became a positive voice for female athletes and women's sports. Many current female athletes and journalists owe her a tremendous amount of gratitude; you can't help but respect her. And I've always wanted to write books like John Feinstein, but without the side helping of arrogance.
That brings me back to Kornheiser. Funny, cynical, bold and a self-proclaimed curmudgeon, there was something about his writing that made readers keep coming back for more. And more. And more.
This went on for many, many years, and he even crossed over into entertainment and lifestyle writing for a stint, maintaining his loyal readership and attracting even more new readers who had not previously heard of him.
He wrote as a fan would write, and the humor seemed to make the great times better and the hard times easier to stomach. I wanted to be able to make my readers feel that way and have the ability to mix in his style with more a more straightforward and analytical approach.
So, as a sportswriter in college who had his own column in a local weekly paper and later as a published author, creator of web content and blogger, I have been fortunate enough to have the opportunity on occasion to write in that style. And when I have crossed over into the realm of writing analytical sports humor it has been fairly well received by my readers.
Merry Christmas to the Capitals
This time of year always makes me think of Mr. Tony, as he is often called on the radio. Every Christmas Kornheiser would write his "Merry Christmas" column. As I recall, sometimes it ran on Christmas Eve, sometimes on Christmas Day and sometimes right after Christmas. No matter what day it ran, I looked forward to that column more than any other and scrambled to the front door to get the paper first every day during my Christmas breaks.
The premise of the column was essentially to review the year in sports with a brief introduction about a person or an issue that had caught the nation's attention followed by a group of both obscure and obvious references to people and events of the year that somehow were linked together. The challenge was to figure out how the people in each grouping were associated and linked to a particular event or events that took place during the year.
For example, Kornheiser might start out a 2015 column something like this. Without further ado, let me wish Merry Christmas to:
Connor McDavid, Jack Eichel and Auston Matthews.
Dan Bylsma, Mike Johnston and Jim Rutherford.
You get the idea. Occasionally there would be only one name mixed in with a humorous anecdote about something he or she had done during the year, too. That could be something like this:
Zac Rinaldo, who never met a face he didn't want to wash or a puck he was able to put in the net.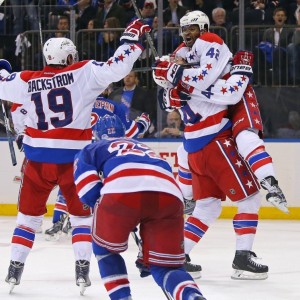 Unfortunately this column has not run for many years (at least to my knowledge), and I am unable to do it justice by just describing it. My kids simply don't get it when I talk about it, and many people don't remember it, which is a shame. But that's the world we live in right now as the written word becomes seemingly less and less important on a daily basis.
So, in honor of Mr. Tony Kornheiser, who coined the phrase "Choking Dogs" as a yearly reference to the Washington Capitals' playoff failures, in honor of all those other Golden Era sportswriters who actually got paid well to put their thoughts on paper and in honor the unprecedented start to the season being enjoyed by the team I cover for TheHockeyWriters.com, here is my Merry Christmas Washington Capitals tribute column.
Mr. Kornheiser, if your're out on your bicycle at night this holiday season, please wear white. And thanks for the memories!
So without further ado, let me wish a very Merry Christmas to:
Derek Stepan, Joffrey Lupul and Pat LaFontaine.
Evgeny Kuznetsov, Joel Ward, Sergei Fedorov, Dale Hunter and Justin Williams (fingers crossed).
Barry Trotz, Todd Reirden, Lane Lambert and Blaine Forsythe, authors of "Caps Culture."
Troy Brouwer, Mike Green and Eric Fehr (and the formerly mentioned Big Cheese), thanks for the big goals. True Caps. Forever.
Curtis Glencross, minutes from being an all-time D.C. hero only to become the goat. Capitals history in a nutshell.
Tim Gleason and Joe Corvo.
Chris Freaking Kreider and Henrik Freaking Lundqvist.
Alain Vigneault and John Tortorella.
Olaf Kolzig, Jim Carey and (you don't think I'm going to jinx this, do you?).
Rod Langway and (see above).
Mr. Myagi, Daniel-son, Mitch Korn and Braden Holtby.
Ron Weber, Steve Kolbe and John Walton, the only three sets of eyes – and voices – Capitals radio listeners have ever known.
Alex Ovechkin, Sidney Crosby and Ryan Getzlaf.
Nick Backstrom and Bradley Beal.
Nate Schmidt, Matt Niskanen and J.T. Brown.
Ted Leonsis, who no matter how hard he tries with his Wizards keeps getting his bread buttered by the Caps.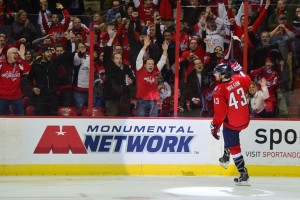 Tom Wilson, Kyle Okposo, John Tavares and Keith Yandle.
Tom Wilson and Tanner Glass.
Tom Wilson and Chris Neil.
Tom Wilson and Brian Campbell.
Tom Wilson and … you get the point.
Brian MacLellan and T.J. Oshie, you never forget your first.
Brooks Orpik and Taylor Chorney.
Justin Peters, Scott Clemmensen, Kevin Weekes and Johan Hedberg.
Philipp Grubauer, Shawn Simpson and Rob Tallas.
Karl Alzner, Aaron Ness and Connor Carrick.
The Horn Guy, Loud Goat and Cowbell Dude (do you have a real name?), who have been staples at Verizon Center as long as anyone can remember.
The Brouwer Rangers and T.J. Yoshie.
Ron Wilson and Terry Murray, can their magical runs be duplicated?
Jay Beagle, Snoopy and the Red Baron.
Liam O'Brien, Sean Collins and Chandler Stephenson.
Stanislav Galiev and Andre Burakovky, patience is a virtue.
Adam Oates, Bruce Boudreau and Glen Hanlon.
Alan May, Craig Laughlin, Ken Sabourin and Brent Johnson, once a Cap always a Cap.
Brooks Laich and Jason Chimera, we're all pulling for you.
Michael Latta, Marcus Johansson and Dmitry Orlov, "Caps Culture" doesn't permit players being left out.
And to all of you who took the time to read this I send my sincere thanks along with wishes for a safe and happy holiday season and a great start to your 2016.