Cracking the opening night roster in the NHL isn't an overnight process. However, for Washington Capitals defenseman Nate Schmidt, his NHL career began rather quickly.
Undrafted, Schmidt played college hockey at the University of Minnesota. In 96 NCAA games, Schmidt racked up 12 goals and 74 points and was a plus-40. He was scouted as an excellent puck-moving defender who can eat big minutes and play a complete, all-around game.
Thanks to his growth and prominence, Washington signed him as an unrestricted free agent in April 2013. He headed to Hershey to end the 2012-13 campaign, posting a goal and four points through eight American Hockey League games. And after playing in his first game with the Bears to start the 2013-14 season, he got a call-up to play with the Capitals. In a month's time, he went from an undrafted blueliner to an NHL defenseman.
Making the Cut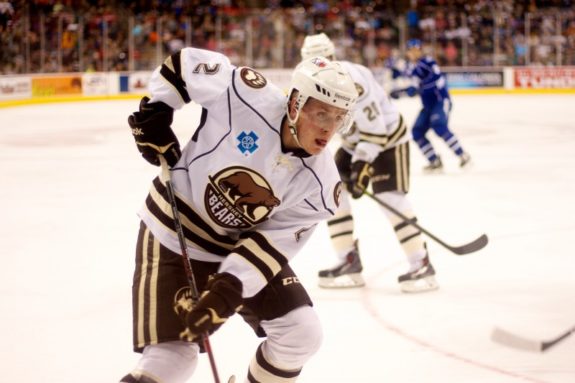 Schmidt played 29 games in his debut with the big club, posting two goals, six points and a plus-4 rating. He was competing with the likes of Steven Oleksy at the time, hoping to keep his spot on the Capitals roster. However, there were too many times that he gave the puck away, and he didn't have much physicality or shot-blocking ability in his game. Not to mention, Oleksy was right-handed, adding a new-look to the Capitals' defense, which was primarily stacked with left-handed blueliners.
Eventually, Schmidt returned to Hershey, where he continued the season with the Bears and put up strong numbers in the AHL. He grew better with maintaining puck possession and avoiding turnovers, and with Hershey, he thrived as a top-pairing defenseman. As time went on, Schmidt split time between the NHL and AHL and continued to improve those aspects in his game. He worked on moving the puck more and playing to his full potential in his own zone. By the time 2015-16 came around, Schmidt was tailored to be a full-time NHL defenseman.
Promotion to Full-Time
In 2015-16, Schmidt proved himself to the team. He showed that he was ready to be a full-time NHL blueliner, and he was willing to do whatever it took to get this team to their top level of ability. Under head coach Barry Trotz, Schmidt thrived as a bottom-pairing defender, playing on his off-hand. He put up two goals and 16 points and was a plus-12 through 72 games with Washington. He helped the team to another President's Trophy, and also thrived defensively.
He was scratched a few times after the start of the season but seemed to find success on the bottom-pairing early on. And when Brooks Orpik fell victim to a broken femur that would keep him out 40 games, Trotz decided to promote Schmidt to the top-four alongside John Carlson. From there, Schmidt invested in his game, growing sure of himself and his skill.
Oozing confidence, Schmidt finished the season with 69 hits, 111 shot blocks and 34 takeaways. He was great with zone entry and took excellent care of the puck. With him on the ice, Washington finally had depth on all three pairings, and he proved to show versatility and improvements in his weak areas. For instance, even though the 6-foot-1, 194-pound blueliner isn't usually physical, he managed to throw his weight around and improve in that area.
Schmidt was also one of the top 50 candidates for the Lady Byng Trophy that season and Washington saw the improvement of his overall game. However, there was still one problem — he lacked overall consistency, and because he couldn't maintain his top level of play in the postseason (despite exerting maximum effort), Taylor Chorney slotted in for him.
Looking back at the end of the 2015-16 campaign, consistency was the one area that Schmidt wanted to improve upon for next training camp.
"The mental side of this game impacts me a lot," Schmidt told The Washington Post. "I'm a very emotional guy and have a lot of energy, so sometimes I run myself out by the end of practice. Being able to be more consistent with that kind of thing, that's where I'm at."
The Cutting Edge of His Career
This season, Schmidt has proven himself worthy of minutes, though he is battling Chorney for a full-time job in Washington's lineup. Schmidt has outstanding puck-moving ability, and he is underrated in the sense that he is probably among the best skaters on the Capitals' blue line. The 25-year-old is also still up-and-coming, but he has shown tremendous ability in his play. He has cut down on turnovers and rarely gives away the puck; his 3.2 relative Corsi reflects that skill.
Not to mention, Schmidt displays remarkable play-making ability, using his speed and on-ice vision to make smart passes. He has also stepped up to start the rush and has been able to kill penalties and eat up big minutes. With his speed, stamina and overall logic, Schmidt is evolving into an eventual top-four defender.