The New York Rangers and Toronto Maple Leafs will both be looking to bolster their playoff chances when the two teams meet at the Air Canada Centre on Thursday.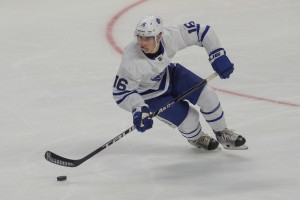 The Rangers sit just a point back of the Columbus Blue Jackets for third in the Metro Division, while the Jackets have a game in hand. They're sitting in the first wildcard spot in the Eastern Conference and sit 12 points ahead of the second wildcard team (New York Islanders).
The Leafs, on the other hand, are in the middle of one of the tightest postseason battles in hockey right now. They sit third in the Atlantic Division, five points back of the division-leading Montreal Canadiens and three back of Ottawa. But they also sit just one point up on Florida and Boston and could easily fall out of the playoff picture without a win Thursday against the Rangers.
Toronto will have to get the job done without their second leading scorer Mitch Marner who is expected to miss his fourth straight game. As well, Connor Carrick will sit out with an upper-body injury and Alexey Marchenko will step in to fill the void for his Leafs debut. Marchenko had six assists in 30 games with the Red Wings this season and 19 in 110 career games with Detroit over four seasons.
The Rangers are a big-bodied club and don't have issues getting into the dirty areas. Their skill and size combines for a competitive team in a tough division. The Leafs will be in tough against the Rangers who are looking to make noise come postseason time.
---
New York Rangers at Toronto Maple Leafs
Air Canada Centre – 7:30 p.m. EST
Broadcast channels – TVAS, SNO and MSG
2016-17 Season Series:
January 13 – Maple Leafs 4 – Rangers 2
January 19 – Rangers 5 – Maple Leafs 2
New York Rangers – 38-19-2 – 78 Points
Road Record: 19-8-0
Hot Players: Kevin Hayes, Ryan McDonagh, J.T. Miller and Rick Nash
Key Injuries: None
Projected Lines:
Forwards
Jimmy Vesey-Derek Stepan-Rick Nash
Chris Kreider-Mika Zibanejad-Mats Zuccarello
Michael Grabner-Kevin Hayes-J.T. Miller
Oscar Lindberg-Brandon Pirri-Jesper Fast
Defense
Ryan McDonagh-Dan Girardi
Marc Staal-Nick Holden
Brady Skjei-Kevin Klein
Goaltender
Henrik Lundqvist
Toronto Maple Leafs – 28-20-11 – 67 Points
Home Record: 15-10-4
Hot Players: Nazem Kadri, Auston Matthews and Josh Leivo
Key Injuries: Mitch Marner, Connor Carrick and Joffrey Lupul
Projected Lines:
Forwards
Leo Komarov-Nazem Kadri-Josh Leivo
James van Riemsdyk-Tyler Bozak-Connor Brown
Zach Hyman-Auston Matthews-William Nylander
Matt Martin-Frederik Gauthier-Nikita Soshnikov
Defense
Morgan Rielly-Nikita Zaitsev
Jake Gardiner-Alexey Marchenko
Matt Hunwick-Roman Polak
Goaltender
Frederik Andersen
---
Game Notes
[miptheme_dropcap style="normal" color="#222222″ background=""]1)[/miptheme_dropcap]The Leafs will be without Marner for the fourth straight game. When Marner was injured, he led the team with 48 points. Since then, Matthews has taken over with 52 points and Kadri sits just one point back of the injured former London Knight.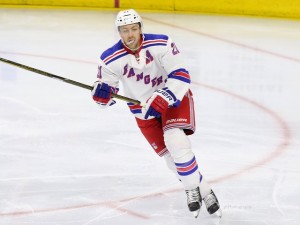 [miptheme_dropcap style="normal" color="#222222″ background=""]2)[/miptheme_dropcap]Over the last seven games, the Leafs have five players who are averaging a point per game or higher. Of that group, three of them have eight points over that span – including Kadri (5g-3a), Matthews (3g-5a) and Leivo (1g-7a). Both Leo Komarov and William Nylander have seven points in those seven games.
[miptheme_dropcap style="normal" color="#222222″ background=""]3)[/miptheme_dropcap]Two Original Six franchises, the Leafs have taken on the Rangers 607 times over their existence. In those games, the Leafs hold a 283-221-95-8 record, out scoring the Rangers 1,921 to 1,756.
[miptheme_dropcap style="normal" color="#222222″ background=""]4)[/miptheme_dropcap]With just one goal, Derek Stepan will tie the great Jaromir Jagr (124) for 37th on the Rangers' all-time list. With one of his own, Rick Nash will tie Darren Turcotte and Earl Ingarfield (122) for 40th on the franchise list.
[miptheme_dropcap style="normal" color="#222222″ background=""]5)[/miptheme_dropcap]Since Marner's injury, Tyler Bozak and James van Riemsdyk have combined for three assists over four games. Prior to that, the two had a combined total of 81 points in 56 games before Marner went down. That being said, not all of their points prior to his injury were recorded with all three of the trio on the ice.
Expect this game to be filled with skill with guys like Matthews and Nylander on one side of the puck and others like Jimmy Vesey and Mats Zuccarello suiting up for the Rangers. That being said, don't count guys like Komarov, Matt Martin and Chris Kreider out from leaving their presence on the game as well.