In their last two matches against the Edmonton Oilers and Vancouver Canucks, the Washington Capitals struggled mightily and lost both games. Tuesday night's nationally televised game against the Anaheim Ducks started off as another head-shaker, but the Caps recovered and rallied back to tie and send the game into overtime for a 5-4 win.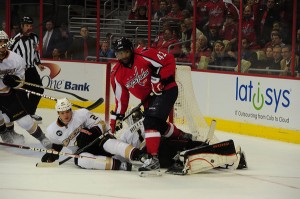 With only nine games under its belt, Washington returned to play at home surrounded by concern. Hard to believe, huh? But the Capitals were on their way to their first Western road trip this season last Thursday with a 7-0-0 record, standing as the last undefeated team in the NHL. Seeing as the Caps usually struggle when they play out west, it would have been convincing to see that trend change at the very least.
Now, I've been day-to-day myself with jaw surgery, and as a result, have been pretty groggy and sluggish. It's fair to say that the Capitals didn't look much different.
In their 2-1 loss against the Oilers, Washington had no leeway with the referees, committing nine penalties to Edmonton's six. While that didn't help the Caps muster offensive opportunities despite their 35 shots, it would be worthwhile to note that the Oilers were prepared to bring their top-ranked defense against the high-scoring Capitals. Nikolai Khabibulin currently has a .960-percent save percentage and a 1.16 goals against average, while on the other side of the puck, young stars Taylor Hall and Jordan Eberle took advantage of the Caps' poor positioning and created timely scoring chances, even with only 19 shots on net. Pretty much, Washington went into Edmonton, not knowing how to approach this young Oilers team and couldn't adjust.
The following game, Washington traveled to Vancouver and prepared to play the struggling Canucks. The Stanley Cup runner-ups were having significant problems with Roberto Luongo and the rest of the team and had also suffered a loss at the hands of the Oilers, 3-2. The Caps actually had the offense to beat Vancouver — if only they had the goaltending and defense to back up their offensive efforts. While the Capitals had a much more disciplined game compared to the Oilers game, Vokoun had to be pulled after allowing three goals. Even Neuvirth was unable to perform in relief, giving up four more goals as the 'Nucks downed the Caps, 7-4.
Entering Monday's game against Anaheim then, Bruce Boudreau made some roster moves, taking Jeff Halpern out and putting Cody Eakin in for his first NHL game, while sending Sean Collins, who was in for an injured Mike Green, back to Hershey and activating John Erskine for the first time this season.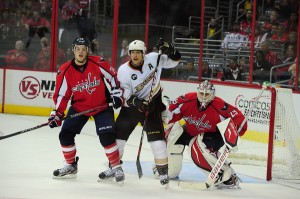 From a first look, the Caps' gameplay didn't look much different, as they were badly out of position defensively and in net again, and quickly fell to a 3-0 deficit at the hands of Teemu Selanne and Cory Perry. The difference here was that Washington's "bottom six", such as a the CLaW line and Matheiu Perreault, were there for them, and Vokoun was able to recover from his early mistakes. Usually when your goaltender shows up, it boosts confidence in the rest of the defense, leading toward the offense and making comebacks like this possible.
In addition to the supporting cast, the team did not panic. The Ducks, much like the Oilers and Canucks, are unfamiliar to Washington, and while labeled as "top-heavy" in terms of scoring, Anaheim is far from being a bad team. If given the chance, they can find ways to score. So even when the Caps were down to their final seconds in the game and Boudreau benched Alex Ovechkin in favor of guys who did better in the game, the players buckled down and still did what they had to do and created constant pressure and won battles along the boards to tie and eventually win the game in overtime. I'll give credit to a mixture of good coaching and player accountability in keeping composure throughout the contest.
Granted, the win over the Ducks was a super sloppy victory, with a very poor start. But when paired against the last two losses, it's good that they were finally able to keep up shop and pull through with a win. Jason Chimera noted that it's just something that hockey players go through in their first games back home after lengthy travel. So it happens. It's a way to give the team and its fans some perspective, that you're not always going to win every game convincingly or play a solid 60-minute effort. It doesn't happen for Detroit, Chicago, Pittsburgh, or other teams that win regularly either. Take the bad and the good from the game, as it leads well into Friday's match against the Carolina Hurricanes.
Notes: Mike Green will skate with the team in Wednesday's practice.