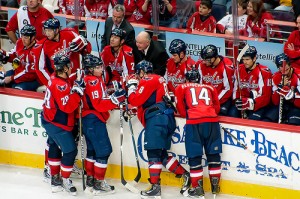 Everyone told them they had to change, and the Washington Capitals did just that.  Since their sudden rise in 2008, the Caps have been labeled as an offensive team with a defensive liability.  Fair or not, defense was the main target for critics breaking down the early playoff exits in the springs of 2008, 2009, and 2010.
Washington was an offensive juggernaut throughout the 2009-2010 season (one that included a franchise-best 14 game winning streak) and lead the league with 3.82 goals per game.  They also lead the league with a 25.6 power play efficiency, but the defensive side of the puck told another story.  The penalty kill was 25th in the league at 83.2, and their 2.77 goals against average was 16th.  Still, it was good enough for the Presidents' Trophy and first in the East.
After the historic first round collapse against Montreal in 2010, the Caps made the change everyone was looking for.  They tightened up defensively and on the penalty kill, where they ranked second in the league behind the Penguins at 85.6%.  A 2.33 GAA was good enough for 4th in the league.
However, the offense suffered, dropping to 19th in the league with 2.67 goals per game and 16th with a 17.6% power play.  Still, it was good enough for top seed in the East and another Southeast Division title.  The playoff outcome still wasn't favorable, being excused in the conference semifinals in a 4 game sweep at the hands of the Tampa Bay Lightning.
Many thought that the changes the Caps made prior to last season would carry them further than it did.  This season, Bruce Boudreau has said that they are going to try to get a little more offensive while still holding on to the strides they made in their own zone last year.  So far, that's not quite working out.
In their first two games, the Capitals have allowed eight goals while scoring nine of their own.  This is more reminiscent of the style of two years ago, one that scored a lot of goals and gave up a lot of goals as well.  Neither game could be decided in regulation, and the second game against the Lightning required a shootout.
In order for the Capitals to take the next step, they will have to find this elusive balance.  After demonstrating for the last two years that they can be both offensive and defensive challengers, they must now form the hybrid that will take them to the Stanley Cup Final.