Ahead of their date with the Washington Capitals, Thursday has been quite the hectic day of developments for the Pittsburgh Penguins.
Sidney Crosby has been cleared for full contact in practices. Marc-Andre Fleury is out against the Capitals with an illness, and Brent Johnson will make his second start of the season.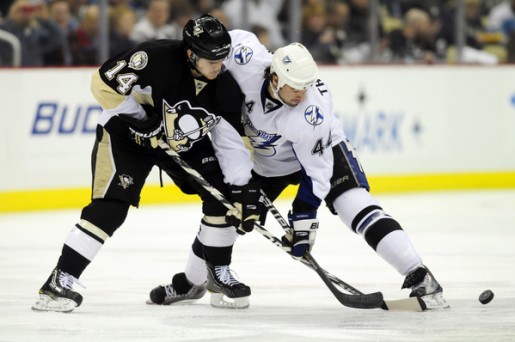 Evgeni Malkin is a game-time decision but will almost certainly participate in the opening puck drop with Alex Ovechkin (they're leading the charge to commemorate lives lost in the Lokomotiv Jaroslavl plane crash). The injury news doesn't stop there, as top defenseman Brooks Orpik has not skated for four days and is likely to sit again.
Amidst the chaos, the Penguins' front office took care of some business. Left winger Chris Kunitz signed a two-year contract extension Thursday morning, keeping him in Pittsburgh through the 2013-14 season.
Chris Kunitz' current contract expires at the end of this season.
"[Pittsburgh is] a great organization to be a part of," Kunitz said. "This team's going to have many chances to win the Stanley Cup with the young, core guys they have here.
The deal carries a yearly cap hit of $3.725 million, the same as his current contract. It also makes him one of only two forwards currently signed through the 2013-14 season, Evgeni Malkin being the other.
Kunitz has one assist in four games this year (plus-1 rating) while playing the left wing with linemates Jordan Staal and Tyler Kennedy.
Kunitz, 32, joined the Penguins in the 2008-09 regular season at the trade deadline. Along with Sidney Crosby and former Islander Bill Guerin, Kunitz became part of the top line that went on to win the franchise's first Cup in almost 20 years.
Since then, he has been a fixture on Crosby's left wing. While injuries to Sid or Kunitz (or both) have sometimes kept the pair from establishing the top-line punch the team hoped for in acquiring him, they showed a stretch of excellence early last season.
Prior to Crosby's concussion last January, Kunitz was on pace to set career marks in goals and points, and would have easily cleared the 30-goal plateau if not for injuries (Kunitz himself missed 16 games last year). He totaled 23 goals and 25 assists last year, two goals shy of his career-high with Anaheim (25 in 2006-07).
Since his acquisition, Kunitz has appeared in 140 regular-season games with the Penguins, accounting for 99 points (43-56) and a plus-25 rating.
In 43 playoff games with the team, Kunitz has six goals and 20 assists.
The Penguins are getting full value with the signing. Kunitz was second on the team in goals (23), power play goals (7) and plus-minus (plus-18) last season, trailing only Sidney Crosby in terms of goal scoring and power play production.
The deal also means Pittsburgh has nine forwards signed through next season, including Kunitz, Crosby, Malkin, Staal, Kennedy, Pascal Dupuis, Matt Cooke,  Craig Adams and Mark Letestu. Including goaltenders and defensemen, the team has a shade over $54 million committed to 17 players for next season.
The big names not on that list? James Neal will be an unrestricted free agent, and a breakout season could make him hard to re-sign. Matt Niskanen and Joe Vitale will also be RFAs, and Brent Johnson, Arron Asham, Steve Sullivan, Steve MacIntyre and Richard Park will be UFAs.
The current salary cap sits at about $64  million. How the staff decides to divide the last $10 or so million over seven or eight roster spots will be something to keep an eye on.
For now, the Penguins have locked up one of their top-line wingers, and at only two years, the term and cap hit both speak to Kunitz' willingness to stay in Pittsburgh and perhaps retire as a Penguin.
"It's an exceptional place to play," Kunitz said, "and me and my family thought it was the best choice for us to be here."
 —
A look at Pittsburgh's forward contracts, via CapGeek.com