Eric Staal is the team captain of the Carolina Hurricanes.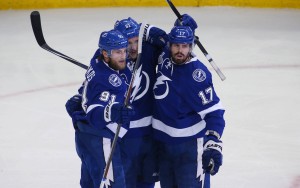 Steven Stamkos is the team captain of the Tampa Bay Lightning. Both captains are top-line forwards. Both are in the final year of their large contracts. Staal is making $9.5 million this season, and Stamkos is making $5.5 million. Staal is 31 while Stamkos just turned 26 this month. On the season Staal has nine goals and 22 assists, and Stamkos has 25 goals and 21 assists.
There you have it, a breakdown of the two team captains who led their teams into battle against one another Sunday night in Raleigh, NC. The Hurricanes hosted the Lightning in another "must-win" game for the 'Canes who are trying to claw their way up to a wild card playoff spot. While Staal played hard and made some hits and took some shots, Stamkos showed what it is that a captain is looked to provide when a game is on the line.
Captain Stamkos
Both teams played tough, hard-hitting hockey for three periods. Staal had five shots on goal but zero found the back of the net. On the other hand, when his team needed it, Stamkos blasted a laser past Hurricanes goalie Cam Ward. The game was tied 2-2 and Stamkos stepped up and led his team by example and scored what would be the game-winning goal:
301. #TBLvsCAR https://t.co/VktyNaXyPs

— Tampa Bay Lightning (@TBLightning) February 22, 2016
This is what captains of teams do. They find a way to help their team win in tight, critical games. Staal has not been leading the 'Canes by example in the scoring department. No, Stamkos doesn't get game-winners every game, but he is putting up points and making plays this season that leaves no question that he is befitting of the "C" on his Lightning sweater. As for Staal, you decide.
The reason the Stamkos goal was so huge was because of what Hurricanes defenseman Michal Jordan did in the second period to tie the game. He made an epic "highlight reel" goal that tied the game, and turned the momentum back towards the 'Canes:
[Goal GIF] @TheBigCzech23 with the wraparound goal. #TBLvsCAR pic.twitter.com/0s5aO8qVUC

— Carolina Hurricanes (@Canes) February 22, 2016
Stamkos' goal grabbed the momentum right out of Carolina's hands, and led the Lightning to a win. That's what captains do.
Staal Scoring Drought
Staal has not scored a goal since January 12. That is over a month's worth of games without lighting the lamp. To go scoreless in 16 straight games is not good for a guy who is in the final year of his contract, but it is especially not good when the team around him sure could use some scoring help as they try to climb the playoff ladder.
The last time Eric Staal scored Han Solo was still alive. #StarWarsnight

— Section 328 (@Section_328) February 20, 2016
This may be absurd to speculate about, but what if Staal had scored 16 more goals this season so far to be on par with Stamkos? How many close games that Carolina has lost would have gone the other way? Of course it is impossible to say, but one would have to believe that it would be at least one and maybe more.
Distractions
It could be argued that all of the trade talk surrounding Staal may be a big distraction for him. Point taken. But, not so long ago Stamkos was the daily subject of trade speculation and even unpleasant talk about his time with Tampa Bay. He appears to be have played through and captain Staal needs to do the same.
The Hurricanes need their captain to step up and break through the scoring funk and lead this team on a valiant hunt for the playoffs. Even if they don't make it, at least the fans won't be wondering "what if" Staal had scored?
Mark lives in the Raleigh, NC area and covers the Carolina Hurricanes.