Cam Ward, who recently moved to "backup" goalie for the Carolina Hurricanes, was in goal on Sunday night against the New York Islanders. As a writer, I cannot find the superlatives to describe his game. To say, "He stood on is head" would seem cliché. To say he was unconscious might be better, but honestly, he was just so amazing that it defies description. I'll just say, "Cam Ward was stupid good."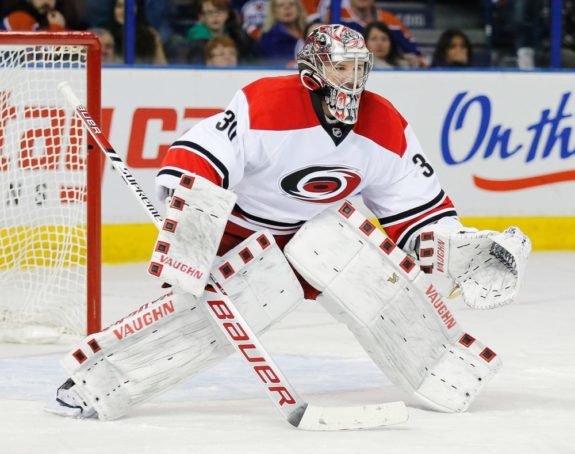 I can't help but wonder if Ward was trying to send a message to the coaching staff, or to Scott Darling who has replaced Ward as the starting goalie, that he still has the game to return to his spot as the starter. I asked him after the game if he was sending a message and Ward said,
No, I mean 'Darls' played awesome last night, and I think that's kind of the key. You need both goaltenders. I'm just trying to play the way that I can play.
Whether or not Ward was consciously trying to boost himself to his coaches or the fans or to anyone, his play spoke volumes. And, Darling should have received the message either way: Ward still has game and being the starter is something that has to be earned with consistent performances.
WHAT A SEQUENCE!#WardSaysNo #Redvolution pic.twitter.com/Fc6EPeAguz

— Carolina Hurricanes (@Canes) November 19, 2017
Cam Ward Then
Ward has been the starting goaltender for the Hurricanes since he was called into action in the NHL playoffs during his rookie season in 2006. His outstanding play helped the Hurricanes win the Stanley Cup and earned him a Conn Smythe Trophy as playoff MVP. Along with Eric Staal, whose Cup play cemented his leadership on the team, Ward emerged from that remarkable run as the team's star goaltender.
He held that spot for a decade, through good and bad, through several coaching changes and a few challenges from other goaltenders. Though no other goalie seriously got close enough to knock him out of the starting role, Ward was pushed at times to do better. Anton Khudobin stayed around for several years, and challenged Ward at times. It seems like ages ago that I penned these words about Ward v Khudobin:
When Coach Peters and staff are reviewing the performance Khudobin brought against the Rangers, it may tip the scales in his favor in Peters' desire to name a starting goaltender. He was not without praise for "Dobby: "He was solid," Peters said. "I thought Anton played real well." We will no doubt see Cam Ward in between the pipes again soon – maybe against Winnipeg.  But Khudobin made a strong statement that may cement him as the team's starter.
It's tough to remember that was a question in 2014 as Ward eventually emerged on top and remained the Hurricanes' starter. He has been resilient and steadfast in his position and it has been hard to envision life with the 'Canes with someone other than Ward in nets.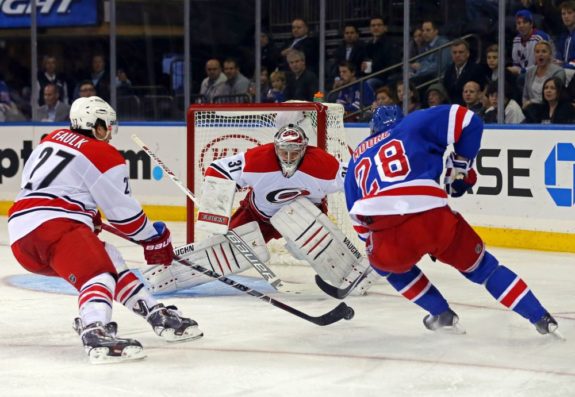 Khudobin took a tour around the NHL heading west to play briefly with the Anaheim Ducks and then returning to the Boston Bruins in 2016. He has played well lately, putting the heat on the struggling Tuukka Rask.
Cam Ward Now
Here we are in 2017 and things have changed dramatically for Ward. After two years of being the Hurricanes' workhorse in goal, Ward has been relegated to the back row. GM Ron Francis announced at the end-of-season press conference that finding a new starting goaltender was a top priority. Enter Darling, who had a successful tenure with the Chicago Blackhawks as the backup to starter, Corey Crawford. Darling did very well in that role. The Hurricanes' website noted this about Darling when they announced he had signed a four-year deal with the team:
In 75 career NHL games with Chicago, he has posted a 39-17-9 record, a 2.37 goals-against average and a .923 save percentage. In 2015, Darling went 3-1 in five opening-round playoff appearances against Nashville, helping the Blackhawks win their first-round series en route to their third Stanley Cup championship in six years.
There is no argument that Darling's resume as a backup goaltender is impressive. However, there have been times this season when it has looked as if he was not quite ready to be the number one. There have also been times when he shows shades of excellence as he did in the Hurricanes' win over the Buffalo Sabres last Saturday night:

Regardless of how well Darling plays in the immediate future, if Ward continues to play like he did on Sunday evening, the message will be loud and clear even if unintentional. Darling had better keep his team in games or there may be a role reversal in nets.
Ward has been the consummate professional during this transitional time. He has supported Darling completely and assumed his role as the backup with grace and an exemplary attitude. To be sure, he is not interested in playing 60 or more games in a season but, Ward has shown that he is still a very capable goalie in the NHL.
If Darling can be more consistent, then the Hurricanes' chances of putting a playoff-caliber team on the ice increases dramatically. They are in an enviable position of having a backup with Ward's talent. And, with a certain pair of forwards burning it up, the 'Canes' offense has come alive. The Hurricanes are becoming a good team, and their backup goalie still has game.