It's perhaps the worst kept secret in all of professional hockey; the Boston Bruins have a tremendous number of high-end left-handed defense prospects. With arguably the deepest prospect pool in the entire NHL – a pool that's already paying dividends for the Bruins in numbers already this season, the question shifts from "who is going to pan out and make the jump" to "who is he going to replace in the current lineup?"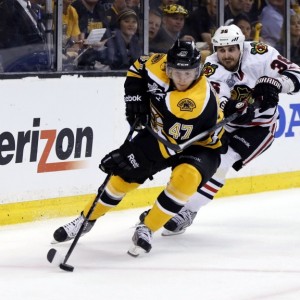 Between Jeremy Lauzon (who has been compared to Charlie McAvoy), Jakub Zboril, Urho Vaakanainen, Ryan Lindgren and to an extent Rob O'Gara and Matt Grzelcyk, the Bruins left-handed prospect pool has so much high-end potential that many have been wondering whether or not the Bruins would be willing to make a potential deal including those prospects to acquire star talent in return. It's a fair question as there are only so many spots in the lineup that can be filled on any given night.
With Brandon Carlo and McAvoy already looking like long-term fixtures on the Bruins' blue-line, two out of six defensive spots are seemingly accounted for, leaving the remaining four for the names mentioned above somewhere down the line. This doesn't account for Zdeno Chara who is still looking like a legitimate shutdown top-four defender at the age of 40 and is looking for an extension, Kevan Miller who has shown a lot of promise as a bottom-pairing player and Torey Krug, who is still signed for another two seasons beyond this year and is still only 26 years old.
But what if Krug isn't in the Bruins' long-term plans with so many left-handed prospects capable of playing a big role on the team in the future?
Why Trade Torey Krug?
It's an interesting thing to consider, especially given how successful Krug has been on the Bruins since debuting with the team during the 2013 playoffs. With over 40 points three times in his four seasons in Boston and a career-high 51 points last season, Krug's offensive output is unquestioned. His ability to quarterback a power play has made him tremendously valuable for the Bruins and he's found his stride this season with three goals and 11 points in 16 games after scoring only two points in his first eight games.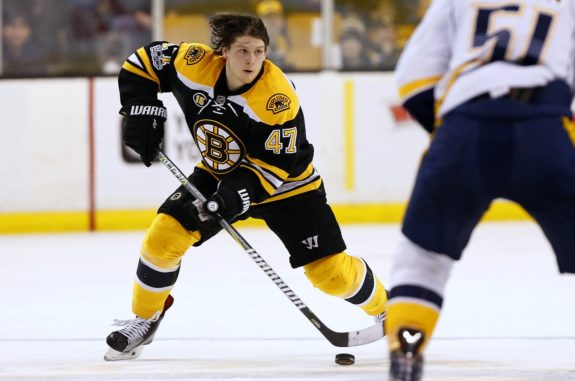 In addition to his offense, Krug's defense has improved each season since he debuted. While he may not be a bonafide top-pairing blueliner who can match up against other team's top talent every single night, he's still a valuable piece who can play in a team's top-four or be a very solid bottom-pairing player depending on the depth of that team's current blue-line.
Despite his obvious importance to the Bruins, his value likely lies beyond what he can do on the ice. With so many high-end prospects knocking on the door who can effectively replace Krug in the long-run, something has to give.
The Bruins and Chara both seem keen on extending their marriage past this season, even if that entails the team's 6-foot-9 captain playing a smaller role in the future. Krug's spot in the top-four has long been questioned, for better or worse, as his skill set necessitates sheltered minutes or a top-tier shutdown defender alongside him to best utilize his abilities.
Not Just a Roster Casualty
What's important to remember about the whole situation is that the salary cap creates a strain on finding talented players and retaining them in the lineup while continuing to add other talented pieces. At some point, teams and players need to cut ties for the betterment of one or both parties, and for the Bruins, trading Krug wouldn't simply be a move to create room for another player to take his spot.
By trading Krug, the Bruins would almost certainly get a very good return. Whether it be a solid roster player (which wouldn't do much in terms of cap hit), high draft picks or top prospects, Krug is the type of player that will command a hefty return for the Bruins.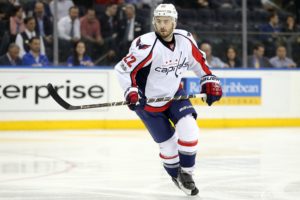 This shouldn't be confused with a return such as the one the Colorado Avalanche received for Matt Duchene, but instead, something more along the lines of what the Washington Capitals traded to acquire Kevin Shattenkirk (with the consideration that Krug isn't a rental and will only be 29 years old at the conclusion of his current contract).
Whether Krug is worth the same thing as Shattenkirk isn't the point being made here, but rather, the precedent set in trading for an offensive-minded blueliner who has proven he can make an impact offensively. Teams are always looking for players like Krug and the Bruins are in a good spot because of that.
Krug Won't Be Traded This Season
Despite a trade involving Krug making a lot of sense, the timing of it will be an important factor to consider. The Michigan-native is an integral part of the Bruins' lineup and removing such an important cog from the system wouldn't be wise without his replacements being ready to step in immediately. It's for that reason that the Bruins shouldn't be moving Krug this season as Zboril and Lauzon (the two most likely long-term pieces currently in the AHL) don't seem ready to take over a top-four role quite yet.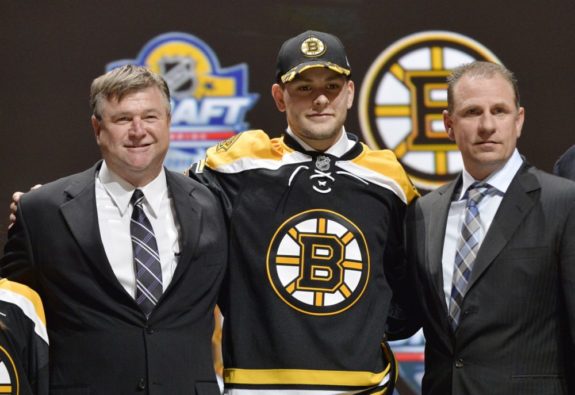 In the offseason, the Bruins could look at moving Krug for valuable assets. Alternatively, the Bruins could still feel as is Lauzon and Zboril (and at that point, potentially Vaakanainen or Lindgren), could still need time to develop into top-four options. If that's the case, a trade involving Krug could be put on hold until the middle of the 2018-19 season or the following offseason.
The right return needs to be available, of course, but Krug's offensive output from the blue-line makes him an intriguing option for a variety of teams who could look at bolstering their 5-on-5 and power play offense from the backend. Trading him just to trade him wouldn't be wise. If the right deal doesn't present itself, general manager Don Sweeney simply won't (or at the very least shouldn't) pull the trigger.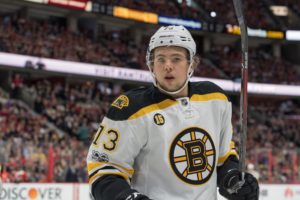 An appealing factor for teams looking to acquire Krug would be his contract. Coming in at under $5.5 million annually and expiring prior to Krug turning 30, there's little risk to assume (outside of a few nagging injuries that have hampered him over his career). While Krug does have a modified no-trade clause (NTC) that will kick in at the start of the 2018-19 season, it shouldn't hinder the Bruins too much if they do in fact want to make a deal. The NTC allows Krug to make a list of eight teams that he wouldn't accept a trade to, leaving 22 teams for the Bruins to work with.
Trading a player like Krug isn't something teams would typically want to do, but with so many prospects in place and the team looking to pay players like McAvoy, Carlo, Danton Heinen, Jake DeBrusk, Anders Bjork, Jakob Forsbacka-Karlsson, Peter Cehlarik and others in the coming years, Krug's place on the roster and the cap space he's taking up are the logical choice to move in the long-run.