The Caps have had some great wingers in their time. Some are Hall of Famers, some are team record setters while others are current superstars. In compiling and grading this list I weighed heavily the amount of time spent with the team as well as each player's statistics. I also included fan appreciation and importance to the team as a whole. Enjoy this list of the best Washington Capitals wingers of all time.
Best Washington Capitals Wingers #10: Craig Laughlin
Craig makes this list based not only for his play on the ice but also for his contributions to the team that eclipsed his hockey skill. He came to the Caps from the Canadiens in the same deal that brought Rod Langway. Since 1990 he has performed the color commentary duties for HTS/Comcast Sportsnet. Every Cap fan in the D.C. area is familiar with his voice and his trademark style and phrases, especially his "stop it there" when breaking down video playback. He is also an alumni event regular.  In 428 games as a Cap he scored 110 goals and added 173 assists.
Vintage Laughlin and Beninati:
Best Washington Capitals Wingers #9: Dennis Maruk
So which Capital held the record for goals in a season before it was broken by Ovechkin? Not one of the likely candidates. Dennis Maruk had some of the best seasons wearing the red, white and blue to date. He was drafted by the now defunct California Golden Seals in 1975 and bounced around a bit before landing in Washington. Before the Langway trade brought hope for playoff appearances, Maruk entertained the crowd at the Capital Centre by producing his best performance during the prime of his career.
In the 80-81 season he scored 50 goals. The following year he scored 60 and racked up 76 assists for an amazing 136 points. That makes him the reigning single season points leader in Caps history. I predict Ovechkin will never break that mark. Despite his heroic play, he was traded away, a running theme in Capitals history.
Best Washington Capitals Wingers #8: Steve Konowalchuck
Kono, as he was known, was drafted by the Caps in 1991. He began regular play in the 92-93 season. Steve was a hard-working, grinding winger; a defensive forward. His best play came on a line with Jeff Halpern and Ulf Dahlen. They were masters of the cycle game and forced opponents to spend excessive amounts of time and energy in their own end. Kono played on the PK and was reliable in any situation.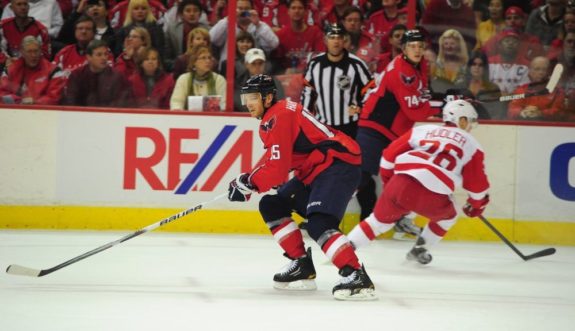 His responsible play and leadership was recognized. Steve earned the captaincy for the 01-02 and 02-03 seasons. At the end of his career he was traded to Colorado for a chance to play for a Cup contender. Being the only NHL player from Utah, this also put him closer to home. Steve netted 146 goals and helped on 196 more over the course of 693 games as a Cap.
Best Washington Capitals Wingers #7: Kelly Miller
Miller came to the Caps along with Mike Ridley from the New York Rangers during the 86-87 season in a trade that sent the unhappy "Can't Miss Kid" Bobby Carpenter packing. While Ridley was a goal scorer, Miller was a defensive forward. The penalty kill was his forte. Like Konowalchuck, he was incredibly reliable and could play in any situation. Like I said about Calle Johansson in a previous post, his lack of mistakes made him seem almost invisible until he was gone. As a Cap he played in a whopping 940 games. He scored 162 goals and racked up 246 assists before leaving the NHL after the 98-99 season. He continues to be a fan favorite for his dedication to the team and workman-like style of play.
Here's a pretty short-handed goal:
Best Washington Capitals Wingers #6: Alexander Semin
How many of you reading this were drafted into the military? Would it surprise you to know that many countries require military service of every young man and woman, especially first world countries? While there has not been a draft in effect in the U.S. since the Vietnam War, the same cannot be said elsewhere. Such was the case for young Alexander Semin. He was taken in the first round of the 2002 NHL entry draft. After playing 52 games in the 03-04 season he returned to Russia to fulfill his other draft obligations. Thus began a contentious legal battle. He returned for a full slate of NHL play in the 06-07 season.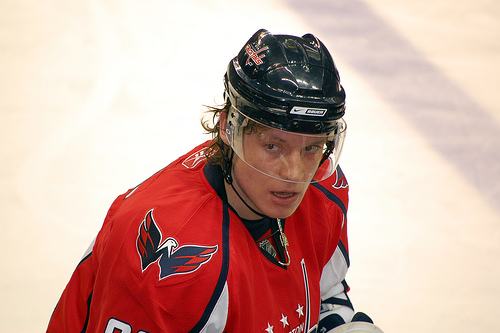 The reason Semin makes this list is because he is incredibly talented and has shown streaks of genius in his brief time with the Caps. Former teammate Matt Cooke, who spent a stint as a hired gun for the playoffs in D.C., called him the most talented player he'd ever seen. But as another former comrade pointed out (Matt Bradley), Semin does not give his whole effort. That is the general consensus on Alexander. He has more pure talent than Ovechkin but has half the drive. When he has the desire he can pull off a hat trick. When he doesn't he takes lazy stick penalties. This summer he will be a free agent. As a Cap he as scored 197 goals and helped on 211 more in 469 games.
Best Washington Capitals Wingers #5: Dave Christian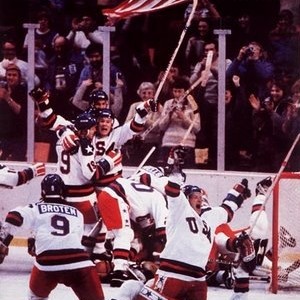 Dave Christian is remembered mostly as a member of the 1980 "Miracle on Ice" US Olympic Hockey Team. He was also one of the lucky ones who went on to a long NHL tenure. Dave started his career as a draft pick of the original incarnation of the Winnipeg Jets. He came to D.C. in the 83-84 season just as the Caps began a run of playoff appearances. The next several seasons turned out to be the best of his life, often playing alongside Craig Laughlin on a team with three future Hall of Famers. In his time as a Cap he potted 193 goals and tallied 224 assists in 503 games.
Best Washington Capitals Wingers #6:  Bengt Gustafsson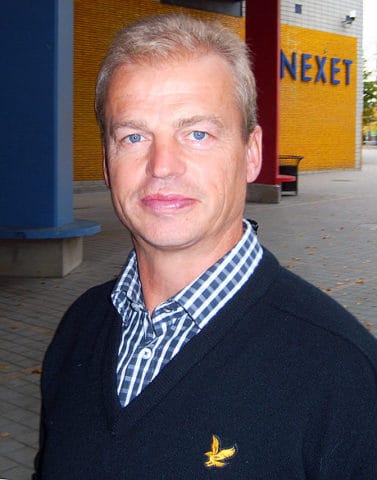 Bengt was taken by the Caps in the 1978 NHL draft, however, he signed with the Edmonton Oilers of the WHA. When the two leagues merged the Caps claimed him. He began regular play in the 79-80 season and would remain with the team through the 88-89 season. He is tied for a franchise record for goals scored in a game at five, which occurred against the Flyers on January 8, 1984.  Like many players, his time was split between winger and center during his career. Bengt often was the pivot for Mike Gartner and Dave Christian. Once retired from North American play, he continued to skate in the Swedish and Austrian leagues through the 98-99 season.
Bengt played in a time when Europeans were a bit of a novelty. Swedes like Gustafsson were new and their style of play was difficult for some NHL fans to grasp. The idea that a player would choose to pass more often than shoot was a conundrum. It was men of his generation that paved the way for current Swedes. In his time with the Caps he netted 196 goals and an impressive 359 assists over 629 games, making him one of the best playmakers to ever don a Caps sweater.
Best Washington Capitals Wingers #3: Alex Ovechkin
What can I say that hasn't already been said? What can I show you that you haven't seen? Alex Ovechkin played for the legendary Russian franchise Dynamo Moscow. He burst into the league in the 05-06 season after having been chosen as the number one overall pick in the 04 draft. He claimed the Calder Trophy as the best rookie that year. Highlights of his acrobatic goals became a mainstay of sports news broadcasts.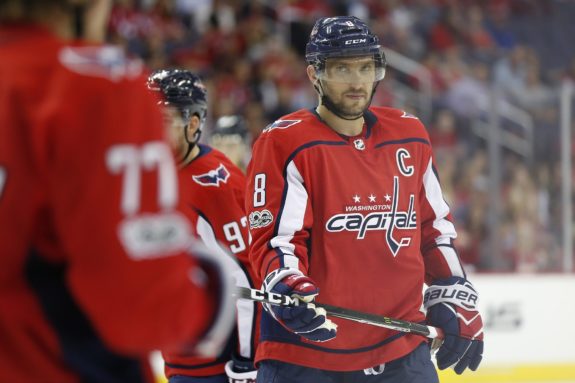 For his performance in the 07-08 season he was awarded the Rocket Richard Trophy for scoring the most goals (65),  the Art Ross Trophy for most points scored (112), the Hart Memorial Trophy as the league MVP and the Lester B. Pearson Award for most outstanding player as voted by his peers. This was the first and only occasion where one player has one all of the trophies, let alone in one season. He went on to win the Richard, Hart and Pearson again the very next season. For the '10 season he won the renamed Pearson award for a third time, now knows as the Ted Lindsay Award.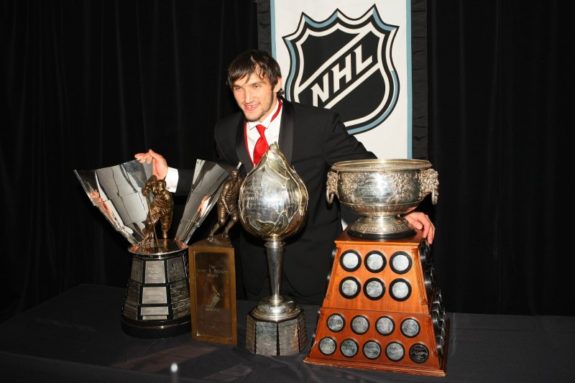 If he stays healthy he will break the franchise records he doesn't already hold and end up as number one on this list. As it stands, he has scored 339 goals and added 340 assists in 553 games. He was named captain on January 5, 2010 and has represented the Caps in four All-Star games.
Best Washington Capitals Wingers #2: Mike Gartner
Remember the mantra from the film Miracle? "The legs feed the wolf." This was never more true of anyone than of Mike Gartner. Mike was Washington's first round pick in 1979. Like Gustafsson, he began his career in the WHA and came to the team that drafted him when the leagues merged. He quickly became the Caps most consistent offensive threat; his lowest goal scoring season during his tenure was in 85-86 when he scored 35.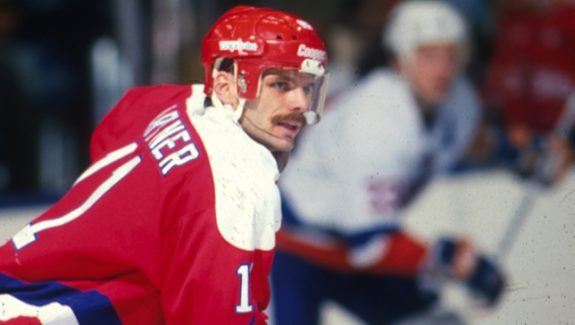 Gartner was fleet of foot to an  absurd degree. He won the fastest skater competition at the All-Star game on three occasions. More than that, it was his endurance and physical longevity that drove him into the Hall of Fame in 2001. Gartner holds the NHL record for 30+ goal seasons at 17. He never had a blockbuster season or won a Stanley Cup. He never won an NHL award. Mike merely exhibited consistent excellence of play over 19 seasons. He scored more goals than Mike Bossy, Steve Yzerman or Guy Lafleur. Bet you didn't know that. There are plenty more he is ahead of in many categories. He was quiet, efficient and beloved.
The Caps traded Gartner and fellow future Hall of Famer Larry Murphy to the North Stars in 88 for Dino Ciccarelli and Bob Rouse. As a Cap, Mike Gartner netted 397 goals and assisted on 392 more in 758 games. He represented the team in 4 All-Star games. His number 11 jersey was retired on December 28, 2008.
Best Washington Capitals Wingers #1: Peter Bondra
I've previously written an appeal for Bondra's induction into the Hall of Fame. If you've read that article, this bit might seem a bit repetitious. Banzai was taken in the 156th pick of the 1990 draft. Not a number one pick. 156th. And it was all because Caps scout Jack Button stayed an extra day while on a scouting trip in Europe to see the Slovak perform.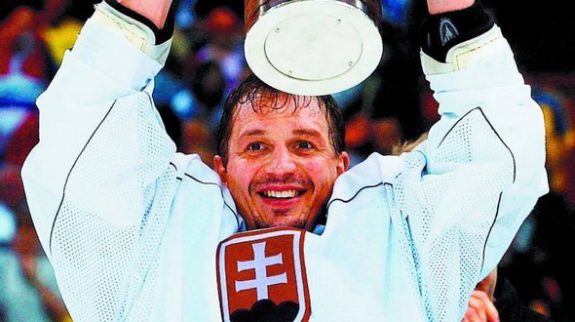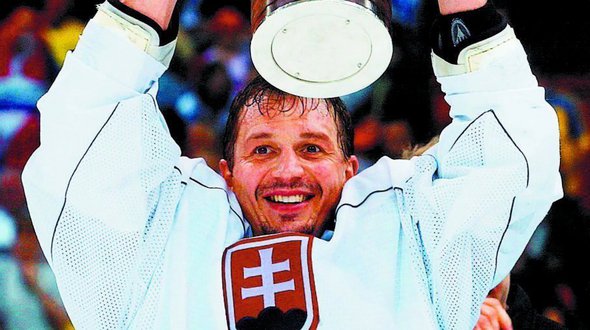 He began regular play in the 90-91 season and quickly became the best sniper in team history. Bondra was fast to boot. While Gartner had long, smooth strides, Bondra sprinted down the ice. Peter was as comfortable skating in on a break as he was running the powerplay. For a three-year period in the mid 90′s no one scored more goals than Bondra (95-96 52G, 96-97 46G, 97-98 52G). His total for those three seasons beats any other players. He was an electrifying competitor. Once he got on a scoring streak he was dazzling to behold.
As a Cap he scored a stunning 472 goals and helped on 353 more while skating in 961 contests. He led the league in goals scored in 94-95 and 97-98, before the advent of the Rocket Richard Trophy. Banzai also represented the team at the All-Star game 5 times. He went on to score a total of 503 goals in his career as he finished up as a hired gun in a few cities before hanging up his skates in 07. Bondra is atop this list because of his goal total and the number of games played as a Cap.
This article was originally published in June, 2012.
Joe Wilson is a published writer and an avid Capitals fan. He has been following the team since 1993. When not writing and working he is studying to complete his history degree.