In a season that could have already been completely derailed by a comically long list of injuries to major contributors, the Anaheim Ducks have managed to stay within striking distance for a run not only at the playoffs but perhaps at a sixth consecutive Pacific Division title once they regain some semblance of health.
Goaltending has been key in the Ducks not plummeting to the league's cellar over the first quarter of the season, as John Gibson has taken another step forward in his development while backup Ryan Miller has been outstanding when called upon (and when healthy). Another key? Certain players have elevated their games to help cover up for some of the missing production. One of those players is 23-year-old defenseman Brandon Montour.
Montour Bringing the Offense
Montour, a second-round pick of the Ducks in 2014, is known to be a strong skater and puck mover who can facilitate offense from the back end. His offensive game was glaringly evident in the AHL, as he posted 57 points (12 goals and 45 assists) in 68 games for the San Diego Gulls in 2015-16, followed by 32 points (13 goals and 19 assists) in just 36 games in 2016-17.
In 27 regular-season contests for the big club last season, Montour posted a modest six points (two goals and four assists). His strong playoff performance, which included seven assists in 17 contests, all but cemented his permanent spot on Anaheim's blue line this season.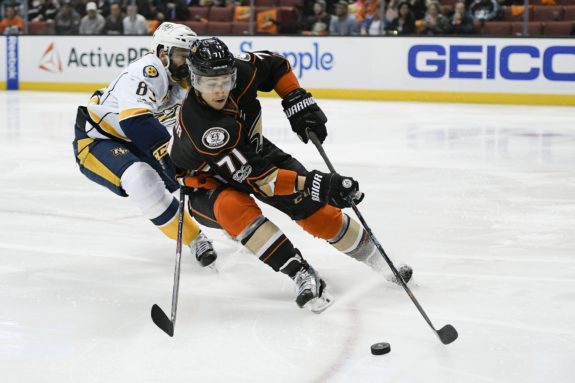 He is fulfilling a certain writer's prediction that he would break out this season, as his offensive game has continued to grow to the tune of six goals and six assists through 20 games this season. His six goals are good for a tie for second overall on the team—not too shabby for a defenseman. Among all defensemen in the NHL, Montour is tied for second, behind only Alex Pietrangelo of the St. Louis Blues.
Part of the reason for the uptick in Montour's production—besides getting more time on the power play—has been his willingness to initiate and/or join the rush, presumably a byproduct of increased confidence that comes from additional experience and being someone on whom the team has relied heavily.
Earlier in the month, Montour spoke about his ever-increasing confidence in his abilities to move the puck and make things happen with his strong shot.
"I'm getting confident, you're playing with some good players and you want to get them the puck," said Montour. " … A strength of mine is my shot, I try to use it as much as I can. Hopefully I can keep the goals coming."
Defense Still Developing
Montour's offense has undoubtedly been critical in keeping the Ducks afloat to this point. His defense, however, is still a work in progress—not an uncommon situation for young, offensively-inclined blueliners. While his strong two-way play was a key part of the Ducks' run to the Western Conference Final in last year's playoffs, Montour has not achieved the same balance so far in 2017-18.
At five-on-five play, Montour's ability to create offense is evident beyond his point production, as the Ducks generate about 29 scoring chances per 60 minutes when he is on the ice, which is the second-highest mark among Anaheim defensemen, behind only Hampus Lindholm. The other side of the coin, however, is that the Ducks bleed high-danger scoring chances when Montour is on the ice; his high-danger Corsi-for percentage of 39.50 percent during 5-on-5 play is the worst among the club's defensemen.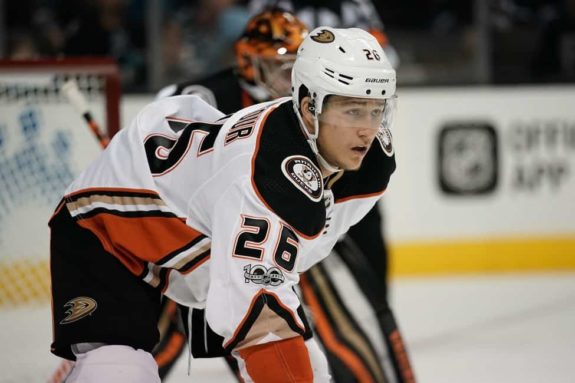 Montour's relative expected goals-for percentage of minus-4.8 during five-on-five play adds more to that story, as the dangerous scoring chances go against the Ducks more often when he is on the ice instead of others.
Of course, it's hard to argue that Montour's defensive inconsistencies have outweighed his actual offensive production to this point. Yes, yielding this many chances against might not be a sustainable formula for success for Montour and the Ducks, but one also has to expect that Montour's defensive play will improve once the team gets healthier and he is playing with a better supporting cast.
Furthermore, as a young and still relatively inexperienced defenseman, the smart money is on Montour to improve defensively and continue to contribute offensively. His offense thus far has made up for his ups-and-downs on the other side of the puck.
In any event, Montour's contributions in the early part of this season have been critical for an Anaheim team banking on getting offense from atypical sources until they are able to lean on their normal arsenal once again.