Ron Hainsey is a former Carolina Hurricanes defenseman. For three and a half years he was the anchor on the 'Canes blue line, often paired with All-Star, Justin Faulk. In many respects, he embodied the typical NHL defenseman, in that he came to work and took care of his business without fanfare or the desire to be in the spotlight. Hainsey epitomizes the blue-collar NHL player, with a work-ethic that was never an issue with 'Canes fans.
Hainsey Traded to Penguins
On February 23 of this year, Hainsey was traded to the Pittsburgh Penguins for a second-round pick in the 2017 NHL Draft, and minor league forward, Danny Kristo. The trade made sense for the Penguins at the time, as they were dealing with injuries one the defensive side and were in a battle for playoff positioning.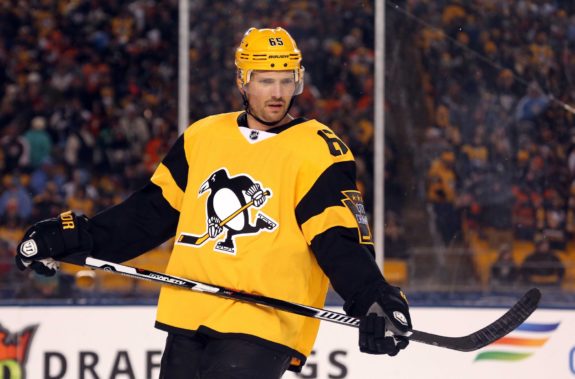 They got a true veteran in Hainsey, the 36-year-old from Bolton, CT who quickly assimilated into his former Metropolitan Division foe.
The announcement of the trade at NHL.com included a quote from Penguins head coach, Mike Sullivan about adding Hainsey to the roster. He said,
It's a little bit of a challenge, but I don't think it's anything that's overwhelming for our team. I think we have a good veteran group. I think our guys have a real understanding of how we're trying to play. I think there's a real clear vision in here on how we want to play down to the details. When we add new players into the group, these guys will help them along the way. I don't think it's anything where we're not capable of meeting that challenge.
A player of Hainsey's pedigree had no problem at all fitting in with Pittsburgh's defensive corps. The trade has proven to be an excellent acquisition for the Pens. He picked up right where he left off in Carolina, working hard, avoiding the spotlight and taking care of business.
Hainsey's History
I had forgotten that Hainsey was a first-round pick in the 2000 NHL Entry Draft, which goes along with his low-key approach to the game. Though, not in the limelight, as was former teammate Eric Staal, or current teammate Sidney Crosby, he was inspiring enough 17 years ago to be selected 13th overall by the Montreal Canadiens.
Today, names like McDavid and Dillon fill the pre-draft marquee, and deservedly so. But, of the 15 top draft picks in 2000, only Hainsey and two other players, Marian Gaborik and Scott Hartnell remain in the NHL. Again, a testament to the hard-working, steadiness that is his nature. He has remained while others have fallen off, and now is playing on hockey's grandest stage, the Stanley Cup Finals.
I am cheering for Ron Hainsey. He's been around for quite awhile now. @penguins

— T.J. Smith (@TJSmith61) May 30, 2017
In 907 games played, Hainsey has scored 49 goals and recorded 204 assists. His value has not necessarily been as a torrid scorer or offensive threat but in his reliable play. The fans of the Hurricanes appreciated that reliability when he was in Raleigh, and are happy that Hainsey is getting a chance to win the Cup with the Penguins. A look through the Hurricanes Facebook page finds comments like, "Hainsey got a good deal. Happy for him."
Hainsey Now and Looking Ahead
While Hurricanes fans also have alum Matt Cullen on the Penguins roster, the overall feeling from the fanbase is not very warm toward the Pens. Many feel like former 'Canes and current Penguins GM Jim Rutherford did very little to help the team in his final few years in Raleigh. Many are hoping for a Nashville Predators victory in the Stanley Cup Finals, particularly borne of a fondness for former Hurricanes head coach, Peter Laviolette, who led the team to a Cup victory in 2006.
Regardless of the outcome of the Finals, Hurricanes fans have always been supportive of their former players getting a chance to do well with another team. Now, it is Hainsey getting a chance to realize the ultimate fruit of his nearly two decades of hockey labor.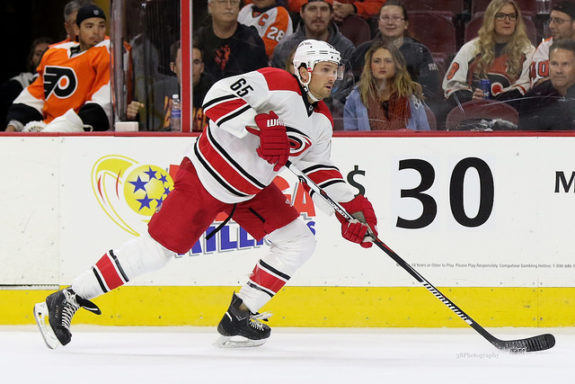 Win or lose, Hainsey will have decisions to make in the upcoming offseason. On May 23, Brett Finger wrote at canes country.com that Hainsey coming back to the Hurricanes would make logical sense: "Ron Hainsey served as the veteran piece on Carolina's young blue line over the past few years and his play justified his role as a top-six defenseman. His play in Carolina was impactful beyond the leadership role that he took on. He was a consistent partner for whoever he lined up with."
Hainsey is focused on one thing, winning the Stanley Cup with the Penguins. In a couple of weeks, he will need to look ahead. Will he retire? Will he return to the Hurricanes organization? Will he go somewhere else? Whatever he does or where he lands, he will always be well-liked by Hurricanes fans.