Heading into last June's NHL Draft, the question on everyone's mind was Taylor or Tyler – Who would the Edmonton Oilers select first overall, Taylor Hall or Tyler Seguin? The Oilers selected Hall, leaving Seguin available for the Boston Bruins as the second selection, thanks to the Phil Kessel trade with the Toronto Maple Leafs.
After a slow start, Hall is 10th in rookie scoring with 2 goals and 3 assists, Seguin ranks 6th with 3 goals and 2 assists;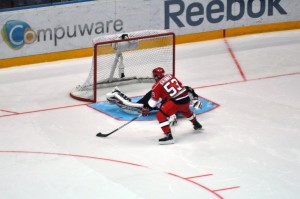 both are on their way to a successful rookie campaign. After all the talk about Taylor and Tyler, raise your hand if you predicted that Carolina Hurricanes forward Jeff Skinner would lead all rookies early in the season with 4 goals and 6 assists.
Twelve games into his NHL career and the 18-year-old from Markham, Ontario has proven that he is ready for the challenge of being an everyday NHL player. Starting the season on a 15,000-mile odyssey did not faze the former Kitchener Rangers forward; he recorded his first point in his second game (an assist on a Tuomo Ruutu goal) and scored the shootout winner as the Hurricanes defeated the Minnesota Wild 2-1 in Helsinki, Finland.
In an interview with Paul Branecky regarding the decision to keep the seventh overall draft pick in the NHL, Hurricanes GM Jim Rutherford praised Skinner's play.
"There are things players haven't picked up years into their careers, but he's already doing them."
Head coach Paul Maurice has been equally impressed with the young man from Markham and his age will not effect his playing time.
"I don't think about his age when he goes over the boards," said Maurice.
After a 4-3 win at Madison Square Gardens over the New York Rangers, Maurice joked with the media after Skinner powered the 'Canes offence with two goals and an assist.
"The only thing that tells you he is eighteen is the fact that he doesn't have to shave. He's a really gifted player and it's his compete level that's the difference. He stays on pucks and fights down low, and he's the opposite of a perimeter guy – he's in the dirt all the time."
It remains to be seen whether Skinner can handle the 82-game NHL schedule but the quick start will certainly help his confidence and he is quite familiar with success against bigger, stronger opponents. In his rookie year in the Ontario Hockey League with the Rangers, he scored 27 goals and added 24 assists in 63 games as a 16-year-old. In his second OHL season, he turned on the jets and rocketed up the scoring list with 50 goals and 40 assists in 64 games. In the 2009-2010 OHL playoffs, he had 20 goals and 13 assists.
Twelve games into his NHL career, Skinner not only leads the rookie-scoring race, his 10 points has him at the top of the Hurricanes scoring list too. While all the pre-season talk was about Taylor or Tyler, Carolina fans are asking, what about Jeff…