By Steve Kendall
With the 2010 Hall of Fame induction weekend upon us, it is a good time to reflect on who is missing from the hallowed halls in Toronto.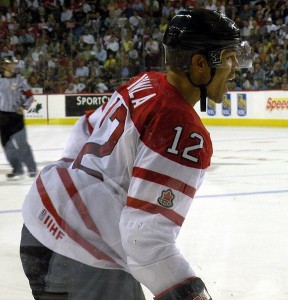 The National Hockey League has always done a great job of honoring the pioneers of the game, including the induction of the first female players, Cammi Granato and Angela James, on Monday night. However, the Hall of Fame is still missing one key pioneer of the game, and until he is honored, the Hall is tainted.
That man is Willie O'Ree.
Primarily, O'Ree is known for breaking the NHL's color barrier when he suited up for the Boston Bruins against the Canadiens at the Montreal Forum on Jan. 15, 1958. Ironically, virtually no one even mentioned the fact that the league's color barrier was broken. In fact, even O'Ree did not realize he was the league's first black player until a few days later.
"The fact that we shut out the Canadiens that night was the big news," O'Ree said about that opening game. "It was the greatest thrill of my life, and I will always remember that day."
O'Ree played one more game (also against Montreal) before returning to the minors. In 1960, O'Ree played 43 games with the Bruins, recording 4 goals and 10 assists and cementing his spot in NHL history. He was traded to Montreal in 1961, but never returned to the NHL.
His pro career, however, also included 21 seasons in the minors, where he had 12 seasons with at least 20 goals – including five seasons with 30 or more goals. He retired in 1979.
More important that his statistics, however, is the impact he has had on the sport. Breaking the color barrier is no easy task, and O'Ree faced bigotry, racism, and slurs at every turn. Unlike Jackie Robinson, who turned the other cheek during his days in major league baseball, O'Ree fought for his respect, often taking on some of the toughest men in the sport to prove he belonged.
"Racial remarks from fans were much worse in the U.S. cities than in Toronto or Montreal," O'Ree said. "I particularly remember a few incidents in Chicago. The fans were pretty tough on me, but it didn't bother me. Hell, I'd been called names most of my life. I just wanted to be a hockey player, and if they couldn't accept that fact, that was their problem, not mine."
His hard work and sacrifice paved the way for future NHL stars such as Hall of Fame goalie Grant Fuhr, Calgary Flames standout Jarome Iginla, Mike Grier of the Buffalo Sabres, former Boston Bruins' standout Anson Carter, and 11-year NHL veteran goalie Kevin Weekes, who now works with O'Ree on the diversity program.
In 1998, O'Ree was named to the NHL's diversity program and has been a voice for diversity in the game, bringing the sport of hockey to inner city neighborhoods, the south, and other new ground for the sport. Because of the efforts of O'Ree and the diversity program, the sport of hockey continues to grow in places where nobody thought it could.
"We're just spreading the word of hockey," O'Ree told ESPN. "The nice thing about it is we are giving these boys and girls an opportunity to play a sport that they have never had the opportunity to ply before. If they don't like it, they can just walk away,
"But the one thing I can say is in my 12 years working with the Diversified program, I've never had one boy or girl come up to me and say, 'Mr. O'Ree, I don't like this and that I'm never coming back.' That's a nice feeling."
O'Ree has dedicated his life to hockey, endured to become an ambassador for the sport, and influenced thousands of young men and women to play the sport of hockey. For this, he deserves induction into Hockey's Hall of Fame. It's too late for this year, but let's get the ball rolling and make O'Ree a member of the 2011 induction class.
(Steve Kendall is a freelance writer and longtime hockey player, coach, official, and reporter. )
Steve has been a writer for 20 years, and has covered the NHL, NCAA, and amateur hockey for the likes of the Worcester Telegram & Gazette, the Boston Herald, and New England Hockey Journal. Follow me on twitter @stevekendallthw