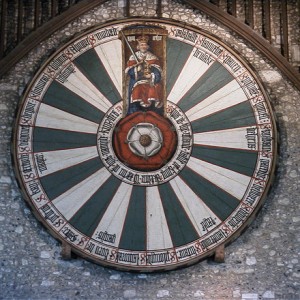 I have the honor of bringing home the CBJ Blogger Roundtable discussion of ten  pointed questions relating to the team and the season ahead.  Today, the intrepid participants make their bold predictions for the season's fortunes.  To remind everybody of the bloggers offering their opinions:
Participants:
Tom Felrath, The Dark Blue Jacket
Dan Parker, Waiting For Next Year
Mike MacLean, Andy Newman, & Matt Wagner, The Cannon
Lee Auer, The Jackets Blog
TopShelf, Jackets Required
Red Dog, Red Dog Rambling
Jeff Little, The Hockey Writers
So, without further ado, here is the question posed, and the answers provided.  Enjoy the read!!
QUESTION #10: Last but not least, it's prediction time. Do you see the CBJ as a playoff team? Why or why not, and where do you see them finishing in the Central Division and the Western Conference?
DBJ: I'm on record as saying that the Jackets will be in the hunt for a playoff spot up to the end of the season.  They're not good enough – and still in transition with the new coaches – to dominate, but they're surely not bad enough to be dominated on a regular basis.  I honestly don't care about the Central Division standings, but I'd slot them between 7 and 10 in the Western Conference.  Lots of Maalox and Tums will be consumed by the CBJ fan base this season, but it sure will be exciting!
DP: Ugh. I should have guessed this was coming. I see them as a playoff team assuming they don't have any major injuries and they can generate offense like they have in the pre-season. Obviously, that's a big "IF", so I'll temper it by saying that I never viewed them to be as bad a team as their record showed last year. I think there's talent on this team; it's still basically the same core roster that made the playoffs two years ago with some losses and upgrades in small spots. The biggest thing the Jackets can do this year to return to the playoffs is to believe they can, and I think Scott Arniel's hiring will help there. I also think Arniel's focus on conditioning will be a huge factor, as no matter what the players said after the fact there weren't many who watched this team that disagreed with Claude Noel's "3 out of 10" assessment about their conditioning level.
Don't get me wrong, it's going to be tough to get back to the playoffs. The Jackets still play in one of the toughest divisions in the NHL (two Stanley Cups in the last three years, and a 7-out-of-10 for the playoffs the last two years). But, in my rosey scenario, I see the Jackets passing St. Louis for fourth in the division, and just eeking out 8th in the Western Conference to go back to the playoffs. Then, of course, the next step would be actually *winning* a playoff game…
MM: I do see Columbus as a playoff team. I predict third in the Central Division behind Chicago and Detroit, with the Jackets grabbing the eighth seed. While I am at it, here is my entire Western Conference prediction:
1) Vancouver
2) San Jose
3) Chicago
4) Los Angeles
5) Detroit
6) Phoenix
7) Calgary
8) Columbus
9) Colorado
10) St. Louis
11) Nashville
12) Dallas
13) Anaheim
14) Edmonton
15) Minnesota
Lee: Taking a few minutes to look at the Central Divisions rosters, the Blue Jackets have no excuse but to finish 3rd place or better in the Central this season. Chicago is still a very good team, more top heavy with talent than before, and lots of inexperience, Detroit is Detroit and consistently finds a way to win. Nashville and St. Louis have not significantly improved and there is no excuse for the CBJ to not finish ahead of both division rivals.
With the current group of forwards being as deep as it's ever been, and as talented as it's ever been, this group should be able to score with any team, East or West. The defensemen are average at best, but if they play smart hockey there is no reason to not expect significant improvement from last season. The real question is, "What do we have in goal?" and if you could answer that today, you could be a very rich person. The key is, and always has been, Steve Mason. If Mason can show consistency and steal a couple wins, the Jackets are in for a great season.
It may sound crazy, but I fully expect a 6th place finish from the Blue Jackets. Many teams in the West took huge steps backwards (Anaheim, Dallas, Minnesota) and others over-achieved last season (Phoenix, Colorado), and a few should continue to struggle (Calgary, Edmonton), and others we have a chance to overtake (St. Louis, Nashville, Detroit, Los Angeles **gasp**).
TS: I see the Jackets being vastly improved, but still missing the playoffs.  As mentioned earlier, the key is Mason.  If he is back to being the goalie he was his rookie year, the Jackets are in the playoffs.  As for the Central, it could be an interesting year.  Obviously the Blackhawks are a different team than they were last season.  The Blues have young guys who continue to trend towards improvement.  The Predators had nearly as much roster turnover as the Hawks did.  Saying goodbye to Dan Hamhuis and Jason Arnott will leave the Preds out of the playoff hunt.  The Red Wings are old, but not as old as they have been in the past and they will probably win the division this season.  I say the Jackets finish second behind Detroit.  Overall, we end up 10th in the west and miss the playoffs by 4 points.
RD: Yes. I think they challenge Detroit for 2nd in the Central, and they land the 6 or 7 seed in the Western Conference. I believe last year brought many lessons and the hunger is there this season. Some youngsters will come into their own; some veterans will prove they still have some gas in the tank. There will be some serious momentum by early December.
JL:  I'm already on record as having the Jackets 5th in the West, behind Vancouver, San Jose, Chicago and Detroit.  They will battle Los Angeles for that 5th slot.  A lot went right for Colorado and Phoenix last year, and they did nothing in the off-season.  I see both crashing back to reality.  Dallas is in bad shape, and with Calgary looking for Olli Jokinen to be their savior . . .well . . . Edmonton will be better, but needs more time, and Minnesota just doesn't have the horses yet to score enough to succeed.  Even Chicago and Detroit have to hope that goaltending will come through.  Anaheim will also need some help, particularly on the blue line.  It will be tighter than ever in the West, but LA, St. Louis should make the top 8.
MW: I believe Columbus can be a playoff team in the West. A lot of things certainly have to go right, but you could see that for a lot of other teams, too. The only teams in the West who clearly made improvements this offseason are Vancouver and maybe Detroit, depending on how Mike Modano fits in. Everyone else either stayed the same, or still has questions or problems that they didn't address. (St. Louis brought in Halak, but was goaltending their big problem? I'd be more worried about their defense…) I think Columbus will be in the hunt for the playoffs right up until the end, and I believe they'll be a 6-7 seed if they make it in. I think they'll most likely end up third in the Central behind Detroit and Chicago.
That's it — please visit the participating blogs, as you will get a really interesting mix of perspectives and insight as the season moves along.  Thanks to Matt Wagner for putting this all together, and similar thanks to everyone who participated!