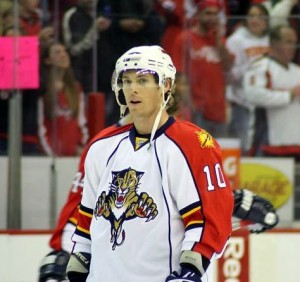 The Florida Panthers opened the season on Sunday in Edmonton, then travelled to Vancouver before wrapping up the season opening road trip in Calgary Thursday night. Two frustrating losses to open the season and one could already see the writing on the wall. This team just doesn't have enough scorers. Regardless of how well they play, they simply won't be able to win enough games. Then came a complete domination of the Flames resulting in 3-0 win. Suddenly, the Panthers are "industrious, committed" according to the Calgary Herald and Sportsnet called the team "young, fast-skating, (and) creative." Is a 1-2-0 record to open the season really reason for optimism?
Absolutely. You will see the words "three" and "games" appear together often from here on.  Rational thought dictates that nothing be overblown, yet everything taken into consideration through only the first three games of this season.  In the opener against Edmonton, the Cats lost 3-2. But Florida outshot the Oilers 28-13. Two of the Oilers goals could be catergorized as "lucky" tip ins that Vokoun had no chance on. The third was seemingly kicked in, but allowed to count. In Vancouver, the Cats came up against one of the best goaltenders in the league, forcing Roberto Luongo to make 41 saves, and lost 2-1. On the ice, however, Florida stayed toe to toe with one of the Stanley Cup favorites for a full 60 minutes. A shorthanded Flames team due to injuries never showed up Thursday night, and Florida kept the pressure on for the majority of the game, holding Calgary to 10 shots through the first two periods en route to an impressive 3-0 shutout win. Despite the the vast majority of experts calling for Florida to finish no higher than 13th in the East, and many picking them to come in dead last, the Panthers seem to have finally bought in to head coach Pete DeBoer's grinding forecheck, and the results have been astonishing.
Before you jump at the first two paragraphs as a gross overreaction to 3 games in which Florida earned just 2 points, I'll beat you to it. No points are awarded for good efforts. You don't get an extra column for outshooting teams. But here's the reason for hope. Through three games, the Panthers have played 180 minutes. There were no lapses. There were no shifts where it looked like players were taking their ice time to rest their legs. The defense has been responsible. The offense has been winning the battles in the corners. Florida has looked like a competitive, NHL calibre hockey team for the first 3 games of the season, and I don't know if there has been a 3 game stretch in the past few seasons where an objective observer could say that.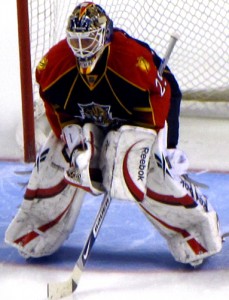 This offseason, much ado was made about Dale Tallon and the draft, selecting 13 players overall, including 3 in the first round alone. Yet none of those draftees made the team out of training camp. Instead, there is an odd mix of experienced youth and veterans who understand what it takes that seems to have come together to form what could be a solid team.  There's Michael Frolik, just 22-years-old, but already starting his 3rd NHL season.  Another 22-year-old, Shawn Matthias, made the starting roster straight out of camp for the first time, but has played in 71 NHL games the past two seasons.  Dmitry Kulikov will turn only 20 at the end of October, but he jumped right to the NHL after being the 14th overall pick in the 2009 draft and has solidified himself as a top 4 defenseman.  There is also a strong veteran presence on the roster.  In Calgary, there was Cory Stillman, Marty Reasoner, and Radek Dvorak on a line together combining for 2,645 career NHL games. David Booth and Stephen Weiss have become experienced faces on a team that started 7 new summer acquisitions through the first 3 games.  Chris Higgins has shown the speed and hands that got him three straight 20+ goal seasons.  Journeyman Mike Santorelli, who has spent as much time at the AHL level as the NHL, beat out Steve Reinprecht for a starting center position, leaving Reinprecht a $2 million healthy scratch for the first 3 games of the season.  DeBoer has always preached that every roster spot is earned, not handed out because of a price tag.  He finally has the depth to back it up.  For at least the first 3 games of the year, the mental attitude that has infected this team appears to have been replaced with not just a knowledge and understanding of what it takes to win games, but the willingness to do it. Pete DeBoer has been able to run all four lines, and all four have looked strong. Will Florida's top line be able to skate around their opponent's top defensive pair? Probably not, but Florida is four lines deep for the first time in too long, and their 3rd line is just as capable of grinding out a goal as any. Of course, should all the go horribly awry, there's World Champion Tomas Vokoun in net to snuff out any mistakes.
So do I expect the Panthers to make the playoffs? Win 50 games? Hardly… There's still the matter of scoring goals, and through 3 games, Marty Reasoner is leading the team in scoring (2G – 2A).  The "top line" of Booth, Weiss, and Frolik have combined for just 2 assists, both coming from Booth while he was actually double shifting on the 4th line.  Also, the southeastern division looks like it could finally put 3 teams back in the postseason. Tampa Bay has bolted (sorry, couldn't resist) off to a 3-0-0 start, and their offense looks unstoppable. Likewise, Carolina started strong and sits at 2-1-0. We know the Capitals will be there in the end. Florida is going to have to grind for 82 long games to have a chance at that playoff spot that has eluded them for a full decade now. For the first three games of those 82, however, it feels as though they may have the team to do it.
Karl Selvig was born and raised in south Florida, and was introduced to hockey when the NHL came to Miami in 1993. It was love at first sight. After playing through college, he turned to the media side of the sport and has enjoyed writing about his beloved Panthers since 2007.