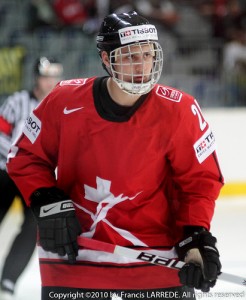 Last night Nino Niederreiter scored his first NHL goal against the Washington Capitals and it was set up by none other than the team Captain, Doug Weight. The youngest player to ever suit up in an Islanders uniform managed to reach the milestone in only his third game of NHL action.
The Islanders were buzzing early against the Capitals, forcing some turn overs in Washington's end of the ice due to their aggressive forecheck. That type of play led to Nino's goal as the line of Niederreiter, Weight and Grabner were applying good pressure along the boards.
The team was playing well as a whole and should start to gain the respect that they deserve. Streit, Okposo, Schremp and Tavares are all out due to injury and James Wisniewski was suspended (and will continue to serve his punishment until this weekend) and this team still managed to hold off an overload of offense that is the Washington Capitals to a one-goal game that was lost in the final four minutes of the third period. This team has developed not only it's top players, but it's depth players as well – and they are starting to show it.
El Nino's goal seemed to spark him into playing a physical game where he was much more noticeable on the ice, which can be considered quite the opposite when compared to the previous two. Nino, who despite looking like a fully grown man, is only 18 years old and hasn't been visible in the first two games of the year against the Dallas Stars and New York Rangers. He threw the occasional hit here and there, but overall he was not showing enough for a player that needs to perform in order to remain in the NHL.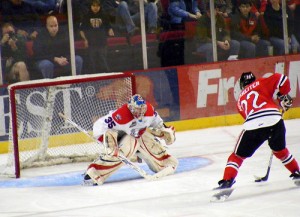 That isn't to knock Nino. After all, he just turned 18 and is coming straight out of the draft. However, he still has to develop properly in order to remain with the Islanders. Gordon and Snow may be better off sending him back to Junior instead of forcing him to find a way to stay.
Niederreiter has at least five more games to prove that he can put up offensive numbers all year round in a top-six role before the Islanders decide what's best for him. But if the team's General Manager is still patient, as he has been since he started this youth movement two seasons ago, then he should continue the same mantra with the development of each individual.
Nino will be a top-six forward for the Islanders. It's just going to take some time and work, both of which the Islanders should be willing to do.
-Rob McGowan
Follow me on Twitter!
http://twitter.com/IslesRM