By Rick Gethin
There was an undercurrent of discontent rippling through Columbus this past summer at the "supposed" non-moves made by Scott Howson and the club. The message boards and comments said that no "star" player was picked up via Free Agency and consequently the Columbus Blue Jackets were an already "has-been, bottom feeder" team.
Reasonable heads tried to prevail. The entire coaching staff was replaced, right down to the Conditioning Coach. Most nasysayers don't see that as a significant move. For the life of me, I can't understand why a completely new coaching staff wouldn't count as a "significant" move. Blue Jackets GM Scott Howson also picked up veteran Ethan Moreau off waivers. Once again, this is a significant move. While not a "star" player, he brings those "intangibles" to the club that have been missing since the departure of Michael Peca.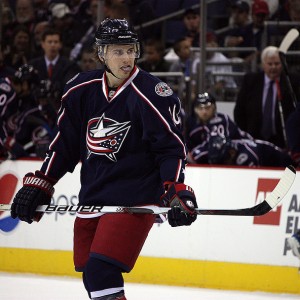 Beyond what was done over the summer, you have to look past the normal "we're going to do better this year" statements that every player on every club makes going into a new season. For this season, there is a vibe reverberating through the players that is almost palpable. An undercurrent of something special, if you will.
You can see it in the look in their eyes. A serene, almost calm and relaxed atmosphere has overtaken them. Have they become more tight-knit as the years progress and the team gets older? "I think so," says defenseman Kris Russell. "They've (CBJ management) hung on to a lot of those young guys, myself included. That's the core they want to bring up. I think this year, more than any other, we're holding each other accountable."
It seems like such an easy thing to say to placate the masses. But, the thing is, you can see the fervor in their eyes when they all say that they hold each other accountable. It's one of those magic "intangibles" that you cannot put a statistic on.
There is an almost visible gel that is oozing through the players that starts with head coach Scott Arniel and permeates the psyche of the guys in the dressing room. Defenseman Marc Methot adds, "I think being here for a couple of years has made a big difference. We're tighter than we ever have been. You want to have each others backs. There are no strangers in the room, we're all like brothers. The chemistry is there and we're ready to roll."
Two games into the season and this club sits 1-1. But if you look under the veneer of the stat sheet, you'll see the large strides that they've made towards becoming a consistant club. That's not to say that there won't be hiccups along the way. Changing the culture of hockey in Columbus that has been here for a few years won't happen overnight. But, the fundamentals are on display and the players are embracing Scott Arniel and the new coaching staff and system. The question remains; can they integrate that up-tempo, puck possession game early enough into the new season?
That, my friends, is the $64,000 question.
Rick Gethin was an Associate Editor of TheHockeyWriters.com.