With Shea Weber accepting an offer sheet at an upwards of $100M over 14 years from the Philadelphia Flyers, it has put the Nashville Predators in an incredibly tough spot especially after losing Ryan Suter to the Minnesota Wild.  If they decide not to match (which is a real possibility) it's quite clear that the Predators will have to enter a rebuild mode. No one on the open market can fill the void left by their former world class pairing and it's certain that Pekka Rinne probably won't be able to do it all by himself.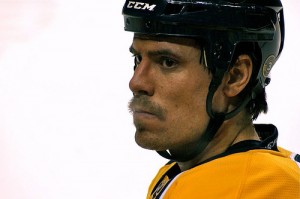 The Predators subtractions coupled with the fact that Niklas Lidstrom has entered retirement along with Brad Stuart and Jiri Hudler leaving Detroit; the Central Division has just become significantly weaker. Although the Blackhawks have not made any blockbuster deals this off-season, they may not have to with recent developments and certainly have found themselves ahead of the curve.
As it looks, the St. Louis Blues will give Chicago a run for their money after re-signing Barrett Jackman and David Perron, while watching Carlo Colaiacovo test free agency waters. Not much has changed for the 109 point Blues and to their advantage they do have nearly $20M in cap space to spend on improving their club while the Blackhawks hover at nearly $8M. That said, there has to be questions surrounding the Blues extended motivation through a full season under Ken Hitchcock, as many cities have witnessed their teams catch fire under their first years of his guidance only to taper off, and eventually leading to his firing.
There's no question that Stan Bowman has failed in many aspects after riding the coattails of Dale Tallon's Cup winning team in 2010, but this has to be the year that he considers going "all-in" once again after seeing his rivaled opponents weaken over unfortunate circumstances. Stan may be able to stand pat and get by with his current line-up, maybe extending the Blackhawks season (if there is one) by a  round or two if he is lucky. But if he really wants to make a large impact and give this team a chance at winning another Cup, he will need to make a move of large magnitude.
In recent weeks, Stan has admitted that the Blackhawks do not plan on improving the center position, which is arguably the biggest weak point within the line-up, and expects someone within the organization to take the bull by the horns and live up to the expectations that come with the 2nd line center slot.  This isn't going to fly if he plans on making a deep run. If he continues to display this lackadaisical attitude towards the trade market, there's no way the Blackhawks will win another Cup in his tenure.
We'll see how things play out before the season starts, but after Joel Quenneville replaced Mike Haviland with Jamie Kompon, it's quite clear that the ball is in Joel's court, not Stan's. Unfortunately the pressure lies upon the coaching staff to produce with the group that Bowman has provided, and without the added pressure there is very little hope that he will do much more to improve his "one-and-done" club. Too bad, because if there is any time to be aggressive, it's now.
I started covering the Chicago Blackhawks in 2007 for IndianHeadNation.com and eventually on Twitter and now The Hockey Writers. Although I've never played at a professional level, I have followed the NHL religiously, analytically, and statistically since 1999, and a born fan since 1989. I have one true passion: HOCKEY.