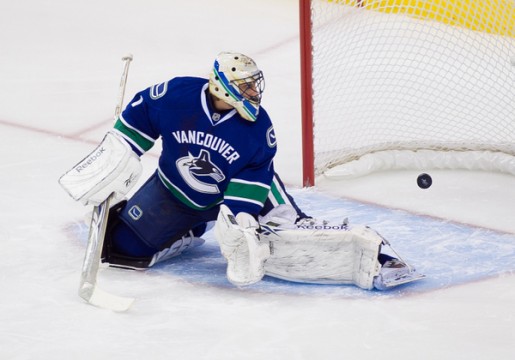 While the NHL world was busy searching for their collective jaws on the floor after Shea Weber was signed last night, things remained quiet in Vancouver. The Canucks made their one big free agent move earlier this summer when they signed Jason Garrison and re-signed Cory Schneider but everyone is still in limbo waiting for Roberto Luongo to be traded.
It seems that he will, as both the goalie and the club seem to want him in another sweater this coming season. With the signing of Schneider certainly they can't have both be on the roster at the same time. That would be crazy. Wouldn't it?
But what if that happens?
While everyone agrees that Vancouver probably should move Luongo, there have not been many takers beating down the Canucks door this off season. The likely candidate to acquire Luongo would be the Florida Panthers. He likes Florida, they like him, his wife is from there and the team could be a Roberto Luongo away from making a more serious playoff run.
So why hasn't it happened?
Most likely it's because Canucks General Manager Mike Gillis is asking for too much, such as Jonathan Huberdeau and Erik Gudbranson who are top prospects with the Panthers. It could also be that the Panthers and General Manager Dave Tallon have a young goalie they think is the real deal in Jacob Markstrom, whom they believe will be their starter in a year or two.
The two franchises, which have seemingly only traded with each other, can't seem to come together on this deal.
Outside of the Panthers there have been rumblings that Toronto may or may not want Luongo and even a juicy story about Luongo potentially agreeing to play for the Chicago Blackhawks.
As the season inches closer and closer the Canucks might need to brace themselves for opening training camp with both Roberto Luongo, Cory Schneider and $9 million of cap space in net for them.
Surely that will spell disaster.
Maybe not.
There are definitely potential prat falls by having two high profile and two highly paid goalies on your roster that could spell trouble. Will Luongo be the happy and supportive teammate sitting on the bench? Will the Canucks hamstring themselves by having the most cap space of any NHL team tied up in net?
So far Roberto Luongo and Cory Schneider have handled the situation with class. Both seem to understand the situation, nobody has complained and nobody has found themselves lying under the wheels of a bus. By all indications Luongo understands that the team has chosen Schneider to be the number one goalie. That decision that was crystal clear when they gave Schneider the reins after two playoff games last year.
Luongo is a veteran player who has been traded twice already in his career and understands the business of hockey. He will understand that just because he has not been traded before camp starts it does not mean he will be stuck languishing on the bench and only getting those rare Tuesday night starts against Columbus. There is no reason to believe he will start chirping and cause a distraction.
While the $9 million in cap space is not something that Vancouver wants to carry long term it won't hurt them in the short term. Even with both contracts they have close to $10 million left of cap space to make some moves with. This is the reason you have seen them in the Shane Doan sweepstakes, they still have money to spend. They could bring in Doan, they could trade someone else and take on salary, they still have options.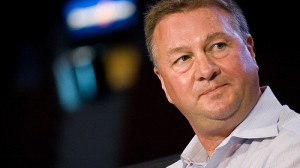 On top of all that, in some ways holding onto Luongo into camp and the start of the season may actually improve his trade value. As camp starts, as the season starts and as teams like Chicago, Toronto and Florida watch puck after puck end up in the back of their nets they will come calling, hat in hand begging for Gillis' mercy. Might Florida be willing to part with Huberdeau if Markstrom gets lit up early in the season? Will the pressure to win for Brian Burke in Toronto make him reach for his rolodex and offer the moon?
There doesn't seem to be any pressure for Toronto or Florida to pull the trigger now, so why not wait until they see the losses piling up? If they never come through then you still have a pretty strong goaltending tandem and can always try again next off season.
The potential problem to holding onto Luongo for the entire season would be that the Canucks still need to improve their roster. They are desperate for at least one more top six forward and after scanning the remaining un-signed free agents it is unclear where that guy comes from, if not from the Luongo trade. Shane Doan is out there but it seems he wants a multi-year deal and the thought of throwing good money at an aging player is a bit scary. Who else is out there? Alex Semin? Please.
So while Gillis and the Canucks don't need to panic now, they still need to keep working the phones.
Either way, they are still in a good position to move Luongo and improve their team, just don't be surprised if it doesn't happen for a month or two from now.
Andrew writes about the WHL and NHL Draft Prospects. He also covers the Seattle Thunderbirds for 710 ESPN Seattle and spent two years with Sportsnet. Follow him on Twitter @andyeide.