Vancouver Canucks General Manager Mike Gillis dropped a bomb during the annual season ticket holder's summit Thursday when he announced that the team had 'agreed in principal' on a contract with goalie Cory Schneider. The ramifications of this announcement are pretty big as it erases any doubt as to the future of the Canucks goalie crease and Roberto Luongo's place in it.
The deal is reportedly a three-year contract for $12 million a year which is an annual cap hit of $4 million. It's roughly a million less than what Luongo is costing the Canucks and a much shorter term. Yesterday was unofficially goaltender contract day as the Boston Bruins and Los Angeles Kings also announced deals with Tukka Rask and Jonathan Quick respectively.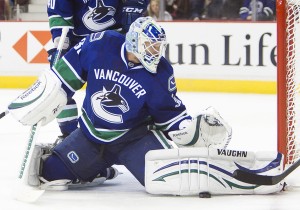 How good is this deal for the Canucks? How does the deal stack up with the rest of the league?
By all indications it is a great move by the club and something the fans should be happy about. It tees up the rest of the Canucks summer nicely and is an investment in a young goaltender who has all the looks of greatness about him.
Here are some reasons why you should like this deal. 
He comes at a reasonable price:
If you look at the going rate for goalies these days, Schneider's deal is pretty reasonable. It's especially a bargain when you compare it to what Winnipeg just gave Ondrej Pavelec to remain a Jet. Pavelec signed a five-year deal with the Jets for a cap hit of $3.9 million a year. Pavelec is 24 years old and has started more games than Schneider has but doesn't have numbers as good. Schneider's deal is also cheaper than Jonas Hiller($4.5 million), Ilya Bryzgalov ($5.6 million), Mikka Kiprusoff ($5.8 million), Marc-Andre Fleury ($5 million), Nicklas Bakstrom ($6 million), Cam Ward ($6.3 million),  and Rick DiPietro ($4.5 million). You would be hard pressed to find many people who feel that those guys are as good today, or have a brighter upside, than Cory Schneider.
The deal doesn't hurt long term:
The Canucks went down the long term goalie contract once already with Roberto Luongo and by getting Schneider to agree to a three year deal they will not repeat the same mistake. Goaltending in the NHL can be unstable at times and with Schneider only having 56 total starts in his career he is still somewhat of an unknown quantity. Can he handle the workload of a number one goaltender? All signs point to yes but you never know.
A three year deal gives the Canucks some insurance in case Schneider doesn't pan out, or suffers DiPietro-like injuries and can't see the ice on a consistent basis. They also have some depth at goalie in their system. Eddie Lack and Joe Cannata are two promising young goalies who could be next in line if the Schneider era turns out to be a flop. If that happens the Canucks won't be in a situation where they are stuck over-paying an under-performing player.
The Los Angeles Kings just locked up their great young goalie as well, giving him a ten year contract. As great as Jonathan Quick was for the Kings last year, what do they do if he reverts to the playoff form he showed in his first two appearances in the near future? He was 4-8 in his first 12 playoff games and his goals against was over three which is not Conn Smythe worthy. While he will probably be great for a long time a ten year contract, even at a lower rate, is more of a gamble than the Canucks have with Schneider.
If it works out as they hope and Schneider is the real deal then they have in essence 'bought out' two years of his time as an unrestricted free agent and will be a good position to renegotiate with him at the future market rate.
May actually help the Luongo trade:
There is some sentiment that by signing Schneider teams will lower their offers for Luongo. The logic is that with Schneider under contract the Canucks now have over $9 million in cap space towards their goaltending. This would appear to make the Canucks desperate to move Luongo and his $5 million hit.
With the salary cap being raised to $70 million this is not as big an impact as it might have been, say a week ago. The $9 million would make the Canucks' goalies the highest paid tandem, with the next closest being Pittsburgh's $7 million goalie tandem, in the league. That would still leave the Canucks with over $10 million left to fill out their roster. That's more than Boston, Chicago and San Jose currently have. While not ideal, the Canucks would survive the 'worst case' scenario of having to go to camp with both goalies.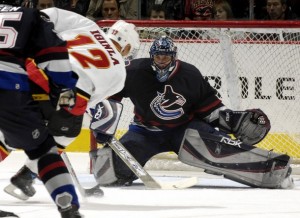 Because of that Gillis will not have to take just any offer for Luongo. He can now try to get some value back for him, and if the trade ends up simply getting out from under Luongo's contract then it would be a win as well as it would leave the Canucks with close to $15 million to go after free agents with.
Avoids the dreaded offer sheet drama:
There was some speculation that a team desperate for goaltending, like Toronto, would force Vancouver's hand by giving Schneider an over-the-moon offer sheet. That would force the Canucks to match, further strapping their cap and making them desperate to trade Luongo for a bag of pucks or whatever they could get.
While this may not have been that much of a reality, as the offer sheets for RFA's have been few and far between, it was not entirely impossible. You may remember two years ago when San Jose offered a contract to RFA Niklas Hjalmarsson of the Blackhawks. Chicago had to match it and the cap hit cost them Anti Niemi. Niemi then signed with the Sharks and he backstopped them to a Western Conference Finals appearance while Chicago is still searching for a stable goalie.
So while it is likely Toronto would not have gone after Schneider in this way, singing him ensures they won't.
Lessens the drama:
Roberto Luongo's tenure with the Canucks has been a rocky one. While he is without a doubt the best goaltender in franchise history he was an enigma with the fans. He was under an intense amount of scrutiny and every missed save became a huge controversy and cause for alarm. Despite his good numbers, despite bringing the team to the brink of a championship and despite being the face of the franchise during its best run, the fans never really embraced him.
Are Vancouver fans overly critical of their goaltender? Perhaps, they have been burned before with poor goaltending and with Luongo signing the big contract, being named team captain and having his face on banners throughout the city the pressure was on.
While some joke that it is only a matter of time before the faithful turn on Schneider, this seems unlikely. For one, Schneider is a much more laid back and subdued personality. Like his play on the ice, he doesn't over react to the things happening around him. Luongo never shrunk from the media and his aloof nature and wit rubbed some folks the wrong way. Furthermore, while Luongo was the face of the franchise, Schneider won't be. The Sedin twins and Ryan Kesler are bigger names and if anyone will start to feel the ire of Canucks fans it will be them.
Mike Gillis has taken a big step towards doing all the right things this summer with this move. He has avoided potential troublesome and damaging prat falls by getting the Schneider deal done and it would not be surprising to now see Luongo traded soon. With the goalie drama out of the way the Canucks can go get the free agents they need to improve their defense and top six forward situation. This summer could easily have turned out to be a huge bummer, but so far Gillis is steering the club in the right direction.