In the 42 year history of the Vancouver Canucks they have seen 52 brave souls man the net for them, most of them abject disasters. Since arriving in Vancouver in 2006 from the Florida Panthers Roberto Luongo has stabilized the Canucks goalie situation and it is now stronger than it ever has been.
As they head into an off-season where that era is seemingly about to come to an end it is worth a look back at the goalie graveyard Vancouver has been over its history.
Luongo is an enigma for many reasons and there is a surprisingly number of fans who are happy to see him go. These fans are convinced that Cory Schneider will do what Luongo could not, win the Stanley Cup. We have spent some time debunking some of the myths about Luongo, but whether you love him or hate him all the signs seem to point to him moving on this season.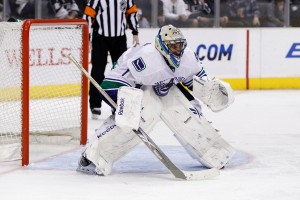 Every season that Roberto Luongo has been in Vancouver the Canucks have not come close to averaging three goals or more a game for a season. Prior to 2006, Vancouver goalies combined for a goals against average under three only five times. With Luongo it has happened six straight years and Luongo's Vancouver goals against is 2.35, which is the franchises best.
If you are one of the people eager to see Luongo pack his bags, perhaps a trip down memory lane is in order. Be prepared though, the Canucks goalie legacy is scary, messy and contains Kevin Weekes.
In the Canucks first year in 1970 they were backstopped by Charlie Hodge, Dunc Wilson and George Gardner who did very little to make a big impact on the NHL. Wilson stuck around for a couple of seasons more and then the merry-go-round began. From 1973 until 1980 the Canucks saw nine different goalies play in 30 or more games during a season.
The graveyard was collecting some headstones.
In 1980 the Canucks got a shot in the arm with the arrival of King Richard. Richard Brodeur then became the Canucks number one net minder for the next seven seasons and in 1982 had a remarkable playoff run that got Vancouver to their first Stanley Cup Finals where they were swept by the New York Islanders.
But was Brodeur that good? His career goals against was 3.87 and five of his last six seasons with Vancouver he had his average balloon to over four. While he will always be beloved for that playoff run he was for the most part an average goalie.
Kirk McLean arrived in Vancouver as Brodeur was fading in 1987 but didn't put a stranglehold on the number one spot until 1991 when he started 65 games. McLean was a step up from Brodeur and in 1994 gave Vancouver one of its most memorable springs ever. McLean led the Canucks to Game 7 of the Stanley Cup Finals with a goals against of 2.29 and a save percentage of .928 as Vancouver barely lost to the Rangers.
That same year he gave us one of the great saves of all time:
McLean played 11 seasons in Vancouver and is still cherished by Canucks fans for his time there. While he was a step up from Brodeur, and the best goalie the franchise had seen at that point, the Canucks could not capitalize and they sadly dismantled the team around him.
McLean's last season in Vancouver was in 1997-1998 and after that, until Luongo arrived, the Canucks went into the dark ages. Names like Garth Snow, Felix Potvin, Sean Burke, Corey Hirsch, and Artus Irbe all tried to stabilize the goalie situation. None of them did.
Then things seemed to be changing when Dan Cloutier arrived in 2000.  If you want to see a Canucks fan break out into uncontrollable shivers, just mention Cloutier's name. Try it. Cloutier. That's all you need to say. Cloutier teased Vancouver fans unmercifully by making brilliant saves one minute and then  giving up goals so weak that you were left trying to explain to your wife why you put your foot through the coffee table.
Sadly Cloutier's most memorable moment was this one, in the 2002 playoffs when he managed to dry up any momentum the Canucks had against Detroit in a matter of seconds with this goal:
Cloutier was injured early in the 2005-2006 season and never saw the ice in Vancouver again. That season the Canucks saw Alex Auld, Mika Noronen, Rob McVicar and Maxim Ouelett all see game action. Not really an impressive bunch of guys there. Cloutier's time in Vancouver was especially frustrating because the Canucks had good teams. Markus Naslund, Todd Bertuzzi and the young Sedins were all on those rosters, but they could never get far because of their goal tending.
The next year Luongo came to town and the Canucks have had their best stretch in net and as a franchise in general. And now that may be ending.
The good news?
The good news is that if they do lose Luongo they have Cory Schneider ready to take over and he looks like he has greatness written all over him. They have other good goalies in their system as well, most notably Eddie Lack who looks like he is ready to take the next step into the NHL.
So while the Canucks will still have good goal tending next year without Luongo it is hard to imagine that it will ever be as good as it's been during his tenure here. Hopefully they won't have to go through any more John Garret type goalies in the future.
Andrew writes about the WHL and NHL Draft Prospects. He also covers the Seattle Thunderbirds for 710 ESPN Seattle and spent two years with Sportsnet. Follow him on Twitter @andyeide.