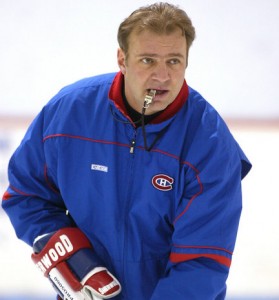 According to Darren Dreger of TSN and Nick Kypreos of Sportsnet, Michel Therrien will be officially named the Montreal Canadiens' next head coach on Tuesday. Therrien will replace interim head coach Randy Cunneyworth, who was removed from the position by general manager Marc Bergevin on May 2, 2012. Cunneyworth was promoted in midseason to replace the fired Jacques Martin.
In Montreal, Therrien will work under a revamped front office of new general manager Marc Bergevin and new assistant GM Rick Dudley. We don't know yet who Therrien will bring as his assistants behind the bench of the Bleu Blanc Rouge.
Therrien will certainly be a more volatile and passionate head coach than Jacques Martin who was as boring and non-entertaining as they get, but was Therrien the best candidate for the job? I personally don't like this choice and think it is Bergevin's first mistake since his arrival as the Habs' General Manager.
Excerpt of the Top Candidates for the Montreal Canadiens Head Coach Position on Michel Therrien:
Michel Therrien

When Michel Therrien replaced Alain Vigneault as the Canadiens head coach in 2000-01 he had no coaching experience in the NHL. A former AHL-defenceman, Therrien had coached five years in the QMJHL and three years in the AHL prior to joining the Canadiens. Therrien, 48, lasted only two and a half seasons at the helm of the Bleu Blanc Rouge before being fired by Andre Savard in 2002-03. Following his firing, Therrien returned to the AHL where he coached the Wilkes-Barre/Scranton Penguins before being named the Pittsburgh Penguins head coach midway through the 2005-06 season to replace Eddie Olczyk. Therrien, lasted four seasons in Pittsburgh, leading the team to the Stanley Cup finals in 2007-08 against the Detroit Red Wings. Unfortunately for Therrien, the team lost the series and he then lost his job in the subsequent year after a poor start. Dan Bylsma took over and led the team to a Stanley Cup win that Spring, leaving a bitter taste in Therrien's mouth. Therrien had a 135-105-32 record with the Penguins. The native of Montreal is now employed for RDS as a hockey analyst and is also working as a scout.

Fellow TV analyst and former assistant coach in New Jersey and Minnesota, Mario Tremblay, predicted Therrien would get the Canadiens' job on the Wednesday night edition of L'Antichambre (last week), a TV show where both Tremblay and Therrien frequently appear. It has been confirmed that Bergevin has interviewed Therrien twice for the position in recent weeks.
Therrien's biggest rival, Marc Crawford, even took the time to congratulate him on Twitter this morning.
it was great being involved in the Canadians extensive job search. I want to wish Marc, Michel and "Les Glorieux" nothing but the best

— Marc Crawford (@CroMarcCrawford) June 5, 2012
The announcement will be made from the Brossard Sports Complex and will be streamed live on TSN.ca at 2:30pm ET/11:30am PT.
Do you agree with Therrien's nomination as the team's new head coach?
Follow me on Twitter to get updates on the Canadiens and the NHL in general.
A long-time Joe Sakic fan, Fred, 35, is a freelance sports writer and translator. Fred earned a Bachelor of Translation in 2002 at Laval University in Quebec City. He also writes on the Montreal Canadiens for HabsAddict.com and he is an associate editor and a baseball columnist on Dobberbaseball.com. He is also fluent in English, French and Spanish.