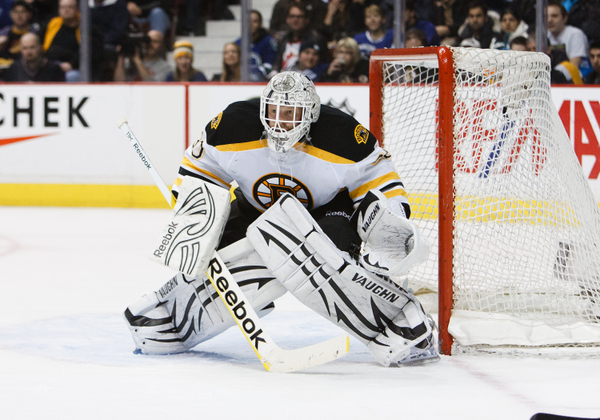 Tim Thomas has *officially* announced his decision to take-off the 2012-13 NHL season. Cue the outrage.
I feel like I've been taking crazy pills.
No, scratch that. I've been taking crazy pills for quite some time. I just didn't realize that they had switched me over to Extra-Strength.
Who would have thought, less than a year since his greatest triumph, that the Bruins soft-spoken Stanley Cup hero would be the subject of such vitriolic tweets from voices in the Boston fanbase and the subject of such scathing criticisms from some Bruins media members?
https://twitter.com/douglasconnolly/status/209742506307489792
Tim Thomas, the onetime B's savior, has been all but vilified for his decision to leave hockey for at least this season.
So much for dreams of retired numbers, alumni games and fond memories shared in New England's countless sports-bars. Ten months ago, Tim Thomas' money would be no good in any watering hole from New Bedford to Presque Isle – today, the same might be said but for an entirely different reason.
Tim Thomas will now take his talents to Colorado where he will join his family for a year of Glenn Beck repeats and glorious, unrestrained capitalism: Freedom; America.
Have we fallen down the rabbit-hole on this?
Is Thomas bound for a very special episode of A&E's "Doomsday Preppers"?
The enigmatic goaltender continues to puzzle with cryptic Facebook posts citing scripture and economic forecasts of end times set to the creepy soundtrack from Fallout: New Vegas.
One thing's for certain: His actions are (apparently) unforgivable.
Despite being (arguably) the best goaltender in the history of the Boston Bruins and leading (some would say dragging) the franchise to its first Stanley Cup win in nearly four decades, he's a certifiable villain.
Remember "Manny Being Manny?" "Timmy being Timmy" is just not as cute.
He's a bad teammate, they say. "Locker-room poison," pundits proclaim. His antics, others pontificate haughtily, serve only to elevate his selfish whims and distance himself from those other fellows who don the holy Black and Gold.
There's no doubt the odd decisions he's made in 2012 haven't endeared himself to the squad, management, ownership or fans. However righteous his move to snub Obama was, it drew attention away from the final coronation of the Bruins and their miraculous 2011 playoff run.
Facebook posts speak volumes – even if they contain little in the way of 'content'.
Thomas has used his as a platform to discuss his decision on skipping the White House, to support the Catholic Church's fight against covering birth-control medication in their health insurance, and now his impending sabbatical.
He wants to control the information – to avoid being mischaracterized – but it hasn't really worked in his favor… social media are just not well-suited to serious intellectual or philosophical debates.
Still, so what?
So Thomas is an eccentric – it's not like the Boston sporting scene has been short on those in its history: Bill "Spaceman" Lee, Boggs, Pedro, Manny… heck, the Red Sox could run out an entire lineup of wacky personalities…
Mike Millbury, Al "The Planet" Iafrate; Dave Cowens, Bill Walton. Nope, there's no scarcity of oddballs in the Hub.
You don't have to applaud the quirks. They may have some negative effect on the team – they may be contrary to your personal sensibilities but (for the most part) they're just minor storylines barely worth a blurb in the weekend roundup.
To some, though, these antics outweigh everything. They argue in Thomas' case, his personal decisions overshadow a Stanley Cup win, two Vezina Trophies and a Conn Smythe. His extra-curriculars must have been pretty destructive to outweigh all those accolades.
Even if Thomas' actions prove he's not the consummate teammate – is that so morally reprehensible? Isn't it callous to argue that his obligations to his family, beliefs and personal well-being are secondary concerns before the almighty team?
Yes, he's saddling the Bruins with his five million-dollar cap-hit for another season – but he'll receive none of his three million-dollar salary. It's not a perfect goodbye. He's pulling the Band-Aid off quickly; it stings.
Yet we hear a continual assault on his character: Thomas wants to hurt Bruins for trying to trade him now and in the past, they argue. He's looking to exert some control and achieve a de facto no-trade clause once his real one ends on July 1.
Perhaps that's what this is: Thomas' Machiavellian machinations perfectly positioning him to control his eventual destination and/or punish the Black and Gold.
"I find your lack of faith disturbing, Mr. Chiarelli…" Cue the force-choke.
However, isn't it just as likely that Thomas wants to spend time with his family away from the blaring twenty-four hour siren of the Boston sports-news cycle? To gain some separation from a fanbase and media that has spent equal parts of the past several seasons nominating him for sainthood and ordering his excommunication? To escape the burning spotlight and achieve some degree of normalcy?
We may never know for certain.
The only thing we can do is look forward.
The Bruins possess a capable young number-one tender waiting in the wings in Tuukka Rask. Anton Khudobin has shown signs of developing into a solid backup (and perhaps more). The Bruins have an outstanding young core of forwards and perhaps the best blueline prospect in the game in Dougie Hamilton. Their future is far from bleak.
But even looking back, it's difficult to envision Tim Thomas' legacy being defined by his exit and not his accomplishments. If Facebook posts outweigh raising the greatest trophy in sports, hockey has more to worry about than Tim Thomas' awkward departure from the game.
Me? I'll remember these saves long after I forget his social media kerfuffles or why he left us so soon.
Farewell, Timmy: We hardly knew ye.
Follow Bob Mand on Twitter at @HockeyMand