By the time the Buffalo Sabres 2011-2012 season ended, fans would be hard pressed to find anyone who thought Ryan Miller had a good season. He played better at the end of the season going 15-4-4 after February 16th with a 2.12 GAA and a .923 save percentage, helping the Sabres climb back into playoff contention, but it wasn't good enough and many "critics" claimed this to be one of Miller's worst seasons. But was he actually worse than previous seasons?
Looking at Miller's numbers from 2010-2011 he went 34-22-8 in 66 games with 5 shutouts, a GAA of  2.59 and a .916 save percentage. Not great numbers, buts solid numbers. Now, compare those numbers to this season's: 31-21-7 in 61 games with 6 shutouts, a GAA of 2.54 and a .916 save percentage, the numbers are nearly identical. His goals against average and shutout numbers were better than last seasons, so why does everyone say he had such a bad season?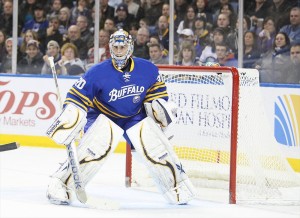 After Terry Pegula bought the Sabres and vowed to spend as much money as needed to get the Sabres to the Stanley Cup and they added players like Ville Leino and Christian Ehrhoff, the bar was set high for the Sabres. The media was giving the Sabres some positive attention and they pegged them to go deep in the playoffs. Some had given the Vezina to Miller. But all that was said before the Sabres had a chance to step on the ice.
When the season started, the Sabres went 6-4 in their first 10 games but Miller had shaky start (letting in 3 or more goals in all 4 losses). Then everything hit the fan, Miller became a victim of a Milan Lucic questionable hit and other Sabres players started dropping like flies.
Before fans knew it the Sabres found themselves tied for 15th in the Eastern Conference and Miller was struggling with a .899 save percentage. That must be the reason everyone believed Miller had a poor season. It seemed as though since the team was playing poorly and not winning, the media who picked the Sabres were all turning against them and specifically against Miller. The media's attention to Miller's struggles outweighed the attention to his strong play at the end of the year.
In Miller's "off-season" he was still able to break two major milestones. He joined Henrik Lundqvist as one of only two goalies in the NHL to have 7 straight 30+ win seasons. That's a milestone that can not be ignored, Miller has been consistent throughout his NHL career and his team can count on him to win them at least 30 games annually. He also passed legendary Sabres goalie Dominik Hasek to become the winningest Buffalo Sabres goaltender with 252 career wins. On top of that he also broke his career high shutouts in a season with 6 shutouts, not bad for a guy who had an "off-season."
Comparing his stats from 2010-2011 again, he actually let in less goals this season than in 2010-2011. In 2010-2011 he let in 165 goals while he let in just 150 this season. With 150 goals against he matches his goals against from 2009-2010 his best season in the NHL. Let's also compare his stats to his 2008-2009 season the year before he started to make headlines with the Olympics. In 59 games he went 34-18-6 with 5 shutouts, a GAA of 2.53 and a save percentage of .918.
Since Ryan Miller entered the NHL full-time in 2006 his numbers (apart from 2009-2010) have been very consistent, he's averaging 30 wins a season, 5 shutouts and a .9.16 save percentage. He's been steady between the pipes for the Sabres, a goalie that they can rely on night in and night out. Who knows how well he'd do, with a full effort from the guys in front of him.