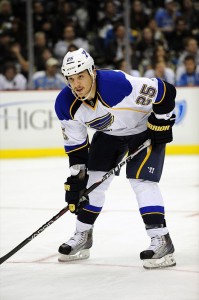 Sidney Crosby took care of the Pittsburgh Penguins. It's time for the Penguins to take care of Sidney Crosby.
Crosby and Penguins General Manager Ray Shero came to terms on a 12-year, $104.4 million contract extension Thursday, likely keeping the superstar in Pittsburgh for the remainder of his career. Crosby cannot officially sign the extension until Sunday at noon, but the public announcement sets the stage for an interesting free agency period for Shero and the Penguins.
After the trades of Jordan Staal and Zbynek Michalek last weekend at the draft, the Penguins are left with close to $15 million in space under the league's temporary salary cap of $70.2 million. Crosby's favorable extension ensures that Shero has flexibility to add significant assets and also sign them to long-term contracts.
"From a manager's standpoint, the AAV (average annual value) is always important," Shero said Thursday evening. "[Crosby] said 'this AAV is really what I wanted to help out the team.' He's never been reluctant to help the team out like that, so we certainly appreciate it and ownership appreciates that. It's very beneficial and says a lot about Crosby."
With an AAV of $8.7 million, Crosby isn't exactly playing for free. He also received a lifetime deal that Shero has been reluctant to give to any player under his tenure. But Sidney Crosby isn't any player. Despite the concerns over concussions, he held the hammer in contract negotiations and was free to name his terms.
All Shero could do was point out that in a salary-capped world, every dollar that Crosby takes in AAV is one less dollar available for his wingers. It's like the Quarterback / Wide Receiver dynamic in football. Even if a player like Crosby is selfish and focused on padding individual stats, it doesn't make sense to max out on a contract and leave little to pay for talented players around him.
Crosby's sacrifice on AAV puts the ball in Shero's court. The Penguins search for a 'winger for Crosby' seemed to end two seasons ago when Shero acquired James Neal from Dallas, but in Crosby's absence last season Neal developed an amazing chemistry with Evgeni Malkin. The duo combined for 90 goals and it's tough to imagine coach Dan Bylsma breaking them up, which again leaves Crosby without a significant sniper on his right wing.
Shero's goal over the next few weeks will be to find Crosby a legitimate right winger and Jimmy Rixner at Pensburgh points out that the timing of the Crosby contract 'announcement' isn't an accident:
This is a message to the free agents, most notably the two prizes on the market Zach Parise and Ryan Suter.

It says, point blank, if you come to Pittsburgh, Crosby will be here for the entirety of your stay. And so long as you have Sidney Crosby on your team, you know management will be attempting to field a competitive team with the realistic goal of making a play to chase down the Stanley Cup year after year.
Shero and the Penguins will certainly push hard for Parise and might even be a favorite to sign the star winger if New Jersey can't retain him, but half the league will be after Parise as well. If Pittsburgh can't reel him in or he isn't willing to sacrifice maximum salary for a chance to play with Crosby, what is Plan B?
After Parise, the list of unrestricted free agent forwards is uninspiring. P-A Parenteau seems to be the flavor of the week in Pittsburgh and other cities desperate for answers at forward, but the Islanders winger benefited from playing alongside John Tavares. Parenteau is a nice complimentary winger at his $1.25 million cap hit from last season, but he won't be worth the inflated offers he's set to receive on July 1.
On Saturday at the draft, Bylsma described the characteristics that he feels make up the ideal goal-scoring winger for Crosby: "You look for the speed, the aggressiveness, the attack on the puck, the confidence to play with a star like that."
Those attributes aren't easy to find and teams that possess players of that mold aren't apt to give them up. If the Penguins can't sign Parise, Shero needs to find a situation where a promising, young winger needs a change of scenery. Shero needs to focus his attention on Chris Stewart.
Stewart exploded onto the NHL scene when he scored 28 goals in 2009, his second season with the Colorado Avalanche. At 6-foot-2, 230 pounds, Stewart had the makings of the next great goal-scoring power forward…
…and then he was traded to St. Louis.
The blockbuster deal, also involving Erik Johnson and Kevin Shattenkirk, shocked the hockey world and left Stewart with a bitter taste in his mouth. In 26 games with St. Louis in 2011 after the trade, Stewart pumped in 15 goals and looked determined to prove his former team wrong.
But Blues coach Davis Payne was fired after just 13 games last season and in came Ken Hitchcock with a highly-structured and disciplined defensive system. Stewart lost his swagger, stopped crashing the net, and tumbled down the depth chart under Hitchcock. Demotions to the fourth line and even the occasional healthy scratch wasn't enough to get Stewart back on track and he finished the season with just 15 goals and 15 assists in 79 games.
Local media suggested Stewart didn't have the best conditioning habits, but I also saw a player who was over-thinking on the ice instead of simply reacting to the play.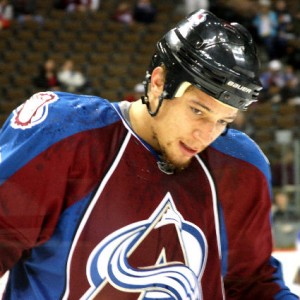 Colorado employs a style very reminiscent of the Penguins: run-and-gun, defensemen joining the rush, quick transition hockey. Stewart excelled in that system.
Hitchcock demands a very different type of player. That's not to say Stewart can't develop into a 'Hitchcock guy'. Because of Stewart's early-career success, most fans around the league forget he's only 24 years old. The problem is he might not get the opportunity to ever show he can fit with the Blues under Hitchcock.
St. Louis (much like Dallas prior to the James Neal trade) is already loaded with talented wingers. On top of that, General Manager Doug Armstrong finally convinced prized prospect Vladamir Tarasenko to come over from Russia for next season. One thing is for certain: Tarasenko isn't making the jump to spend the year riding buses in Peoria of the AHL.
Jaden Schwartz, another 20-year-old with plenty of offensive upside, will be fighting for a roster spot next season as well. Stewart will be looking to impress after recently signing a one-year, $3 million 'prove yourself' extension with the Blues, but there's simply not a lot of room on the roster for him to do that.
Once Armstrong re-signs RFA's TJ Oshie and David Perron, it makes sense for him to deal Stewart to a team like Pittsburgh that better suits his style of play and needs scoring on the wing. Stewart's size, strength, underrated speed, and willingness to drop the gloves to protect his teammates makes him the perfect fit on Crosby's line.
If conditioning was a concern, Stewart is taking steps this offseason to address that. He told reporters he plans to train with Matt Nichols in Toronto over the summer and confidently admitted, "I think this is probably the biggest summer of my career."
Stewart will have something to prove and could be poised to explode like Neal did with Pittsburgh last season. If he does, Shero will still be able to keep Stewart in the fold at a reasonable price because Stewart will only be a restricted free agent next summer.
Pittsburgh won't be the only team after Stewart — if he is in fact on their radar. Teams are more likely to take a chance on a player that's already proven he can score in the league as opposed to a prospect with potential to do it some day. Doug Armstrong was just named General Manager of the Year for a reason and he'll be looking to fill a roster hole in any Stewart deal.
Armstrong told Blues beat writer Jeremy Rutherford that he's searching for a veteran defenseman to play on the left side with budding young star Alex Pietrangelo:
"We want to find a top-four defenseman," Blues general manager Doug Armstrong said. "If we could add one player that we feel really comfortable about being in the four, then we really feel good about our group.

"When I view a top-four player, it's someone that's a 5-on-5 player obviously and potentially touch both ends of the special teams."
Hitchcock admitted last season that he was studying teams that break the puck out successfully like Pittsburgh, San Jose, and Vancouver, and noticed a common thread. He said all of those teams spend as little time as possible in their own end and look to turn the puck up ice quickly and efficiently with a strong first breakout pass.
In Rutherford's article, Hithcock confirmed he's looking for a specific skillset in any defenseman they bring in: "Whoever we find there has to be a player that can help [Pietrangelo] move the puck. Their ability to exit the zone quickly is going to be really important."
That's funny. The Blues need a left-handed, top-four veteran defenseman who can skate and make a solid breakout pass? And Shero happens to be receiving calls on Paul Martin, who played well enough in New Jersey's defensively-responsible system to secure a $25 million dollar deal on the open market?  That could be a good starting point.
If the Penguins can't land Parise, going after Stewart makes sense.
___________________________________________