Sean Avery's official retirement is just days away. It's call for celebration among his many haters, but let's not for a moment consider this a victory for the game.
I ought to count myself among his haters. As a Dallas Stars fan I've had to endure seeing his 4-year, $15.5 million contract on capgeek since 2008 despite Avery suiting up for just 23 Stars games.
Avery first indicated he would retire back in March on Bravo TV's "Watch What Happens Live" which was subsequently reported by ESPN. At the end of May he told Toronto's Sportsnet 590 The FAN the same thing. The contract he signed with the Dallas Stars doesn't expire until July 1 so Avery won't likely file official paperwork until then.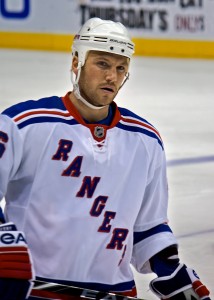 Either way, whether you like him or hate him, Sean Avery's early retirement from hockey (he's only 32) says a lot about hockey's preference for players who are seen and not heard.
Back in June Puck Daddy's Harrison Mooney wrote about hockey's culture of shunning individuality and how that might discourage gay hockey players from coming out.
In this publication, I rebutted Mooney.
Sean Avery's career arc across his final contract– cut by Dallas after making disparaging remarks to the press, eventually picked up by the Rangers, where his ice time shrank until he was demoted to Connecticut, where he was finally told that he need not even bother showing up as a scratch– fulfills Mooney's argument. It proves that his real world points were spot-on.
Avery's career further provides a quiet blueprint for hockey's more subtle methods of silencing players who make too much of the wrong kind of noise.
Avery's personal interests in fashion, which included an internship at Vogue and an appearance as a guest judge on Project Runway, along with his open support for controversial issues such as gay marriage (see Greg Wyshynski's "Why Sean Avery's Endorsement of Gay Marriage is Important"), were not attempts to obstruct Martin Brodeur's sight line, they were simple expressions of his interests outside of hockey. This was off-ice, no-relation-to-hockey-whatsoever type stuff. Nonetheless, they worked against him.
Back in 2009 Justin Bourne wrote an editorial for USA Today arguing for the end of gay slurs in hockey. In it he wrote,
 As well as I fit in behind the doors of a dressing room, I had pursuits that made me seem different. I kept a journal while I played. I'm into piano music and reading. In the hockey world, that's your basic formula for eliciting more comments about sexual orientation than acting in "Rent." It's always the first shot fired.
History should regard Bourne's editorial as a seminal piece in the move towards not only ending the use of gay slurs but also in furthering the emergence of a gay hockey player in the NHL. But in it Bourne himself notes that 20 years prior, his uncle had published a similar piece.
Point being, in pro hockey nothing ever changes without enormous external forces. This league has thwarted change since its earliest incarnations.
For example, in The Game Ken Dryden recounts how hockey used to be an onside game, meaning you could only pass to a player behind you, rugby-style. It took half a century for the forward pass to gain approval and inevitably it came with the groans of all the old-schoolers who said it would ruin the sport.
Change rarely comes easy but it needs to start coming easier in hockey. Sean Avery may have been an unwelcomed player on the ice, but that was because he played the role of the pest incredibly well, and to boot he had a surprisingly slick scoring touch.  Whether he's welcomed off the ice in certain circles, or whether anyone's private life or personal opinions have any bearing on hockey, should be immaterial.
Avery's early retirement indicates that they remain wholly material.
Sean Avery is a casualty of conformist culture, but make no mistake, he brought it on himself. It's not like Avery grew up in a bubble; born in Ontario, he played some Junior A and four years in the OHL before turning pro. He knew all the rules, spoken and unspoken.
Brett Hull was the Stars' GM who signed him to his last contract. I can't recall a more opinionated and openly critical player of hockey than Hull. Yet it never cost him his career; teams kept re-signing him. Is this hockey's lesson to future would-be non-conformists? That you can only speak your mind if you're an inevitable first-ballot Hall of Famer?
Avery's pursuit of his personal interests actually makes him infinitely more fascinating than virtually any other NHL retiree in recent memory. Instead of becoming a part owner in a minor league team, showing up for a charity golf game once a year, or fighting for a job in sports broadcasting, Avery's doing something unheard of–designing women's clothes.
A Sean Avery fansite writes:
It's not every day that you see an NHL player turned fashion-designer.
No it's not. And it's a breath of fresh air. An iconoclast on and off the ice, I hope Avery's success in fashion eclipses his career in the NHL. Conformity and cliche rule pro hockey with frightening iron fists, and the thoughtful, divisive Avery has more to offer the world than what can be achieved with a puck and a stick.
Ross Bonander is a freelance health writer and book editor. He is the editor of 13 quotation collections– six of them hockey-related, including his most recent, Modern Hockey Quotations. His homepage is RossBonander.com.