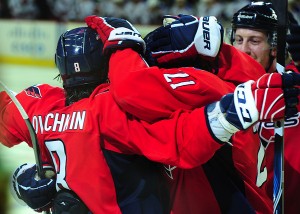 When the Washington Capitals hired Adam Oates as Head Coach this summer, the search immediately started to find the ideal assistant coaches to ultimately help in guiding Oates through his first year as the man in charge behind the bench in DC.
After thoroughly browsing the assistant coach free agent pool, Oates began putting the pieces together, finding a familiar face to not only himself, but the Nation's Capitals fan base. Look no further then former Capitals defenseman Calle Johansson.
After skating in 1109 NHL games, Johansson retired after the 2003-04 season and returned to his native Sweden. Although having been approached to return to the league in a coaching capacity, the 45-year-old let some time expire with hopes of eventually finding the right fit.
"I've been asked through the years from different people and organizations in Sweden if I wanted to coach again or do coaching," Johansson said. "I said, yes, I do want to, when the situation is right. Where there are people around me that I really like and trust and I know think hockey kind of the same way I do."
That opportunity came about when the Swedish defenseman heard from a long time friend and former teammate.
"Adam [Oates] called me and asked me a few weeks back.  It just felt right," Johansson said. "I've always loved the Washington Capitals, I was there for a long time. A lot of the same people are still there, Adam and I played together for a number of years, and I know Adam well. We got along great when we played and we still do. Also the team in Washington is a great hockey team and has great potential. To me, it was just a perfect situation."
Johansson brings a wealth of knowledge of the game of hockey back to the DC area, as well as, leadership and an ideal approach needed for a younger, talented squad like the Caps.
"I learned that the thing you have to do is be yourself," Johansson said. "To earn the players trust, don't think you're something that you're not. To get through to the guys they've got to know what you're telling them is the absolute truth. I think that's the most important thing. "
While Johansson will undoubtedly be beneficial to a defensive squad led by the likes of Mike Green, Karl Alzner and John Carlson, he is already on the same page as Oates in regards to the type of team play.
"He does not want to sacrifice any defense to become an offensive team, that's what I like," Johansson said. I might want to tweak a little bit of the defensive play, but we're going to become more of an offensive team."
Follow me on Twitter @DarrenCoslov
Darren is the Washington Capitals correspondent. He spent the 2010-11 season covering the Atlanta Thrashers and the 2011-12 season covering the Columbus Blue Jackets. Feel free to contact him @ DKoz256@yahoo.com. You can also follow him on Twitter. DarrenCoslov