Assuming the New Jersey Devils don't make any trades or signings before training camp opens, they will have eight defensemen competing for the top six slots. Each blueliner brings some value to the lineup so it will be interesting to see how coach Pete DeBoer and new assistant Scott Stevens handle the situation — the possibility is there that two spare d-men could be on New Jersey's 23-man roster when they open the season on October 11 in Washington.
Each of the eight made some sort of contribution during the Devils run to the Finals this past season, and each one probably thinks they should be in the lineup when the 2012-13 season starts in October.
Bryce Salvador — after re-signing to stay in New Jersey for three more season on July 3, it's safe to assume he will have a spot in the top six. The 36-year-old played in all 106 of the Devils games (regular season + playoffs) and after going goalless during the season (nine assists) he put up four goals and 14 points in 24 playoff contests.
Marek Zidlicky — acquired ahead of the trade deadline (February 24) this past season, Zidlicky helped balance the defense pairs and was a constant on the point during New Jersey power plays. He has 62 career NHL goals and 44 of them have come via the man-advantage. With a full offseason/training camp with the Devils he should be a more consistent player this upcoming season — a contract year.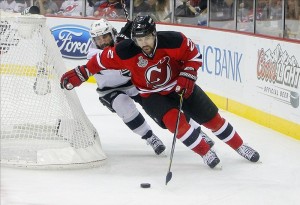 Andy Greene — His season (56 games) was hampered by injuries and his one goal during the season matched his career-low set during his rookie campaign (23 games). He was solid during the playoff run for the most part, but never found the scoring touch — registering only one assist in 24 games. He could be a trade candidate, but he is a popular player in the room and it could ruin some of the chemistry they have built up in there since John MacLean was fired.
Mark Fayne — The only member of this group not under contract yet is Fayne, who is a RFA (hearing scheduled for August 2). Given a chance by Jacques Lemaire in 2010-11, Fayne has improved little by little and like Salvador appeared in all 106 games last year. As a rookie in 57 games he had 27 PiMs, in a full season last year he spent only 26 minutes in the penalty box. It's possible he could be traded, but more likely that he plays another solid 82 games again in New Jersey and no one notices.
Henrik Tallinder — Limited to only 39 games during the season with a back injury and a blood clot in his leg, Tallinder made a miraculous comeback when he appeared in Games 4, 5 and 6 of the Stanley Cup Finals. His experience has and could continue to help younger defensemen either in New Jersey or elsewhere if he is traded. He is the most likely candidate to be shipped out in a package to acquire more offensive players.
Anton Volchenkov — Despite his rugged, no fear style, the A-Train missed only ten games last year and was solid despite not seeing under 20 minutes of ice time a game. His value is gauged more in hits, blocked shots and sacrifice; It would be a shock if he was traded before the season starts, but if the Devils are chasing either Dallas' Brenden Morrow or Anaheim's Bobby Ryan he would likely have to be part of the package needed to make a deal happen.
Adam Larsson — He won't turn 20 until after the season starts and the no. 4 overall pick in 2011 should continue to develop into a linchpin on the Devils blue line. Larsson benefited from having Larry Robinson coaching him last season and should continue to develop with the expert tutelage of Scott Stevens. Of all the defensemen in New Jersey and in the system, he is likely the only untouchable.
Peter Harrold — After spending much of the season traveling between Albany (AHL) and New Jersey, Harrold became a surprise contributor down the stretch and into the postseason. He had two assists in 11 regular season games and then added four more in 17 playoff contests. He made some key plays at key times and seemed to be a favorite of the coaches when the second PP unit was sent out. After re-signing during the offseason, it would seem unlikely he would be traded, but not out of the realm of possibility.
Dan Rice can be reached via Twitter: @DRdiablo321 or via email: drdiablo321@yahoo.com
Dan Rice is in his 9th year of reporting for THW & has covered NJ Devils home games for 15+ years at various websites. He began his journey working for legendary broadcaster/writer Stan Fischler from 2002-04 & completed an internship at the ECHL; he also has been writing features for the NWHL (nwhl.zone) website since 2016.