Vancouver Canucks goalie Roberto Luongo is in Vegas this week to play poker. While that might be a note-worthy story in its own right, it's an interview he did right before the tournament that is getting attention. Luongo took some time to talk with Vancouver station 993 The Fox and made some interesting admissions, including how much he would love to play for the Chicago Blackhawks.
Please, Mike Gillis, make this happen.
It is not often that a marquee player from a marquee franchise gets traded, much less that he would end up being shipped off to that team's most bitter rivals. For hockey fans though, the entertainment value here is off the charts.
Now it could be debated whether this trade will happen, or if it benefits the Canucks and all that.  Putting all that aside for a moment this trade would be great for hockey fans everywhere. Imagine the hype and drama of a Roberto Luongo led Blackhawks squad skating on the ice in Rogers Arena this winter. Imagine Ryan Kesler or Alexandre Burrows crashing Luongo's net, spraying him with ice. Imagine the Blackhawks players defending Luongo.
Imagine if a Canucks forward does what Dustin Byfuglien did here:
This is too juicy to pass up.
What exactly did Luongo say? Well he mentioned that he has not declined a trade anywhere and when asked about the prospect of playing in Chicago, who is desperate for a goalie, he said that he has always liked playing there. When asked about hearing the Blackhawks goal song, 'Chelsea Dagger', that often he quipped "I like that song. It's catchy. I heard it seven times in one game."
Obviously Luongo was referring to the 7-5 drubbing he took in Game 6 of the 2009 playoffs in Chicago. Chicago fans, and the general hockey media, seem to think that because of that game that Chicago is a house of horrors for Luongo. The truth is that he has played some really good games there.
Last season he started two games in Chicago and came out with .948 save percentage, which is pretty stellar.  He won the first game and lost the second 2-1 in overtime. The rumors of Luongo being spooked by 'Chelsea Dagger' are highly exaggerated, as is much about Luongo.
Would the move make sense? Maybe.
The Blackhawks struggled in net last season and the Canucks need to move Luongo and his salary so there is a fit. The question is whether these two teams would trade with each other. Will Vancouver be willing to send the guy who has been the face of their franchise to the team that, for them, is the face of pure evil? That may be the biggest hurdle for this deal.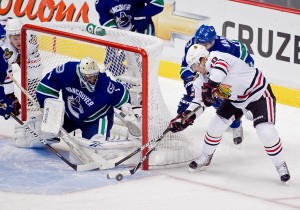 This feels like it would be bigger than Roger Clemens going to play for the Yankees. It would be like a Subban playing for Boston, it would make loyal and rabid fans question their morals and beliefs. What will Vince Vaughn do if he has to root for Roberto Luongo?
With Luongo in Chicago the NHL would have built in must see television at least four times next year. Each game would be on national television and get good ratings. The days leading up to the games would be all hype. Hockey writers could go ahead and write their previews now, everyone would be intrigued.
That's just the regular season. Can you imagine how great a Stanley Cup playoff series between Luongo and the Canucks would be? It would take an already strong rivalry and spice it up even more.
So this is a plea to Mike Gillis. Please, make this happen, we don't even care what you get in return? If you want to trade Luongo for Patrick Kane's empty's we'll live with it. This trade is bigger than the Vancouver Canucks and Chicago Blackhawks.  This trade is one that we will get to argue, debate and just plain enjoy for years to come. Make it so.