Jim Neveau, Senior NHL Correspondent
Coming off of a season a year ago that saw them struggle with chemistry issues after an off-season of personnel flying out the door, the Chicago Blackhawks came into the current campaign with high hopes of competing for another Stanley Cup championship. They started out well enough, but as of late the team has struggled to put up a consistent effort, especially in 5-on-5 situations. They now have the worst penalty killing unit in the NHL after starting the season as the league's best, and they have a tendency to disappear at various times during games.
Friday's tilt against the New York Islanders provided perfect examples of all of these issues. Their penalty killing unit two power play goals against an offense that came into the contest scoring fewer than two goals total per game, and they were outshot in the third period by a seemingly unfathomable 23-7 margin. Despite all of this, the Hawks squeaked out a 5-4 victory in the shootout, with Jonathan Toews scoring a slick short-handed goal and adding the only shootout tally on either side. It may not have been pretty, but two points are two points, and the Hawks will surely take them, especially with the Detroit Red Wings and St. Louis Blues both playing superb hockey.
With their play recently, there are a lot of questions surrounding this Blackhawks team. Are they really a contender for another championship, or are they a team that's only good enough to get into the playoffs and nothing more? Are Stan Bowman and Joel Quenneville doing everything that they should be in order to get this team to succeed? Which players need to step up their games?
To answer these questions, here are five thoughts on the state of the Chicago Blackhawks, and whether or not this team is capable of going all the way.
Penalty Killing is a Killer 
This thought could simply be the number 26.2%: that is the percentage of power plays that are successful against the Blackhawks, which ranks them as the worst penalty killing unit in the league. This penalty killing unit is one that features Selke finalist Toews and a Norris Trophy winner in Duncan Keith, but despite having guys like that who are known for their defense, they have been patently unable to keep the puck out of the net when facing the man-advantage.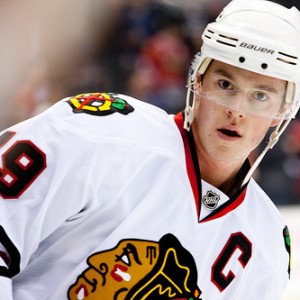 What is abundantly clear, especially after the game last night against New York, is that the Hawks need a strategy change and possibly some personnel changes in order to get things going on that end of the ice. The team's box formation is consistently breaking down when teams are passing the puck around the perimeter, and they are continually losing their assigned coverage as well. Niklas Hjalmarsson had a sterling example of that phenomenon last night, when he left Kyle Okposo to skate right past him and tap in an easy rebound on a shot from the point. He got caught watching the other side of the net while Okposo skated in unimpeded, and it's exactly that type of carelessness that will kill a team.
Other players, such as Steve Montador, are also being victimized by an inability to keep their feet moving, so they instead have to try to hit guys with the puck instead, leaving open the possibility of easy rushes and open passing lanes. The effort level has to improve, and if they can't start executing the game plan more effectively, then the Hawks' coaching staff may have to adjust their strategy on that front.
Corey Crawford: Is It Time for a Break? 
Crawford was one of the biggest bright spots for the Hawks a season ago, and despite a solid start to the season, lately Crawford has been looking a little bit shaky in the crease. Friday night was another one of those games, because even with 37 saves Crawford looked like he was fighting the puck early and often, and his rebound control left something to be desired.
With 12 games remaining in the month of December, it may be time for Joel Quenneville to consider giving Ray Emery a chance to start some games. There are plenty of opportunities left this month for Crawford to prove himself against teams who are playing well right now, so now would be the time to try to get Emery into the crease and let Crawford get his thoughts together. He hasn't exactly encountered a stretch like this in only his second full NHL season, so perhaps a mental vacation is just the thing that Corey needs to recapture the form that he displayed last season.
Evaluating Joel Quenneville's Recent Moves
Excoriated before the season for daring to put Patrick Kane at center, Quenneville proved to the doubters that he wasn't crazy, as Kane had a tremendous start to the year and was arguably the team's best player in October. Ever since that decision, however, Quenneville has been forced to make several shake-ups to his lineup, with the latest being putting Kane back on the wing with Toews and Viktor Stalberg.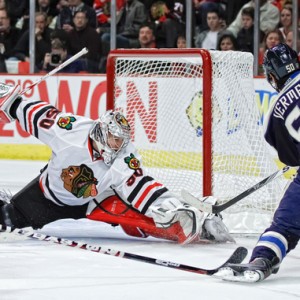 One decision that Quenneville has made recently that may need to be looked at as a bad one was to re-pair defensemen Brent Seabrook and Duncan Keith. The pairing has had a ton of success in their time together in Chicago, but with their games trending the way that they are right now, it may be better to keep them split up. As a general rule, Seabrook would stay back on defense and allow Keith to be the guy to pinch in and take shots from between the circles, but as of late, Seabrook seems to be taking on the more offensive role and letting Keith stay back. That desire to do the same things as his partner is likely a product of having to play with Hjalmarsson earlier in the year, who is more of a stay at home blue liner, but it can also lead to issues in the defensive zone.
The Hawks have been allowing a lot of quick rushes back up the ice because their defenders are pinching in to help on defense, so one way to counteract that trend may be to split up the high-paid duo.
Is it Time for Stan Bowman to Use His Salary Cap Cushion?
One of the biggest goals for Blackhawks GM Stan Bowman coming into this season was to create some salary cap space so that last season's constraints at the trade deadline wouldn't be an issue if the team needed to shore things up. He did exactly that, trading away Brian Campbell to the Panthers and declining to re-sign Troy Brouwer and Tomas Kopecky, and in the end the Hawks had $5.5 million in cap space to show for Bowman's efforts.
With the team struggling lately, should Bowman use some of that cushion to bring in a piece or two to shore up the team? It may be high time for that, especially considering the struggles the Hawks have had in their third defensive pairing and on their penalty killing unit. Bringing in a solid defenseman to play on either the second or third pairing  could be a solid investment at this point, as it would allow Nick Leddy to be used a little more sparingly to take advantage of his speed-oriented game, and bringing in a second line center could allow the Hawks to be incredibly deep down the middle with Toews, Marcus Kruger, and Dave Bolland holding down more traditional spots for them.
Out of those two needs, the need for a second line center is probably paramount, as Quenneville is experimenting with Kruger in the role, but he is better suited at this point to fourth line duty with a guy like Jamal Mayers or Daniel Carcillo. Both needs are important, and Bowman has not only the cap space but also a wealth of prospects to deal from in order to make the necessary improvements.
As Currently Constructed, Is This Team a Contender? 
The simple answer to that question is that no one really knows, but considering the inconsistency that this team has shown in recent weeks, the more likely answer is a no to this question. Simply put, their effort level hasn't been there every night and on every shift, and that was a hallmark of the 2010 team that won the championship. Granted, it may be impossible to replicate the way that incarnation of the Hawks could roll four lines and get scoring from any of them, but it shouldn't stop Bowman and Quenneville from trying to find that right mix.
Getting some fresh blood in the mix, whether it be calling up a guy from Rockford like Shawn Lalonde or Brandon Pirri or making a trade, is going to be crucial to getting this team from just a playoff contender into a title contender. Now is the time for Bowman to make that move, because if he keeps the faith, the Western Conference may pass this Hawks team by.