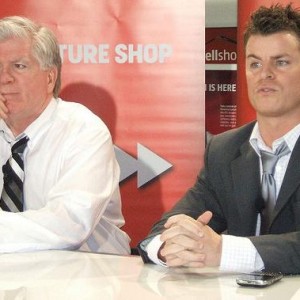 Remember that crazy general manager vs. general manager feud in the National Hockey League that began way back in 2007?
Yeah, that one when Kevin Lowe, the general manager of the Edmonton Oilers at the time, signed Anaheim Ducks forward Dustin Penner, a restricted free agent, to a five-year, $21.25 million contract.
Then-Ducks general manager Brian Burke didn't really take all too well to that. He felt as though the contract was rather inflated, which meant the Ducks wouldn't be able to match the offer within seven days due to salary cap issues. Because of this, Penner became an Oiler.
Burke certainly had reason to be upset. While Penner had loads of potential (he had scored 84 points in 57 games in the AHL during the 2005-2006 season), he had just 45 points in 82 games the season prior to the offer.
An average of 0.55 points per game certainly isn't worthy of a $4.25 million cap hit and there was no way that the Ducks would be able to match it in order to keep the young forward on the team's roster.
This led to constant verbal bashings of each other, most of which came through the media. However, according to Burke, who is now the general manager of the Toronto Maple Leafs, this feud almost became physical.
"It got to a point where Kevin [Lowe] challenged me to a fight on a radio interview," Burke said during an interview with theScore. "So I'm like, 'well that's not really how you challenge a guy to a fight.'"
With his Irish background, Burke wanted to do this thing the real way.
"If you want to challenge a guy to a fight, you pick a place and a time and you show up," he continued. "So I called Glenn Sather and said 'look, this guy went on the radio and challenged me to a fight'. I said, 'I'm going to be in Lake Placid at the U.S. Junior Camp.'"
Burke wasn't going to let a silly little junior hockey camp stand in his way, though.
"I gave him three dates. I told him I'd rent the barn and I'd pick the address and a time and I'd fight Kevin Lowe," Burke said about being away in Lake Placid at the time.
Things got so bad that it almost resulted in supplemental discipline from the league for the two men. That wasn't just a rumour, either, according to Burke.
The 56-year-old said, "It got to the point where Gary Bettman called me and said 'I heard you guys are thinking about having a fight and if you do I'm going to suspend you both indefinitely.'"
But Lowe had never heard about a potential fight between the two.
"I never did get the invitation," Lowe said to Sun Media correspondent Terry Jones. "It's news to me."
Even if it wasn't planned, though, Burke still feels as though they would have taken the term "enforcer" to a whole new level.
"There's no doubt in my mind that if we bumped into each other right about then we would have fought," Burke said. "No question, he's not afraid of me. We would have fought for sure."
But things are good now between them, according to the Leafs GM. He says that if it weren't for his son Brendan Burke, who tragically passed away in a car accident in February of 2010, he and Lowe may never of had patched things up.
After he had overheard a conversation his dad had on the phone in which he called Lowe a "no-good bastard," Brendan asked his dad, "how can you carry a grudge like that?"
Burke simply stated, "It's easy. I'm Irish. We can carry [one] for centuries."
That wasn't a good enough answer for Brendan, though, and that's where things took a turn.
Following the death of his son, Burke picked up the phone, called Steve Tambellini and said, "Steve, I've got to mend the fence with Kevin."
With that, Burke and Lowe are back on good terms, and life can go on.
"It never came to anything, never came close to it. We have patched it up, and this is what Brendan [Burke] wanted."
Now Burke has no reason to worry. While his team is coming off of another blowout loss to the Boston Bruins, they sit five points inside playoff position and sophomore goalie James Reimer is set to return as the starter on Monday night in New York when the Leafs take on the Rangers.
Twitter: @LukasHardonk | Email: lukas.hardonk@gmail.com | Lukas' archive
For every Leafs article on THW, follow @THW_MapleLeafs on Twitter.