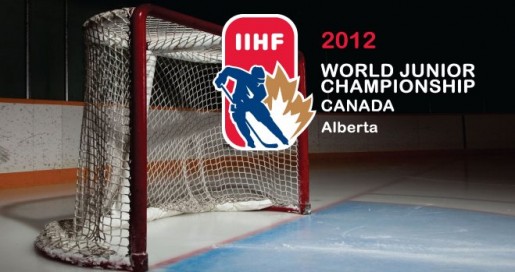 Christmas?!?!?!? Pfffftt. Overrated.  Boxing Day is where it's at.  This year on December 26th, the 2012 IIHF World Junior Hockey Championships will be held in Alberta.  Calgary and Edmonton will play host to some of the best young hockey players in the world.  It has become a Canadian tradition (and rightfully so) since they went on a tear winning five straight gold medals from 2005-09.  However, the past two seasons have led to heart-breakers in the gold medal games with their hopes crushed by the Americans in 2010 and the Russians in 2011.  I'm sure they are still a bit bitter about the last one…
But with a new tournament comes new lines, new faces, new coaches, and the likelihood of a new outcome.  This year, more so than years past, may be the toughest to predict.  Players like Gabriel Landeskog, Adam Larsson, Ryan Nugent-Hopkins, Sean Couturier and the like have graduated to the NHL level, leaving their WJC hopes to new up-and-coming players.  Some, who played in the WJC before, have become too old to participate for another year (Ryan Ellis, Brayden Schenn, Jakob Silfverberg, Maxim Kitsyn, etc.). And some who were unable to make the trip last year because of injuries like Finnish phenom, Mikael Granlund, will get the opportunity to play on one of hockey's biggest stages.
It gives a chance for young players to showcase their talents at the international level, which garners interest from many coaches, GM's and scouts.  There are a copious amount of draft hopefuls that would not only like to make a claim for a top draft spot, but end up victors for their country.  The final rosters have not been posted of yet, but there are already some players on each invite list that are considered locks to make the team.
So without further ado, here are my predictions for the upcoming World Junior Championship.
Biggest Underdog: Team Finland
With a forward core of Armia, Barkov, Donskoi, Pulkinnen, the Granlund brothers, Ruuttu, Teräväinen, Partanen and Pulkkinen, you have a team that is already starting ahead of the pack in terms of offense.  Add in defensemen like Pokka, Hakanpää, Määttä, and Ristolainen, further backstopped in net by two of Perhonen, Gibson (Christopher) or Aitokallio, and that team that can vie for medal contention.  Don't be shocked to see Finland pull a few upsets in the preliminary rounds since they have assembled one of the best junior squads since Finland last won gold in 1998.
Best Goalie Award: Jack Campbell – USA
So this was kind of a no-brainer.  Campbell has shown time and again that he is the most difficult goalie to play against in international competitions.  His awards and achievements speak for themselves.  Having won three gold medals and one bronze in international play, along with being named the "Best Goalkeeper" twice, Campbell will be steady between the pipes for the States as they hope to one-up last years result and secure a spot in the gold medal game.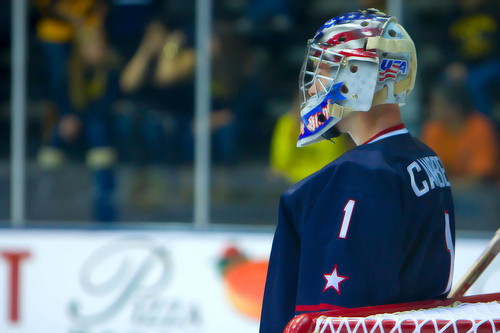 Biggest Impact Player: Mika Zibanejad – Sweden
The Avalanche picked Gabriel Landeskog 2nd overall in the 2011 draft, much to the chagrin of Bryan Murray and the Ottawa Senators.  But with the 6th overall pick, Murray picked another Swede, Mika Zibanejad.  A formidable opponent, Zibanejad can make his presence felt in front of the net, along the boards, and in the open ice.  As good as he is putting the puck in the net or setting up fellow teammates, his two-way game rivals that of Landeskog's.  His numbers this season in the SEL don't speak for his play on both sides of the puck.  Likely picking up first line duties for Team Sweden, Zibanejad will be the player to watch out for most in this year's tournament.
Best Defenseman: Mark Pysyk – Canada
When I use the term "Best Defenseman" I do not mean the one who will score the most amount of points in the tournament.  I mean the one who will chip in offensively, but also be reliable in his own end.  Mark Pysyk encompasses those aspects to a "T", and then some.  I've been a big fan of Mark's for quite some time now.  I wrote this about him a couple months ago (link here):
"The Sabres first rounder in the 2010 draft, Mark Pysyk is an attractive blue-chip prospect.  Most noticed for his fluid skating, Pysyk's agile movement, explosive speed and quick lateral motion gives him an advantage over many of his fellow teammates and opponents in the WHL.  Not one to slack offensively, the Oil King blue liner notched 40 points last season in the Dub and is looking to contribute more to the team this year.  Leadership is another quality that attracted the Sabres to Pysyk.  His ability to control the locker room is character trait that the Sabres could use, especially if they are built for a deep playoff run."
Pysyk hasn't skipped a beat, scoring 16 points in 22 games this season for the Oil Kings.  I figure if there is anyone who must be named captain of the team, it should be him.  He knows the sacrifices needed to achieve success and will show exactly what type of player he is capable of becoming when the chips are down.
Tournament MVP: Evgeny Kuznetsov – Russia
Team Canada will certainly come out swinging with their offensive firepower, but Evgeny Kuznetsov will put on a clinic of his own.  Arguably the most skilled player in the tournament, Kuznetsov is looked upon to lead team Russia to the promised land for a second consecutive year.  Last year he tied fellow linemate, Vladimir Tarasenko, with 11 points, good for 2nd behind Brayden Schenn (18 points).  I truly believe Evgeny will be on top of his game in Alberta and easily take the honors of best player in the tournament.  As talented and dynamic as he is, being tournament MVP will not propel Russia high enough to even secure a medal, unfortunately.
Biggest Upset: Team Canada/Team Russia
Well there are actually two upsets.  My prediction is that Canada will not win gold.  Actually, I don't think they will even win silver.  I feel Canada's biggest problem will be a mixture of defense and goaltending.  Looking at the invitee list, I (like many others) was shocked to see a few players left off like Mackinnon, Siemens and Pickard.  Canada's biggest issue last year was the mental lapses of their defense and their goalies in the third period of the gold medal game.  Visentin and Roy underperformed and the defense in front of them seemed to forget they were playing in the biggest game of their young careers.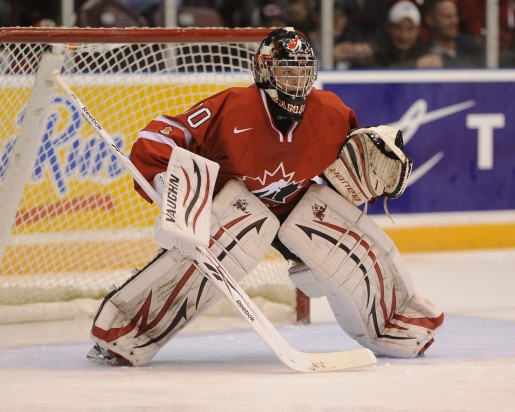 Visentin and Bunz are the two favorites to make the team, with Louis Domingue possibly stealing a spot with a good showing in camp.  My biggest issue is Visentin, Bunz and Domingue are playing behind some of the best teams in the OHL, WHL and QMJHL, respectively.  This gives them the slight advantage of putting up better numbers than a capable goalie like Calvin Pickard.  Pickard was dealt a raw hand and currently plays for one of the worst teams assembled in WHL history, the Seattle Thunderbirds.  Still, Pickard has been able to post a winning record with a save percentage of .910.  He is singlehandedly the reason the Thunderbirds are ever in a game to begin with and should have been highly considered for a spot on Team Canada.
Now let's take a gander at the defense.  At first glance, the names definitely do look appealing: Gormley, Pysyk, Petrovic.  Even the youngsters are presentable: Murray, Hamilton, Oleksiak.  But the thing is, that is exactly what they are…..youngsters.  I won't go off the charts and say that this year's crop of defenseman pale in comparison to those of last year, but on this stage, Canada needs to go out and find players who won't make the bone-headed mistakes that cost them the gold medal.  That's not to say that kids like Murray, Hamilton and Oleksiak will make those same mistakes, but there certainly is a risk involved.
Lucky enough for the Canadians, their offensive firepower will be too much for other teams to handle.  It will be almost impossible to ward off an onslaught of shots from Huberdeau, Schwartz, Scheifele, Strome, McNeill, Rattie and the current WHL scoring leader, Mark Stone.  They might make a push for the gold medal, but I just don't see it happening.  They won't come away empty-handed though.  Johnny, tell them what they've won!!!……..
For all your hard work and effort, Team Canada wins A BRONZE MEDAL!!!!!!!!
So where does that slot Russia?  Well the Russians always have a strong team…..on paper.  Although, more often than not, something happens to the team where they just lose their momentum.  If Yakupov is healthy by the time the tournament rolls around, it certainly increases their chances.  Be that as it may, I have been a fan and lifelong follower of all things "Russian hockey" for as long as I can remember.  I've seen some of the most talented players step on the ice only to come away empty-handed.  At the beginning of each game, the Russians seem to be in it, only to falter later on, having nothing to show for it.
Last year's gold medal victory for Russia was a fluke.  And by "fluke" I mean, it should never have happened.  I watched a few Russian games in person at the First Niagara HSBC arena and Niagara University to know Russia didn't have what it took to win a gold medal.  And after the first two periods of the gold-medal game, it certainly looked like Russia was down and out.  But miraculously they came back.
Except for the two top lines on Team Russia, I think the rest of the team will get outplayed, outworked, out-hit and out-coached by other nations in this tournament.  I assure you I do not want this scenario to play out this way, yet it has happened so many times that you can't help but see it unraveling again.  With all the skill they possess, their lack of physical play will place them on the outside looking in.  [Cue Don Cherry's "The Russian's are NOTHING" rant.]
2012 IIHF World Junior Champions – USA
Top to bottom, Team USA has the most balanced team.  So much so that they win in pretty convincing fashion.  Against who though?  If Canada wins bronze and Russia doesn't even make the top 3, who challenges the US for gold?
The underdogs, Finland, are going to give the States a run for their money.  They will battle toe-to-toe (or skate-to-skate), but the States will prevail in the end.  There is too much goal scoring with Emerson Etem, Charlie Coyle, Nick Bjugstad, among others battling for a spot on the top 4 lines.  With Merrill, Tinordi, Forbort and possibly blueliners like Clendening, Johns, Levi, Murphy (Connor) and 2013 draft eligible, Seth Jones, along with Campbell in net, it seems this is the year the United States are the heavy favorites to win the competition.  The final rankings shake up as follows:
1. United States – Gold
2. Finland – Silver
3. Canada – Bronze
4. Russia
5. Sweden
6. Switzerland
7. Czech Republic
8. Latvia
9. Slovakia
10. Denmark
Follow Shawn Reznik on Twitter.